Jennifer Aniston's chemistry with her co-stars on "Friends" is one of the reasons why the hit NBC sitcom became the most popular series of its time. Jennifer Aniston — along with Courteney Cox, Lisa Kudrow, David Schwimmer, Matt LeBlanc, and Matthew Perry — were a tight-knit group that did everything together, from promoting the show, negotiating contract negotiations with producers, and of course, watching out for one another.
And by all accounts, that the bond that the six actors shared seemed to extend beyond a professional one. So when Aniston married Justin Theroux in a surprise wedding in 2015, many fans noticed that she left off a few of her "friends" from the guest list, including Matthew Perry. That might come as a shock considering Aniston and Perry certainly looked like the best of friends during the recent HBO Max "Friends" reunion. Aniston even told People that the group is "like a family."
So what gives here? As it turns out, the reason might not be that serious.
Matthew Perry missed Jennifer Aniston's first wedding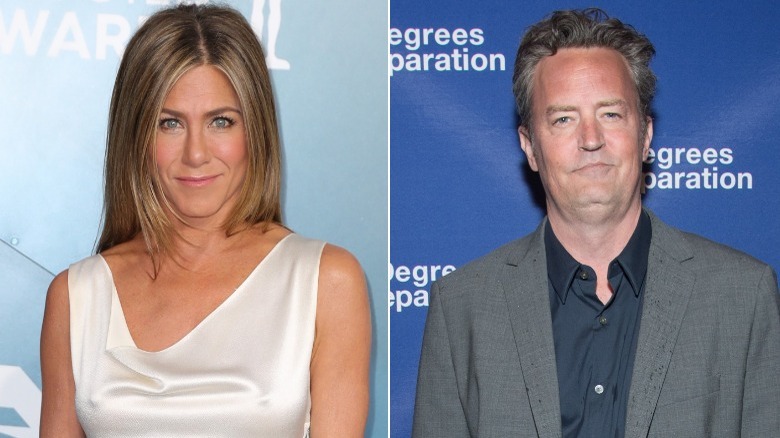 Matthew Perry got invited to Aniston's first wedding to Brad Pitt in 2000, so it's even that more interesting the actor decided to leave his name off the guestlist for her second one. At the time, Perry didn't attend Aniston's nuptials to Pitt because of his filming schedule. "Probably should have left anyway, but sh*t happens," he admitted to People. "What are you going to do?"
Perry didn't score an invite the second time around, and who knows, it might have been because Aniston didn't appreciate him missing the first one. Another possibility? There might not have been enough room. Aniston's guest list for her nuptials to Justin Theroux capped off at 70 people, and in the grand scheme of things, that's not an arguably large amount of guests. Plus, Matt LeBlanc was in the same boat, as he wasn't also invited. When asked about the supposed snub, Perry took the high road, telling People, "They're a lovely couple, and I'm happy for them."
At the end of the day, Perry and Aniston remain close, and their friendship outlived the marriage to Theroux. Seems like there's no drama to see here!
Source: Read Full Article