When fans were first introduced to Rachel Green on Friends, she was a runaway bride. She depended on her daddy's credit card and had never really had a job, either. However, after she realized that her fiancé, Barry wasn't the one for her, she risked financial security to make a life for herself in New York City. And although she got off on a rough start — note: Her "I don't need a job, I don't need my parents, I've got great boots' boots" — she eventually becomes one of the most successful characters on the show.
Curious to know how she did it? We share every job Rachel Green had on Friends, ahead.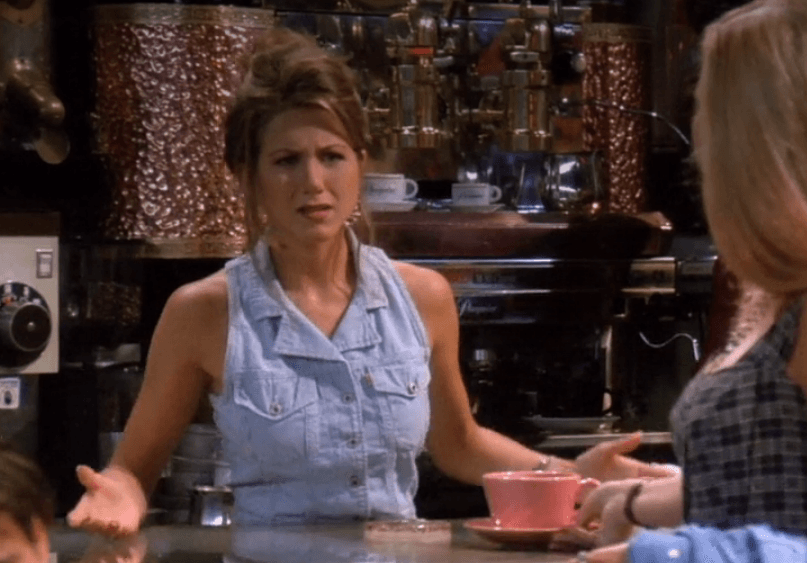 Rachel Green's job wasn't always in fashion. | Netflix
Waitress at Central Perk
Rachel's first job was as a waitress at Central Perk — aka, the coffee shop she can her friends hung out at. And, while it wasn't her first choice, it was a job! As it turned out, Rachel was a terrible waitress. She messed up orders, took long breaks to hang out with her friends, and was upset that she wasn't working in fashion.
Assistant at Fortunata Fashions
After building up the courage to quit her waitressing job, Rachel took a job as an assistant at Fortunata Fashions. But, it wasn't the fashion job she had hoped it would be. Ironically, the job also required pouring coffee.
Buyer and personal shopper at Bloomingdale's
Finally, a job in fashion! After meeting Mark Robinson at Moondance Diner, he helped her get a job in his department. As with any job, there were some bumps in the road. Right off the bat, Ross (who was dating Rachel at the time) was extremely jealous of Mark and nearly sabotaged her career over it. At one point, she was also demoted to a personal shopper. But, Rachel rose above it all and ultimately lands her dream opportunity at Ralph Lauren.
Rachel Green's job at Ralph Lauren
After some awkward and embarrassing job interviews, Rachel was offered a job at Ralph Lauren. Ralph Lauren was where Rachel's career blossomed, as she saw multiple job promotions and eventually climbed up to an executive position.
During at her time at Ralph Lauren, Rachel experienced a few bumps in the road. One of her biggest mishaps? She ran into her boss while interviewing for a position at Gucci. And, as a result, her boss fired her. However, after Ross and Rachel move her things out of her office, they ran into Mark from Bloomingdale's (the guy Ross was extremely jealous over). Rachel told Mark about what had happened, and Mark proceeded to offer her a job at Louis Vuitton. But, there was a catch: She would have to move to Paris.
Ross felt heartbroken over Rachel leaving for Paris with their daughter, Emma. So, he went back to her old boss at Ralph Lauren and begged for her job back. With some bribery, her boss agreed to hire her back. But, after Rachel told Louis Vuitton, they offered her more money. Ross then went back to Ralph Lauren and begged them to counter (with, of course, some more bribery). Rachel ultimately decided to take the job with Louis Vuitton and move to Paris — only, she doesn't end up going.
In one of the most romantic scenes in the series, Ross chased Rachel down at the airport. He confessed his love to her and begged her to stay. But, Rachel was confused by it all and still got on the plane. However, Rachel realized she made a big mistake and ultimately gets off the plane. When working at Bloomingdale's, Rachel chose her career over Ross — and she wasn't about to do that again.
Check out The Cheat Sheet on Facebook!
Source: Read Full Article