Are shiplap and tongue and groove really the same thing? If you ask celebrity home renovation expert Ty Pennington, there's plenty of a grey area on HGTV's Battle on the Beach.
Midway through episode 1, Pennington took on the renovation rebel role, bending rules and skating by on a technicality. But did his outlaw attitude help in the long run? Pennington was stunned in the season opener when his team goes rogue after he went to bat for them.
Ty Pennington says there is a difference between shiplap and tongue and grove on 'Battle on the Beach'
The competition quickly heated up on the Battle on the Beach Season 2 June 5 premiere. HGTV designers Taniya Nayak and Alison Victoria join Pennington to help three renovation teams strive for the $50,000 prize. Each team is given a tight budget of $80,000 to transform a drab 1,500-square-foot beach home in Surfside Beach, Texas. The homes may look alike but each design team has a unique vision – including Pennington's team.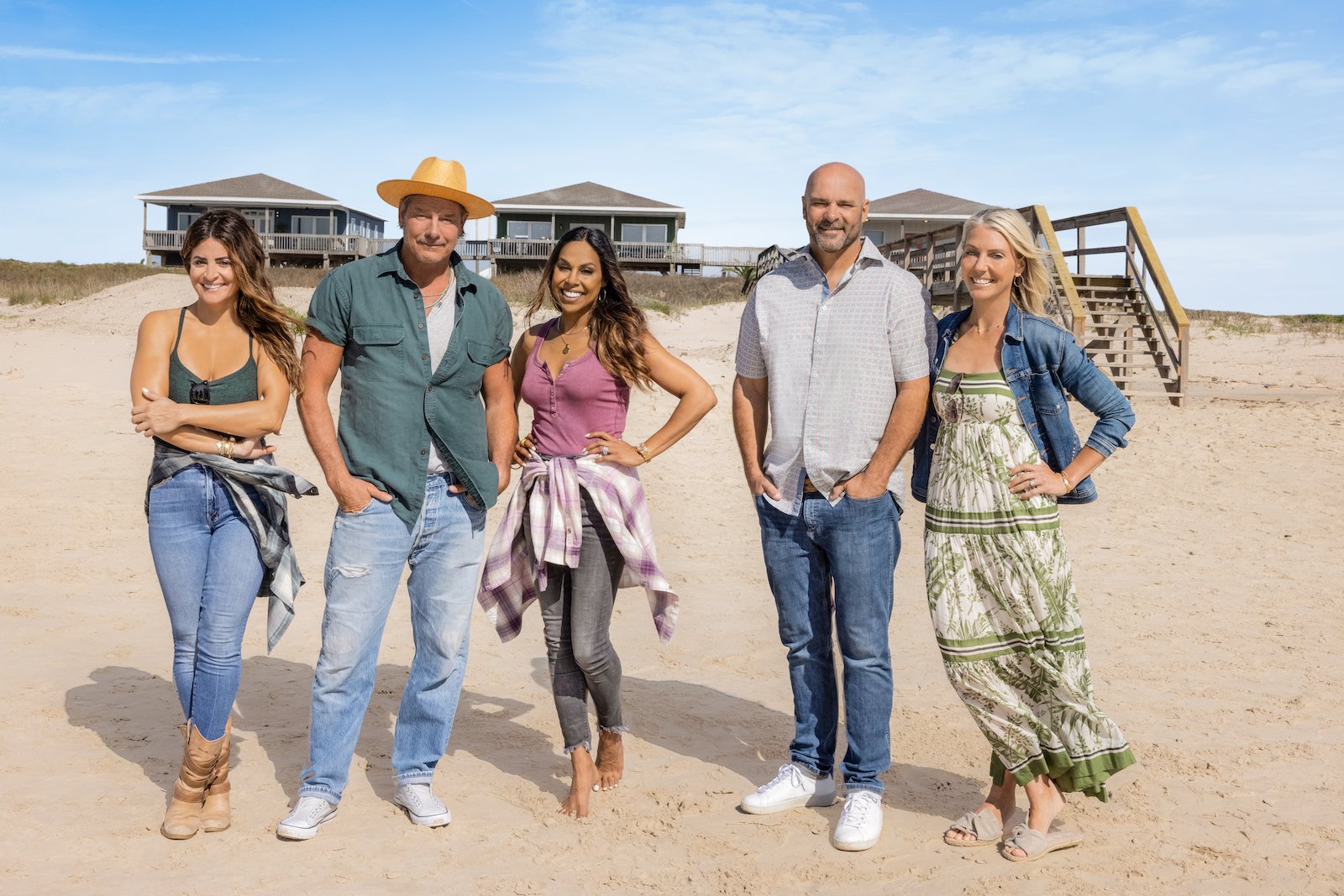 During a beach challenge, teams bid for a design element that will be unique to their home. Pennington's team loses the shiplap to another team, but Pennington finds the perfect loophole to use tongue and groove on the ceiling. Of course, he takes heat from the other designers, but he told Showbiz Cheat Sheet there is a big difference … well sort of.
"There really is [a difference]," he said. "And what's interesting is, shiplap really does lap over the top. But [laughs] yeah, it's tomato-tomato. But tongue and groove is tongue and groove. And beadboard is beadboard. And they're all different believe it or not. There's double groove and there's also a single groove. And so those are all different. However, you could call it shiplap, but it's not really shiplap. It's tongue and groove."
How did Ty's 'Battle on the Beach' team surprise him?
After Pennington made the bold move for his team, he was pretty shocked when they ignored his design suggestion. Because the tongue and groove's natural wood was so beautiful, Pennington recommended they install the ceiling and not paint it white. He appreciated the wood's natural beauty – plus it would get him out of the hot seat withNayak andVictoria.
So of course his jaw hit the ground when he arrived to see the ceiling painted white. Pennington is used to having to pivot when design items aren't readily available – but not when his team goes against a recommendation.
"Because things you can choose, that is upsetting," he said referring to how his team painted the wood. "Because you didn't have to make that choice to make it a certain way. So, it's frustrating because as a mentor, I have to be truly a conscientious objector. But at the same time, I really want to persuade people to go in a certain direction. But it's not always going to be in sync like that."
Designing on TV has unique challenges
Even though Pennington was a little let down to see the ceiling painted white – especially because it now looked like shiplap – he is used to going with the flow.
"When you're a designer and most of the work you've done is on television, then you really get used to hearing, 'So the dark flooring you wanted? We couldn't get that. We actually couldn't get the light flooring either. So it's sort of a medium gray.' So I'm like, so there is no contrast one way or the other," he exclaimed. "But they're like, 'We do have flooring!' And I'm like 'great.' So I'm used to things going horribly wrong," he laughed. "But I'm not used to people making bad choices that makes it even worse."
But he believes everyone should be able to see their vision to the end because ultimately it's a collaborative project. "I also want to make sure that if somebody feels like it's their passion and they have a vision, I don't want someone to stifle that and be like, no, you've got to listen to me. I know this is tried and true," he said. "So I'm like, OK, let's see where you go. Because I think it's important to also let somebody have a shot at the canvas. And I learned over the years, too, that collaborations turn out sometimes a lot better than just one person's vision."
Battle on the Beach airs, Sunday and Monday on HGTV at 9/8c.
Source: Read Full Article