For the past several years, we've gazed adoringly at the royal family. From Duchess Kate Middleton and Prince William's delightful and ever-growing family to Duchess Meghan Markle and Prince Harry's swoon-worthy wedding, the British Royal Family has given us a lot to smile about recently. The royals haven't been this popular since the 1980s when the late Princess Diana was dubbed The People's Princess. And yet, if you know anything about the British Royal Family, or if you're a fan of Netflix's The Crown, then you know everything hasn't always been all rainbows and butterflies when it comes to the royals.
From humiliating divorces to illicit affairs, these royal family members, in particular, had to face the wrath of the royal family and the public for their "unsavory" relationships.
1. King Henry VIII
King Henry VIII | Hulton Archive/Handout/Getty Images
If you've seen Showtime's, The Tudors with Jonathan Rhys Meyers as King Henry VIII, then you know the king was known for his illicit affairs and marriages. King Henry VIII ruled England from 1509 to 1547 and was married six times. Since divorce wasn't exactly accepted back in then, the king used every measure at his disposal to get rid of his wives when he found a new lady love.
He got his marriage to his first wife, Catherine of Aragon, annulled when he set his sights on the infamous Anne Boleyn. When Boleyn failed to give him a son after suffering miscarriages and stillborns, he had her beheaded for "adultery." By the time Boleyn lost her head, the king was already engaged to Jane Seymour. Four more wives would follow and so would countless stillborns, deaths, and beheadings.
2. King Edward VIII
Wallis Simpson and Edward VIII | Central Press/Stringer/Getty Images
In 1936, King Edward VIII had just taken over the throne, and he had fallen in love with a still-married American socialite named Wallis Simpson who'd already been divorced once. When Edward VIII proposed to Simpson, The Crown descended into chaos because it was forbidden for the king, who was also the head of the Church of England, to marry a woman who had previously wed and her husband was still alive,
Edward VIII ultimately decided to abdicate the throne. He married Simpson in France in 1937, after her second divorce became final. His brother, King George VI took over which would pave the way for his daughter, Elizabeth to become queen.
3. Princess Margaret and Captain Peter Townsend
Princess Margaret in 1951| AFP/Getty Images
Queen Elizabeth II has always been prim and proper, but her younger sister, Prince Margaret, was a feisty ball of fun who did things the way she wanted. When she was 17, the princess began carrying on an affair with Captain Peter Townsend, a married royal equerry who was 16 years her senior.
In 1953, after the captain had divorced his wife, the duo approached Queen Elizabeth II about getting married. Though the queen wanted her sister to be happy, Parliment would not hear of it. They denied the couple the right to marry multiple times because of Townsend's divorce. They also threatened to take away Margaret's title and income.
Eventually, the pair moved on and married other people, but it devastated them both.
4. Princess Margaret and her many affairs
Princess Margaret with Rolling Stone rocker Mick Jagger | Jacques Gustave /AFP/Getty Images
When it became clear that she was never going to get a chance to marry Captain Peter Townsend, Princess Margaret set her sights on a photographer named Anthony Armstrong-Jones. Princess Margaret and The Earl of Snowden were married from 1960 to 1978 and, it was not a happy union.
Princess Margaret began seeing a slew of other people including, Mick Jagger, Peter Sellers, David Niven, Warren Beatty, Anita Pallenberg, and Dusty Springfield.
5. Princess Margaret's photos
Princess Margaret in a tub| Getty Images/Hulton Archive
Princess Margaret wasn't exactly discreet when it came to her extramarital relations. In fact, in the '70s, a nude photograph of a British aristocrat, Colin Tennant, gardener Roddy Llewellyn, and actor Nicholas Courtney which was allegedly taken by Princess Margaret on the island Tennant gifted her was published in the Sunday newspaper.
In 1971, a £5 million heist was carried out on a safety deposit box owned by Michael X. Apparently, the MI5 carried out the raid to remove some very risque images of the princess.
6. Anthony Armstrong-Jones
Princess Margaret and her husband,Tony Armstrong-Jones | /AFP/Getty Images
Anthony Armstrong-Jones, The Earl of Snowden, was well known in London for his sexual escapades. A friend of Armstrong- Jones' once joked, "If it moves, he'll have it." In fact, The Earl of Snowden had a daughter with another woman just three weeks into his marriage to Princess Margaret.
7. Prince Philip
Prince Philip | Douglas Miller/Keystone/Hulton Archive/Getty Images
Though the queen has stood nearly spotless amidst the numerous scandals of the royal family, her husband, Prince Philip, the Duke of Edinburgh has been rumored to have various relationships with other women. There has never been any concrete evidence surrounding these affairs. However, there was a report in The Baltimore Sun that stated that the prince was, "romantically involved with an unnamed woman whom he met on a regular basis in the West End apartment of a society photographer."
8. Captain Mark Phillips
Captain Mark Phillips| Coutureandroyals via Instagram
Mark Phillips and Princess Anne married on Nov. 14, 1973. At first, the pair seemed like a good match. However, by the time their daughter Zara was born in 1981, the couple was spending more and more time apart. Phillips was also increasingly absent from royal events.
By 1989, the pair decided to legally separate but never divorce. That all changed in 1991 when an art teacher from New Zealand named Heather Tonkin went public claiming that Captain Pillips was the father of her 5-year-old daughter, Felicity. She told The Daily Express, "My ambition is to get Mark's public acceptance of her and to be able to enter his name on her birth certificate."
DNA confirmed that Phillips was indeed Felicity's father.
9. Princess Anne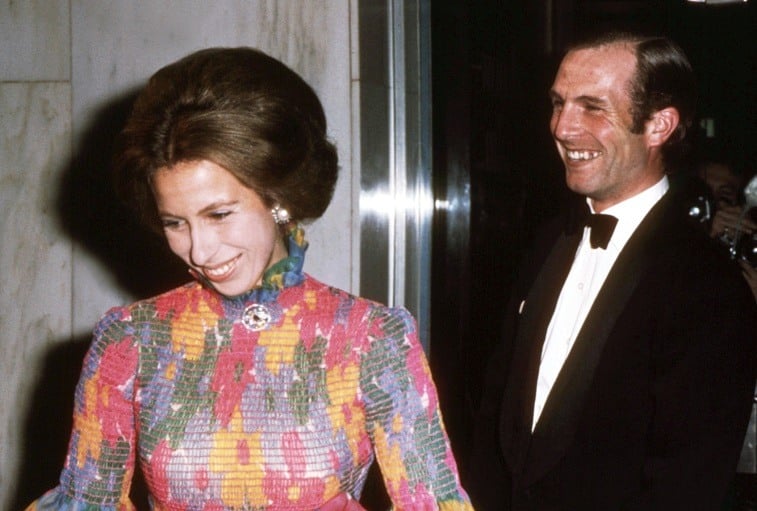 Britain's Princess Anne and her fiance Captain Mark Phillips | AFP/AFP/Getty Images
Whispers of Princess Anne's own affair started coming to light in 1989 when the Sun acquired letters that had been stolen from her.  The Palace issued a statement saying, "The stolen letters were addressed to the Princess Royal by Commander Timothy Laurence, the Queen's Equerry. We have nothing to say about the contents of personal letters sent to Her Royal Highness by a friend which were stolen and which are the subject of a police investigation."
At the time a royal insider told People, "Obviously, Tim and the princess were physically attracted to each other, but their friendship goes deeper than that. He cares for her in the way her husband does not."
Princess Anne and Commander Timothy Laurence married in '92, the same year her divorce from Captain Pillips was finalized.
10. Prince Charles
Prince Charles and Camilla after announcing their engagement | Jim Watson/AFP/Getty Images
It's no secret that Prince Charles and Princess Diana didn't exactly have a loving relationship. When the pair married in 1981, the princess was just 19 and had very little in common with her 33-year-old husband. From the beginning, it was clear that the marriage was never going to work and the prince began seeking comfort in the arms of an ex-flame, Camilla Parker Bowles.
The duo was not quiet about their affection for one another. Princess Diana got wind of the affair and confronted the Duchess of Cornwall about it. In 1992, the public learned about the future King of England's relationship when a telephone conversation he had with the duchess leaked to the media. During the phone convo, Prince Charles said he wanted to "live inside [Camilla's] trousers as a pair of knickers" or, "a Tampax."
11. Princess Diana and James Gilbey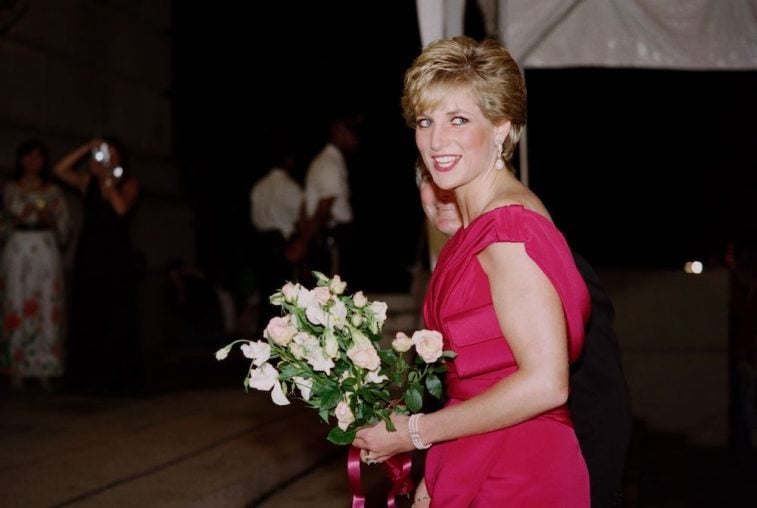 Princess Diana | Kevin Larkin/ AFP/ Getty Images
The late Princess Diana was young and vibrant and stuck in a lifeless marriage. Therefore, she too began to seek affection in the arms of someone else. The princess turned to her childhood friend, James Gilbey, a Lotus car dealer.
In 1992, the affair came to life in "Squidgygate." British intelligence caught wind of the duo and recorded several of their phone calls. In the tapes, Gilbey called the princess "Squidgy" 53 times, and he told her he loved her. The tapes were sold to The Sun and later published in The National Enquirer in the U.S. in 1992. Princess Diana and Prince Charles separated the same year.
12. Princess Diana and James Hewitt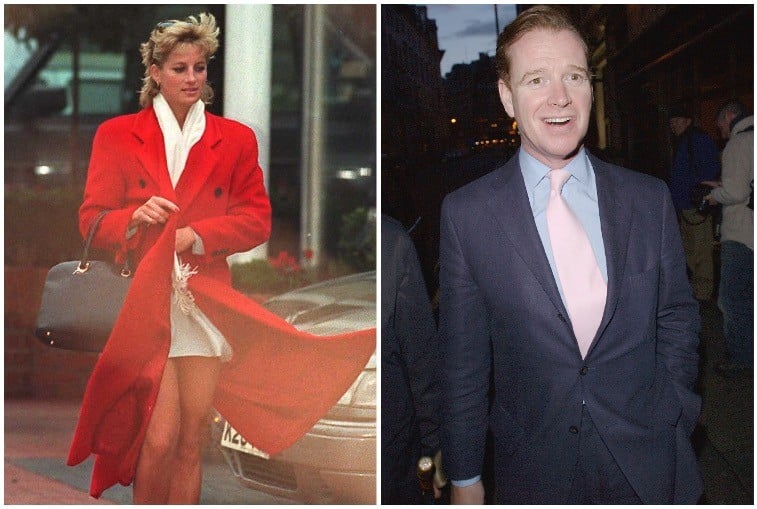 Left: Prince Diana in a stunning red jacket. | WPA/Pool/Getty Images, Right: James Hewitt in 2004. | Steve Finn/Getty Images
James Gilbey was not the only man Princess Diana was linked to during her marriage to Prince Charles. Just before her divorce, Princess Diana admitted to a love affair with British army officer James Hewitt during a 1995 interview with BBC reporter Martin Bashir.
She told Bashir, "He was a great friend of mine at a very difficult, yet another difficult time, and he was always there to support me." However, the late princess was betrayed by Hewitt when he contributed to a book called Princess in Love. Hewitt revealed that his romance with Princess Diana began around 1986 and ended in 1989. There were also rumors that swirled that he was Prince Harry's birth father because both men have red hair.
13. Prince Andrew
Prince Andrew | Alexander Hassenstein/Getty Images for IAAF
In 1982, four years before he married Sarah, Duchess of York, Prince Andrew began daring American actress, Kathleen "Koo" Stark. Stark was a soft-core porn actress, and as soon as the media caught wind of the romance, many nude and suggestive shots of her appeared in British tabloids.
Still, she and Prince Andrew dated for over a year, and Stark even met the queen. Unfortunately, due to pressure from the media, the couple's romance fizzled though they remained good friends to this day.
People reported that the Queen did not know of Stark's acting career before meeting her.
14. Sarah Ferguson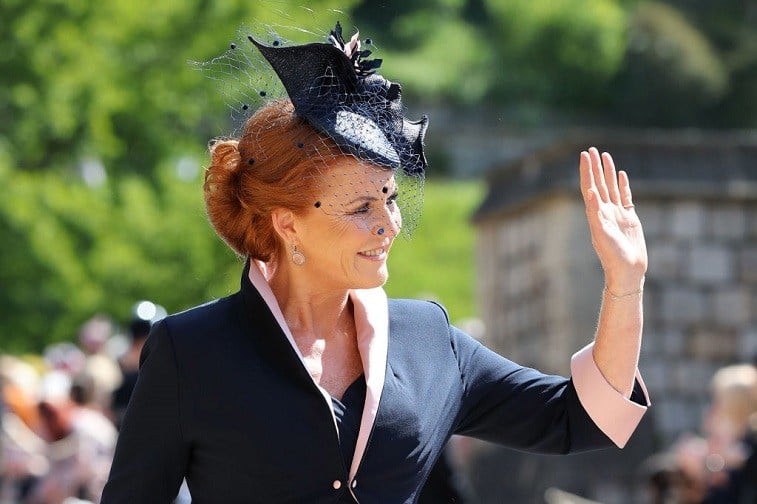 Sarah Ferguson was invited to the church but reportedly not the reception. | Gareth Fuller – WPA Pool/Getty Images
If Prince Charles and Princess Diana thought they were having a terrible '92, then Sarah Ferguson, Duchess of York had an even worse year. Lonely, with a navel man husband who was often gone, the duchess found comfort in the arms of another man. Fergie was photographed topless with oil tycoon, John Bryan. Bryan was also sucking Fergie's toes in the pictures. No one had the foresight to warn the royal family that the photos were going to be published, so the Windsors found out about them over breakfast while reading the morning newspapers.
In a poll published in the Sunday Express on August 23, 1992, nine out of 10 people said Ferguson should be stripped of her title if Prince Andrew asked for a divorce. She was in fact stripped of, Her Royal Highness, title.
15. Prince William
Prince William, eldest son of The Prince | Toby Melville /AFP/Getty Images
To be fair, we wouldn't call any of Pince William's antics "illicit," but they certainly raised eyebrows. He and Duchess Kate Middleton have been involved since 2004, and have only been broken up for a brief period in 2007. However, leading up to their big break up, Prince William was seen doing some questionable things with other women.
When the prince was in the military, he would head to London to see his lady love on the weekends, but in late 2006/early 2007, he started doing that less in less. In the months leading to his breakup with the Duchess of Cambridge, Prince William went clubbing at Boujis and was photographed flirting with another girl. Middleton woke up to the image in the papers the next day.
A few weeks later, he went to Elements nightclub in Bournemouth, got drunk, and partied with half-naked girls. He was photographed touching one girl inappropriately and flirting with other. The next day, the photos and his comments made the newspapers.
On April 3, 2007, Duchess Kate Middleton pulled the plug on their college romance. However, the pair were back together by July of that year. They wed in 2011.
Follow Aramide Tinubu on Twitter @midnightrami.
Read more: The British Royal Family's Most Scandalous Love Affairs, Revealed
Check out The Cheat Sheet on Facebook!
Source: Read Full Article