With filming suspended due to the coronavirus (COVID-19) pandemic, The Young and the Restless is still airing themed weeks of reruns. This upcoming week, all of the episodes will be centered on some of the evilest schemes of the show's notable villains.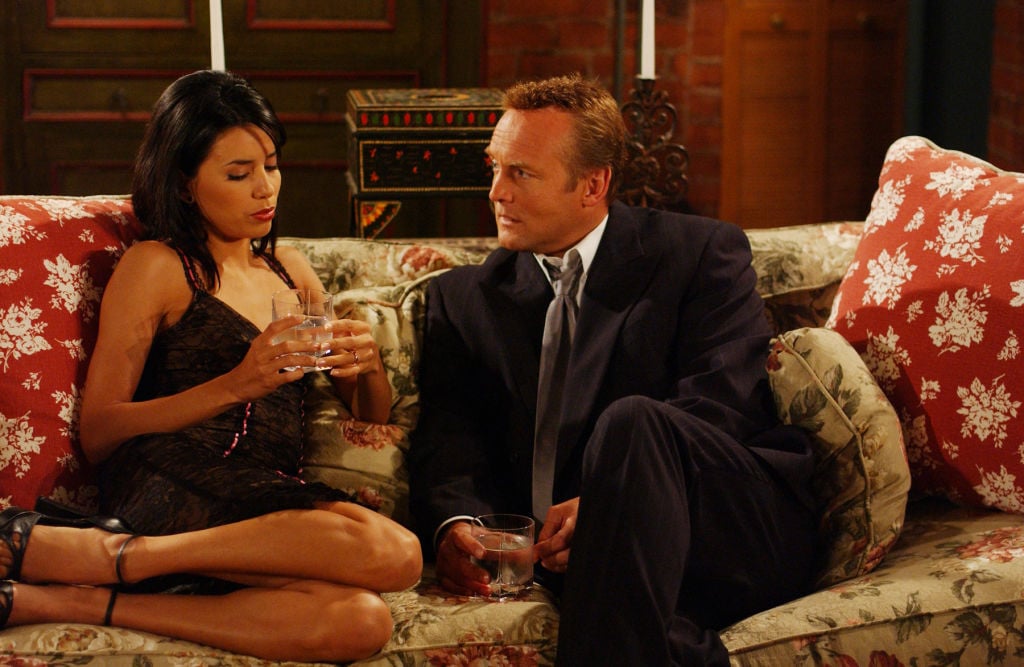 So, while these aren't technically spoilers in the traditional sense, here's what to expect on The Young and the Restless from May 25, 2020, to May 29, 2020:
Monday, May 25
Original airdate: Oct. 7, 1991.
Official description: The walls close in on the nefarious David Kimble (Michael Corbett); Traci (Beth Maitland) keeps a secret from Brad (Don Diamont); and Nina (Tricia Cast) comes out of hiding.
David Kimble was a con artist who was married to Nina Webster. He targeted her after Nina got a fortune from her late husband, Phillip Chancellor III. He threatened Nina's friends, Christine Blair and Danny Romalotti. It is soon revealed that he killed multiple people.
Tuesday, May 26
Original airdate: August 14, 2003
Official description: Isabella (former cast member Eva Longoria) and Christine (Lauralee Bell) settle unfinished business, while Paul (Doug Davidson) and Michael (Christian Le Blanc) unravel a mystery.
Additional details: Before her breakthrough role as Gabrielle Solis on Desperate Housewives catapulted her to a household name, Longoria was the villainous Isabella Braña on The Young and the Restless. The character was introduced to vill a void while Lauralee Bell (who plays Christine) was on maternity leave. Braña, who had a mental illness, also had an affair with Paul and attempted to kill Christine. In what was considered a "shocking" exit, Longoria was let go after two years when the cut several cast members.
Wednesday, May 27
Original airdate: Oct. 10, 2003
Official description: Kevin's (Greg Rikaart) revenge plot takes a dangerous turn, while Nikki (Melody Thomas Scott) and Sharon (Sharon Case) fight for the spotlight at the Newman Ranch. 
RELATED: 'The Young and the Restless' Star Camryn Grimes Reveals She's Bisexual in Lobbying for 'Batwoman' Role
Additional details: Before the character was reformed, Kevin Fisher was initially one of the show's more evil characters. He was first introduced as an internet predator who pursued Lily Winters. They ended up having sex and the statutory rape resulted in Lily getting chlamydia. Lily's best friend, Colleen Carlton, hated Kevin and he attempted to kill her by locking in a restaurant fridge and setting the building on fire. All off this is a stark contrast to the fan-favorite character's personality and actions now.
Thursday, May 28
Original airdate: Dec. 15, 2005
Official description: Sheila (Kimberlin Brown) makes a surprise appearance during Lauren (Tracey Bregman) and Michael's (Le Blanc) honeymoon, while John (Jerry Douglas) learns the truth about Gloria's (Judith Chapman) past.
Additional details: Shelia Carter is one of the most infamous villains in all of soap opera history. In 2005, the character (who also appears on The Bold and the Beautiful) returned to the show for the first time in 10 years. The character is arguably most known for her feud with Lauren Fenmore, who she has attempted to kill numerous times.
Friday, May 29
Original airdate: April 27, 2010
Official description:  Lauren (Bregman) and Michael (Le Blanc) see double as they come face to face with Lauren's imposter, while Kevin (Rikaart) races to save Jana (Emily O'Brien) from Ryder (former cast member Wilson Bethel).
RELATED: 'The Young and the Restless': Noemí González Will Be in Netflix's 'Selena: The Series'
Additional details: A few years after Shelia made a return appearance, it was revealed that she had a sister, Sarah Smythe. This new sister, wanting to avenge Shelia's "death" got plastic surgery to look like Lauren and began to torment her. This was similar to the time in which Shelia Carter got plastic surgery to look like Phyliss Summers to also torment her.
Source: Read Full Article