The Vampire Diaries sucked fans in from the very beginning with horror, romance, and danger. Almost as compelling as the show was the real-life relationship between Ian Somerhalder and Nina Dobrev. Ultimately, the courtship did not add up to happily ever after, but the show netted some serious coin for both stars. Here's how the former flames compare when it comes to total wealth. [Spoiler alert: this article contains details for The Vampire Diaries Seasons 1 to 8.]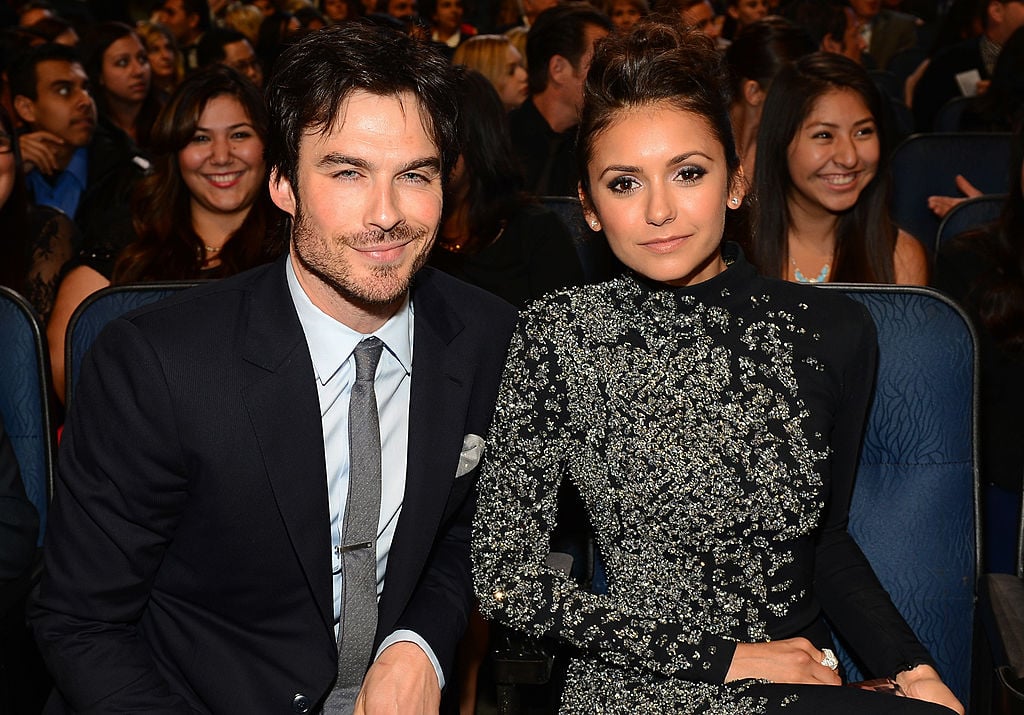 Damon and Elena were end game on 'The Vampire Diaries'
The Vampire Diaries starred Paul Wesley as Stefan Salvatore, Ian Somerhalder as Damon Salvatore, and Nina Dobrev as Elena Gilbert. Stefan and Damon were brothers, rivals, and vampires, while Elena was the teenaged girl with a tragic past.
At thecenter of The Vampire Diaries was a classic love triangle formed by the Salvatorebrothers and Elena Gilbert. Initially,it appeared as if Damon would be left out in the cold as his honorable brothercozied up to Elena. But in a twist, Elena became a vampire and gave in to herfeelings toward the older brother with a more flexible moral compass.
By the sixth season finale, Damon and Elena were in love and fully committed to each other. Unfortunately, Elena was placed under a sleeping curse, jolting Damon right back into his self-destructive default setting. Damon spent the final two seasons of the show without his soul mate, before reuniting with her in the series finale. The actors who played Damon and Elena had a much different story.
Ian Somerhalder and Nina Dobrev dated then broke up inreal life
RELATED: 'The Vampire Diaries': Which 'Salvatore Brother' Has the Higher Net Worth?
While starring on The Vampire Diaries, Somerhalderand Dobrev dated publicly for two years. Fans rooted for both their on-screenlove affair and their off-screen romance. Alas, by the end of the series, theiralter egos had found their happy endings, but the actors had already parted ways.
Since the show has ended, Somerhalder and Dobrev are no longer in each other's daily orbit. Somerhalder went on to marry Nikki Reed, and the couple welcomed their first child. But, there's no bad blood between Somerhalder and Dobrev whatsoever. In fact, all three actors have remained friends, and Dobrev has spoken openly about the dynamics.
Who boasts the bigger bank account, Ian Somerhalder or Nina Dobrev?
RELATED: Nina Dobrev's Role in 'Run This Town' is Surprisingly Different Than Her Role in 'The Vampire Diaries'
After The Vampire Diaries, both performers quickly landed new projects, and they have continued to build their careers as well as their fortunes. According to Celebrity Net Worth, Somerhalder is worth an estimated $8 million. But Dobrev tops his wealth with an estimated $10 million, as reported by the site. Looking ahead at projects that are currently in development, both stars have the potential to earn even greater wealth.
The Vampire Diaries originally aired on The CW, but now fans can stream it from the beginning on Netflix.
RELATED: 'The Vampire Diaries': Paul Wesley's Face is Being Used Illegally
Source: Read Full Article