On the whole, Seinfeld is an incredibly hilarious show mostly because it doesn't try too hard.
Comedians Jerry Seinfeld and Larry David joined forces to create the sitcom, which critics loved to call a "show about nothing." That descriptor is not entirely accurate though. Seinfeld was about finding humor in everyday situations.
The four main characters Jerry (Seinfeld, playing a version of himself), George Costanza (Jason Alexander), Elaine Benes (Julia Louis-Dreyfus), and Cosmo Kramer (Michael Richards) had a huge fan base. But not every episode was as funny as the last.
The best episodes of Seinfeld are a matter of opinion. However, most fans agree that the funniest moments tend to happen during the "golden age" of Seinfeld.
TV viewers didn't know what to make of 'Seinfeld' at first
Even though Seinfeld did have a point to make, that doesn't mean fans understood it at first. The series debuted on July 5, 1989, with a lackluster pilot that critics universally panned.
"It was probably the lowest-testing pilot in the history of NBC," Kevin Reilly, a development executive at NBC who later became network president, told Business Insider.
Reilly revealed some of the harsh feedback producers received about the new show.
"'These are losers,'" the reactions said. "'It's not funny.' 'We know who Jerry Seinfeld is. He should not do this show.'"
The 'golden era' of 'Seinfeld' showed the series in its prime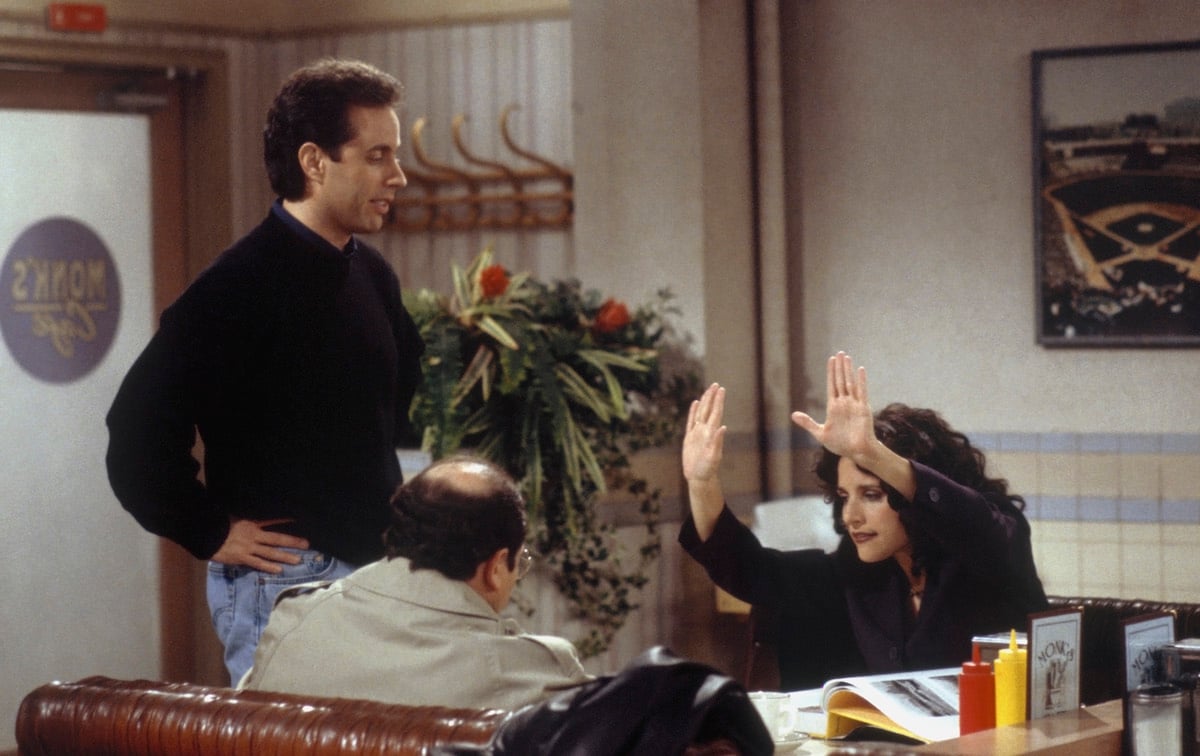 Luckily, those early reactions to the pilot episode weren't enough to get the series canceled. After making a few tweaks to the format, Seinfeld started gaining traction and more and more fans. This hit the pinnacle around season 3.
According to Wiki Fandom, the "golden era" of Seinfeld lasted from season 3 through season 5. It was considered a "water cooler show" because people began gathering to discuss it at work the next morning after new episodes aired in the primetime Thursday night time slot.
Some of the most popular episodes and moments come from this time period. "The Parking Garage", "The Boyfriend", "The Contest", "The Outing" and "The Puffy Shirt" are all from these three seasons. It also gave fans timeless catchphrases like "master of your domain" and "not that there's anything wrong with that."
'Seinfeld' Season 6 began its decline after Larry David left
The two events aren't necessarily related. But showrunner and co-creator David left the series on good terms after season 5 wrapped, which happened to coincide with fans not loving the show as much. In general, season 6 featured weirder, more outlandish storylines and had fewer rave reviews compared to earlier efforts.
That doesn't mean Seinfeld was terrible after David left. There are lots of classic episodes, jokes, and one-liners that come from later seasons.  But overall, seasons 3 through 5 were the high point of the comedy series.
Jerry Seinfeld insisted on ending the show after season 9
Despite losing its groove a little, Seinfeld was at the top of its game by season 9. But the show's creator decided to end the series before people started losing interest. He was also very interested in the number 9 and felt like it was the right time to move on from the comedy. The series ended after the ninth season.
Seinfeld could have made millions if he chose to renew the series for a tenth season. But he still made out very well financially thanks to lucrative syndication payments that stretched on forever. Every time an episode airs from any season, including from the golden era, David and Seinfeld get paid.
Source: Read Full Article