Just 4 episodes in and MTV's The Challenge: Double Agents is proving to be one of the dirtiest seasons ever. Nelson Thomas did not just lose the latest male elimination round he left the show with a knife in the back from one of the people on the show he considered a true friend.
When Fessy Shafaat saw that the elimination game was Hall Brawl, he conspired to be sent in to get his gold skull. Despite the fact that he would be going against his supposed friend and ally.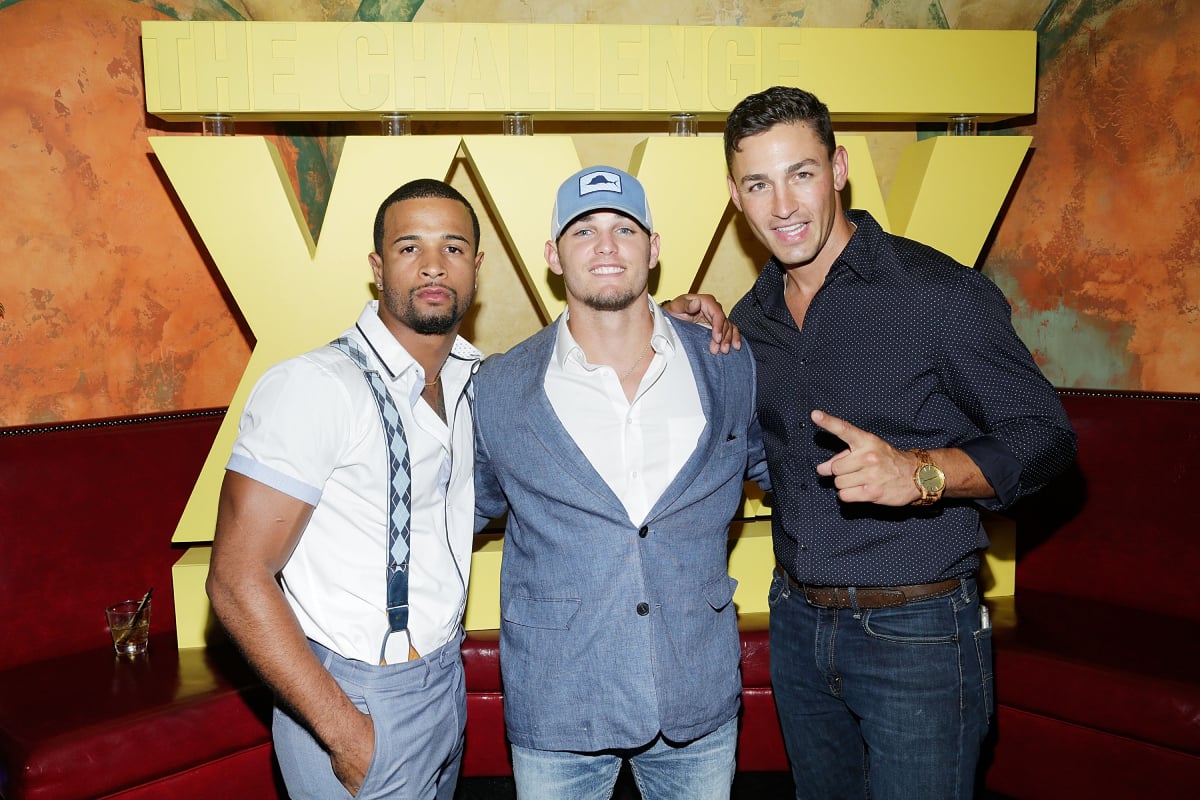 Nelson and Cory Wharton were friends with Fessy outside of 'The Challenge'
During his rookie season on Total Madness, Fessy seemed to form a genuine bond with both Cory and Nelson.  Their Instagram accounts even show the trio hanging out outside of filming for MTV.
But, in an appearance on the Challenge Mania podcast hosted by Scott Yager and Derrick Kosinski Fessy revealed that he is not as close to Cory and Nelson as fans have been led to believe.
He went even further by saying that he and Nelson actually had a falling out over a business deal that fell through before they showed up to start filming The Challenge: Double Agents.
"Nowhere in the first couple of weeks or the first couple of episodes did you see me and him strategizing; that's cause we barely talked in the house because it was awkward," explains Fessy.
He also points out that when asked who his allies were this season, Nelson said Cory and Wes Bergman — and not Fessy.
Fessy and Nelson have very different versions of their friendship outside of the show
Despite Fessy claiming they had a falling out, Nelson told Entertainment Weekly that he and Fessy were definitely friends before Double Agents.
"Fessy and I were actually friends outside the game. We talked almost every other day, I mean me and this guy were supposed to live together, we were supposed to travel together."
"I considered him family, and you know how I'm ride-or-die for my family no matter what," he continued.
For Nelson, Fessy choosing to go against him in an infamously brutal elimination, made him rethink the entire way he plays The Challenge.
"So, for him to do that, it made me really think about this game. I had to question myself, 'Nelson, are you too loyal in this game? Is what I'm doing wrong? What did I do for a friend to backstab me in the way that he did, especially after we worked together last season and we got so close?' I just don't see how anybody can just do that to a person they care about."
Has Nelson spoken to Fessy since he left 'The Challenge: Double Agents'?
Nelson admitted that Fessy has reached out since he stabbed him in the back. And, according to Nelson, he admitted that he would take it all back if he could.
"He reached out to me on my birthday. He had the nerve to text me, 'Happy birthday, Nelson. I apologize for what I did. If I can take it back, I would. I was in the moment, I wasn't thinking.' I have that text message still saved in my phone. I contemplated about texting him back. And I was like, 'Nelson, you need to let this go.' But it's heartbreaking. So ultimately I did not reply."
Nelson went on to point out that this is not the first time Fessy betrayed someone who was supposedly in his alliance and that his words don't mean "s**t."
"But think about last season what he did to Cory: Fessy and Cory had a deal at that nighttime challenge, and he didn't pick Cory. It was a big argument because Fessy didn't keep his word."
"We forgave him for that, thinking it was a mistake," Nelson continued. "But that just means his word doesn't mean s**t."
Despite his departure from the show, Nelson still hopes that Fessy "gets what he deserves" after showing his true colors to his castmates.
Fans can tune in Wednesday nights on MTV for new episodes of The Challenge: Double Agents
Source: Read Full Article