Ted Lasso star Jason Sudeikis recalled how he moved from a writer behind the scenes on Saturday Night Live to front and center … all thanks to his wild dance moves in a Tom Brady sketch that everyone couldn't stop laughing about. He revealed that he actually wasn't looking to join the cast. But when he tapped into the dance he nailed on the "What Up with That" sketch, it was hard to deny that Sudeikis had the chops to be on stage.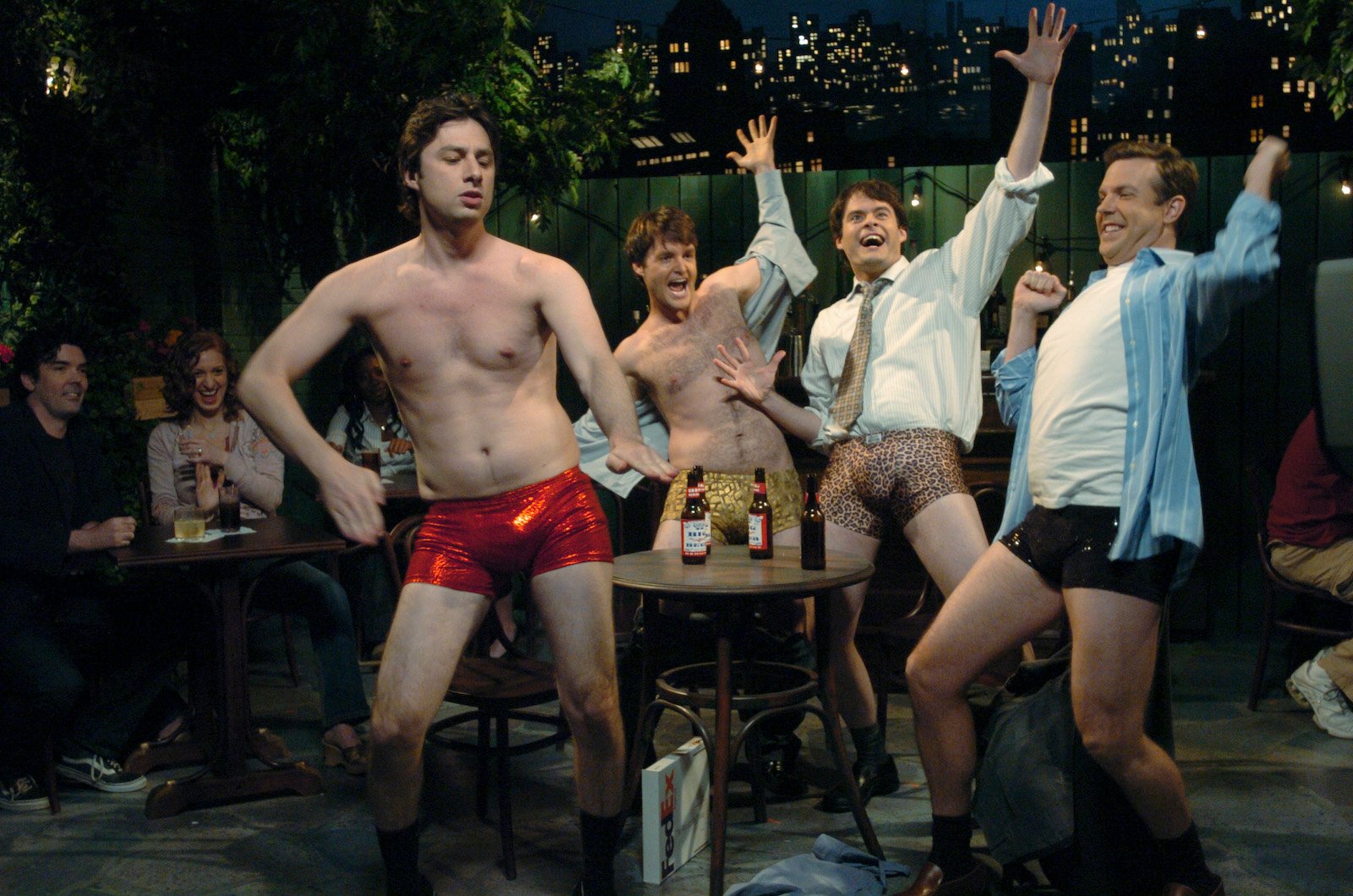 How did a previous 'SNL' sketch help him with the Tom Brady sketch?
Sudeikis said he joined the cast during his second season working on the show. The writers were crafting a Super Bowl sketch and quarterback Tom Brady was the host. "Me and three other fellows wrote a behind the music sketch about the 'Super Bowl Shuffle' the 85 Bears," he recalled on The Off Camera Show. "You know, 'We are the Bears' shuffling crew. They had the Super Bowl Shuffle that went great, obviously was a huge hit and they won the Super Bowl. Then they try to do like to 'Stay in School Shuffle.' Same song didn't have the same pop and then Jim McMahon went solo. And the whole premise was when he went solo, all he had was a dancing guy was the dancer. And I and I danced the exact same."
Sudeikis compared the sketch to the wild dance he did during "What Up with That." He would randomly pop into a scene and suddenly bust out dancing. "I was like the goofy white guy doing all these dances," he laughed. So Sudeikis applied his same mad dancing skills from "What Up with That" to the "Super Bowl Shuffle" dance.
How did Jason Sudeikis end up in the sketch?
"It's like 30 people were sitting here watching a rehearsal, and I started making this choice and cracking up," he continued. "Lorne [Michaels] comes walking and sort of sees what is everybody laughing at, and it's me doing this like goofy dancing behind Tom Brady. That was a Friday night."
Later, Sudeikis said he heard that producers didn't want a writer to take on the funny role. Instead, they should use a cast member. "It's a valid point, you know because it was getting laughs," Sudeikis pointed out. "And then so the story goes like Tina [Fey] was like, 'Well, who in the cast can we put in that's going to get that laugh?' And then we just kind of like [silence]." So clearly, the writers and producers couldn't name anyone who could take on the dancing role with the same amount of gusto and comedy.
Jason Sudeikis's mad dance skills scored him a role on the cast
The SNL crew didn't quite have a plan going into Saturday night and decided to put Sudeikis in the role. "And the next night, it was Saturday, the 'Super Bowl Shuffle' thing came on and I got my laughs as a nobody, you know, as you know, because I'm in sunglasses and a hat, you can tell it's me. And if you knew it was me, we had two weeks off cut to the last Friday of that two-week break, and Lorne calls me and says, 'We want to put you in the cast.'"
The rest is history. Some of Sudeikis's memorable characters include President Joe Biden, the Weekend Update devil, and one of the "Two A-Holes" alongside Kristen Wiig amongst many.
Source: Read Full Article