In the past year, we've watched Meghan Markle's life change drastically. The former actress was a fan favorite on the beloved USA series, Suits and she was also well known for her charity work and women's activism. Markle rubbed shoulders with famous faces like tennis legend Serena Williams and actress Priyanka Chopra. In 2016, Markle's life blew up in the best way. The Los Angeles native began secretly dating Prince Harry, and their whirlwind romance exploded in the media when they went public and eventually got engaged.
Now, Markle and the prince have been married since May 2018, and Markle has settled into life in the United Kingdom with a very new and quite regal title, the Duchess of Sussex. Though her life has changed drastically, Markle has remained poised and uplifted, interacting with her new in-laws and the public, with more grace then we could even ever dream up. These are all the things that Markle does each day to live her very best royal life.
1. A morning person
Meghan Markle in a dressing room | Meghan Markle via Instagram
Unlike many of us, Markle is undoubtedly a morning person. On her now-shuttered lifestyle blog Tig, she once wrote that mornings set, "the tone for our day ahead." As the sun rises, the duchess likes to get her day started with a wake-up playlist that includes hits from The Jackson 5 and Ingrid Michaelson.
We assume she also greets her red-headed hubby and her dogs, a brand new Black Labrador that she and the prince recently adopted and her rescue beagle named Guy.
Next: Workout queen
2. Getting sweaty
Meghan Markle yoga pose | Meghan Markle via Instagram
While some of us alternate or chose to workout in the evening, Markle likes to get her exercise in first thing in the morning. In fact, when she began dating the prince, he also got on a healthier track which involved more running and quitting his cigarette habit. Markle enjoys jogging along the Kensington Palace green in the morning. She told Shape, "I need it as much for my head and to clear my head as for keeping in shape."
Markle is also an active yogi like her mother, Doria Ragland. Ragland is a yoga instructor and encouraged her daughter to take up the practice. Markle once told Women's Health, "[Yoga] is in my blood."
Next: Keeping things interesting 
3. Switching up her routine
Meghan Markle running on a beach| Meghan Markle via Instagram
Unfortunately, London isn't exactly warm year-round. Therefore, it won't be pleasant for Markle to continue running outside as the weather gets colder. Luckily, the duchess won't allow a change in climate to interfere with her workout routine. For colder days or when her body needs something different, Markle relies on celebrity trainer, Tracy Anderson's online work-out videos.
Next: A hearty breakfast 
4. Nourishing her body
Meghan Markle in a kitchen | Seigobe2 via Instagram
The schedule of a full-time royal doesn't exactly afford a ton of downtime. Even when Markle and Prince Harry aren't traveling across the globe visiting various countries on behalf of the crown, they are often at multiple events, lunches, and festivities each day. To get a jump start on her day, Markle eats a nourishing breakfast.
When her social media accounts were still active, Markle shared that she adores omelets stuffed with fresh herbs, avocado toast, and gluten-free pancakes as breakfast options.
Next: A lengthy itinerary 
5. Digging into the day
Prince Harry & Meghan Markle Visit Nottingham| Adrian Dennis – WPA Pool/Getty Images
Markle's day is usually packed full with appearances, events, charity work, and everything from Royal Ascot to Trooping of Color depending on the time of year. Luckily, even before she met the prince, the Suits alum has always been passionate about helping others, so the work is energizing to her. Her daily schedule will vary which means her work as a royal will never get boring.
It is also super fulfilling for her that she has dedicated her life to helping others. From the women in the U.K. who welcomed her with open arms to children and those living in impoverished circumstances, her new status means that her reach can extend well around the world.
Next: A promise to herself
6. One simple act
Prince Harry And Meghan Markle | Chris Jackson/ Getty Images
In addition to the work on her daily itinerary, Markle has also dedicated herself to performing one random act of kindness a day. She explained that it doesn't have to be a big gesture, just something small and kind is always worthwhile.  We've already seen this in action.
Though royals aren't technically supposed to be touched or touch non-royals, Markle has gone out of her way to offer hugs to children, taking the time to stoop down and speak to them even in the midst of massive crowds. Those kids will probably remember that small gesture for the rest of their lives.
Next: A jet-setting lifestyle 
7. A few crafty travel hacks
Prince Harry and Meghan Markle | Victoria Jones – WPA Pool/Getty Images
Though she and Prince Harry embarked on a short visit to Dublin on behalf of the queen just after they wed, in Oct. 2018, the duo embarked on their first official royal tour together. Their travels will include, Australia, Fiji, the Kingdom of Tonga, and New Zealand. Jet lag and exhaustion is going to be very real for Markle, and she will undoubtedly have to use some travel hacks to get through the month.
According to Business Insider, she will learn to strategically eat meals to beat jet lag, swab her nose with Neosporin to avoid germs, and bring along a cozy scarf or blanket for draftier events and dinners.
Next: Nights on the town with bae
8. Some sultry date nights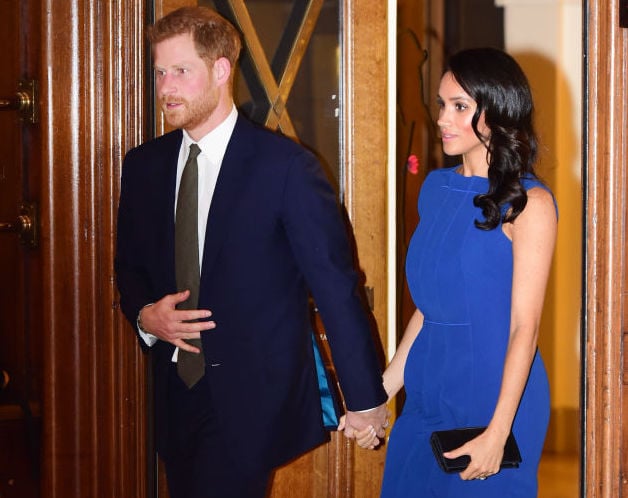 Meghan Markle and Prince Harry | Geoff Pugh – WPA Pool/Getty Images
When the duke and duchess don't have a booked evening, and they choose to go out as a couple, they tend to sneak into a cinema or see a show like Hamilton. The newlyweds try to soak up their quality time with one another, and since they both like to have fun and have all of the resources and access, then the sky is the limit.  To avoid the prying eyes of the paparazzi, the pair often switches cars using Harry's sporty Audi RS6, a people carrier with blacked-out windows, or even a taxi.
We wonder which films they have seen lately.
Next: Getting social
9. Catching up with friends
Prince Harry and Meghan Markle | Chris Jackson/Getty Images
Though most of Meghan's closest friends are across the pond, she has made a few close U.K. friends and bonded with some of the prince's clan. She and the prince are both foodies, so they love to dine at restaurants like Bocca di Lupo or Little House. Sometimes the couple heads to a friend's home for a nice dinner in.
Their friend group includes Hugh van Cutsem and his wife Rose Astor, Tom and Lara Inskip and Mark Dyer and his Texan wife, Amanda Kline.
Next: Cozy nights in
10. Quiet dinners
Meghan Markle eating | Meghan Markle via Instagram
Like her sister-in-law, Duchess Kate Middleton, Markle enjoys doing some of her cooking herself. In fact, the evening that Prince Harry proposed, the duo were having a quiet evening at home and the women's rights activist was roasting a chicken. When she does cook, Markle gets her groceries from Whole Foods or another organic grocer in London.
Unfortunately, the days of getting her own groceries are probably long over, and she probably has to send out one of her staff members with a list.
11. A glass of wine or some dessert
Meghan Markle drinking two glasses of wine | Meghan Markle via Instagram
Since she has more than a few restrictions placed upon her when she is dining with the royal family, including the fact that she must stop eating as soon as the queen puts own her fork, Markle doesn't place too many restrictions on herself or count her calories.
She explained to Best Health, "Because I work out the way I do, I don't ever want to feel deprived. Do the things you enjoy within reason."
Next: A very personal activity 
12. Some personal hobbies
Meghan Markle| Dominic Lipinski/WPA Pool/Getty Image
As a former lifestyle blog editor, it's clear that Markle loves to write. She keeps multiple journals and diaries with everything from favorite recipes to her dreams. The duchess also uses her journals to write gratitude lists or plan out her weeks. Markle finds journaling so therapeutic that she encourages all of her friends to give it a try.
She gave the Duchess of Cambridge a dream journal for her birthday.
Next: Much needed "Meghan time."
13. Pampering herself
Meghan Markle (right) with her close friend, Jessica Mulroney | Jessica Mulroney via Instagram
Like anyone else, Markle indulges in days when she can just pamper herself. For her skin care treatments, she goes to Sarah Chapman, who owns the Skinesis clinic in Sloane Square, London. For daily upkeep, Markle uses Champan's Stem Cell Collagen Activator Duo and Ultimate Cleanse.
Every two weeks she heads to Sherrill Riley of Nails & Brows boutique in Mayfair for a mani, pedi, and eyebrow shaping. When her hair is in need of a glossy blow out, she'll go to Hershesons in Knightsbridge.
Markle also enjoys shopping at upmarket King's Road in Chelsea and Lululemon. Usually, Prince Harry's assistant private secretary Heather Wong accompanies her.
Next: Time off 
14. Renewing and relaxing
Meghan Markle in a swimming pool | Meghan Markle via Instagram
Though the Duke and Duchess of Sussex seem to be taking everything in stride, we're sure the spotlight is exhausting. Even when Markle was on the Hollywood side of things, she was sure to use her downtime wisely. She revealed to Women's Health, "I give myself the luxury of downtime. We are all so incredibly busy and juggling so many things, but I always take an hour just to decompress, watch mindless TV, snuggle with my dogs, and enjoy a glass of wine. That's all part of the investment. It's a balance.
Apparently, she and the duke enjoy a good Netflix binge or catching up on BBC's Feud.
Next: Catching zzzzs
15. Counting sheep
Meghan Markle | Jeff Spicer/Getty Images
Since her schedule is so hectic, we're certain that the duchess doesn't have a set bedtime. However, sleep is very important when it comes to living a healthy lifestyle, especially one that involves a ton of commitments and travel. We do know that when Markle and Prince Harry are staying with the queen, they retire to bed when she does which is typically around 11:30 p.m.
Follow Aramide Tinubu on Twitter @midnightrami.
Read more: The 1 Thing Prince Harry Loves Most About Meghan Markle
Check out The Cheat Sheet on Facebook!
Source: Read Full Article