[Note: this article contains some spoilers from season 2 of Love, Victor. Read at your own risk!]
Season 2 of Love, Victor has been out for a while but lemme just say, I still have FEELINGS. You'd think with all these episodes, it would be a slow burn to the surprising end of the season, but NOPE. Hulu really did that and made us all fall in love with the newly-out Victor (Michael Cimino) and his extremely hot boyfriend Benji (George Sear) even more than we already were before. Also, do those two have a ship name yet? BRB, have to go think of something.
For those who haven't been following the new season—and may I ask why not?—here's an extremely brief summary on where the show left off. Victor, thanks to the help of one Simon Spier (Nick Robinson) the previous school year, is now out, proud and seemingly happy in his relationship with Benji. His home life though? Um, that's a mess. With his parents separating coupled with Victor coming to terms with his sexuality, there's a lot of healing that needs to be done there. And despite being a basketball star at Creekwood High, he's slowly realizing his teammates aren't too accepting of his openly-gay status.
Needless to say: Victor has got a lot going on, and he needs some help navigating everything.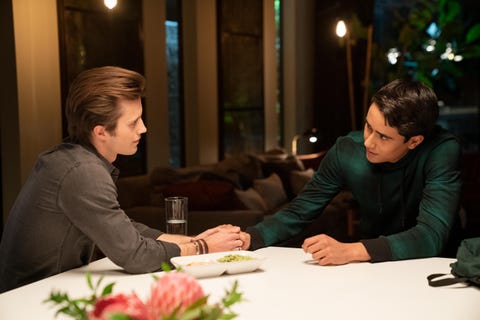 Anyway, now that season 2 is officially a wrap, fans want to know everything about Love, Victor season 3. Here's everything we know about what viewers can expect.
First things first. Has season 3 even been confirmed yet?
Sounds like we'll be heading back to Creekwood for another wild semester! Love, Victor has officially been renewed for season 3, which means we'll actually get to know what happened at the end of THAT season 2 finale. Just when you thought you could handle the wait, the show dropped a special recap trailer that makes us wonder even more who is behind that door.
Source: Read Full Article