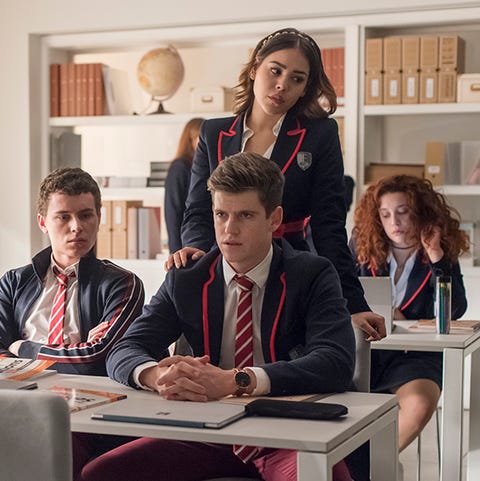 This post contains spoilers about Netflix's Élite.
Élite season one came and went in an eight episode flash. It feels like we were just introduced to the students of Las Encinas, and now Nano is going away for the murder of Marina, a crime actually committed by Polo and covered up by the boss ass bitch Carla and her fuck buddy Cristian. What?! I warned you about the spoilers.
Now that season two has been confirmed (just two weeks after the Spanish language teen soap premiered on Oct. 6), here's everything we know so far and everything we WANT to know. (Uh, FYI: Netflix did not respond to our request for details, so keep checking back.)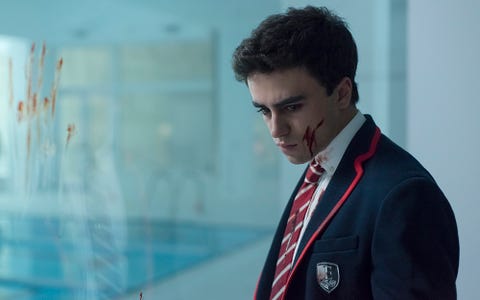 Release date?
No official date has been announced, but the second season will launch on Netflix worldwide in 2019. According to The Hollywood Reporter, Spain's Zeta Audiovisual, will produce the next eight episodes.
Where is Élite filmed?
Netflix established a production hub in Spain earlier this year (where they also film popular series Money Heist and Cable Girls). Following the passing of a new law, Netflix now must meet quotas that require 30 percent of its European content to be filmed in, well, Europe.
Who will be back for season 2?
Again, not too much to go on, besides my own hopes and dreams.
It seems likely (and necessary) for most of the cast to return. The season ended with Samuel (Itzán Escamilla) pledging to prove his brother Nano's (Jaime Lorente) innocence. Polo (Álvaro Rico), the true murderer, is on the edge of cracking while Carla (Ester Expósito) tries to keep his shit together, so it looks like those two will have much more to do in season 2, along with Cristian (Miguel Herrán) who helped cover it up.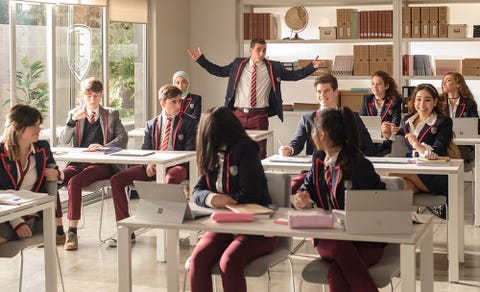 I also refuse to believe we won't get more of Omar (Omar Ayuso) and Ander (Arón Piper), as well as my personal ship Nadia (Mina El Hammani) and Guzmán (Miguel Bernardeau). Though Nadia might have to pry Guzmán away from Lu's (Danna Paola) clutches yet again.
The only wild card is actress Maria Pedraza's, who portrayed Marina in season one. With her character dead, and the true story already told, the show could go on without her. More likely, we'll have another Hannah Baker situation with flashbacks and possible visions.
Which ships will survive?
Let's start with Omar and Ander. The season ends with the beautiful couple facing completely different situations at home. Ander's parents are accepting when they discover their son is gay, in fact his father is more upset by the fact that he no longer wants to play tennis. On the other side of town, Omar's father is enraged when his son is outed by Ander's mother, the principal of Las Encinas. Omar tells him it was a lie, but that doesn't stop his father from pursuing a speedy arranged marriage.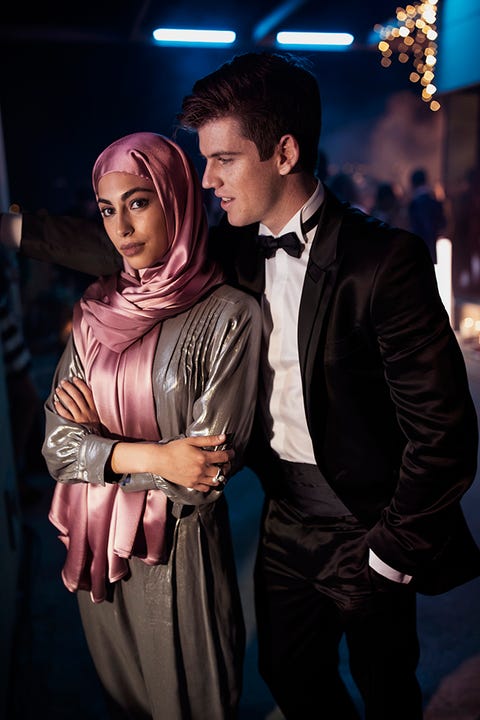 Now back to Guzmán and Nadia. Guzmán didn't end the season on the best of terms. Crippled by the grief of his sister's murder, he drinks heavily and ends up hooking up with his problematic on-again-off-again girlfriend Lu (think Blaire Waldorf, but even more evil.)
But, there is still hope. Guzmán told Lu that he's in love with Nadia before his sisters death. Those feelings just don't go away. Nadia actress Mina El Hammani spoke to Spanish magazine Fashion Hola about it. "Obviously. Nadia suddenly finds in Guzmán the desire, the sexual attraction…everything she thought she did not have to do, she feels it," she says. "They are unanswered questions that Nadia needs to answer, find her own answer."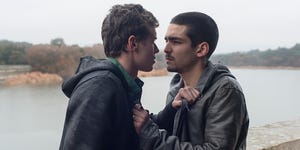 Source: Read Full Article