Daniella Pineda is basically a pro at stepping into beloved worlds. After appearing in The Originals, a spin-off of The Vampire Diaries, you think she'd be used to it, but her newest project Cowboy Bebop is a whole different ballgame.
Since the original anime first aired back in the '90s, Cowboy Bebop's Faye Valentine has become one of the most beloved characters in anime history. For Daniella, all of this expectation was just another reminder to be in the moment like Faye is throughout the series.
Cosmopolitan spoke with Daniella Pineda about getting the chance to play Faye, which episode had her in stitches, and her hopes for what this role could mean for other Latinas.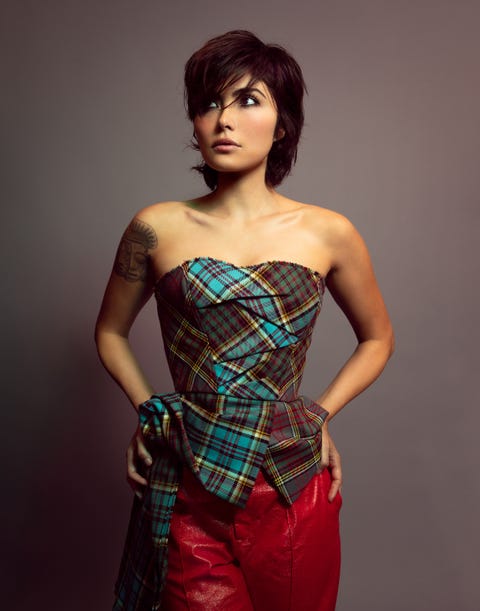 Before we get started though, who is Faye Valentine?
Fans of the original series had to wait to meet the one and only Faye Valentine, but in Netflix's adaptation, she's right in the mix from episode 1. Brash and ready to take down anyone who stands between her and her next payday, Faye is immediately at odds with the gang.
"I like the fact that they just weren't all instantly friends. That was a relationship that had to be earned over time. Eventually, when they all team up, it makes it so much more rewarding," Daniella told Cosmopolitan. "Episode 5 is when we all start to come together. For some reason, we all actually got closer in that episode [in real life]. It was strange. Sort of like art imitating life imitating art."
Faye's story remains largely the same as in the anime: She is a woman with no memory after waking up from cryogenic sleep. With no family or friends coming to claim her or tell her who she is, Faye starts to find her own way in this galactic wild west.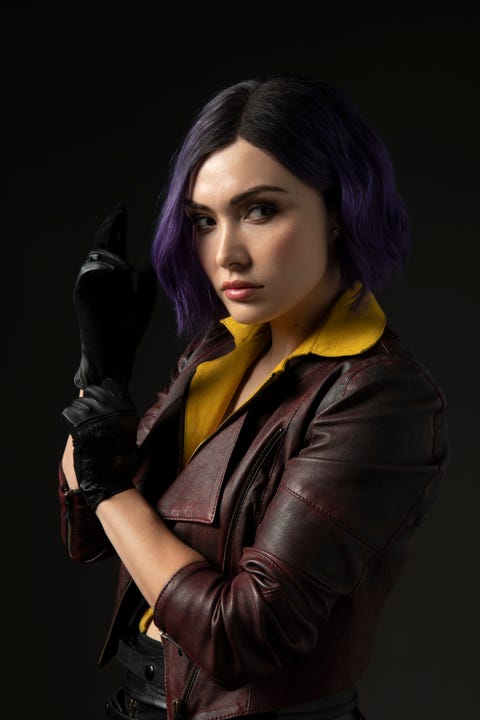 "She doesn't have a path to be played from. Of all the characters, I feel like she is the most in the moment. She's experiencing everything for the first time," Daniella continued. "And on top of that, she's impulsive, which comes from a place of survival, because she needs to get what she wants, then continue on living. In a sense, I'm not gonna say it was easier, but more fun to play off someone who is almost terrible."
Daniella also referred back to the anime for pieces of Faye to bring into the new series. "We took moments of the enemy and expanded upon them. The anime is the blueprint. It's the Bible, it's the bones. So I found moments [I wanted to bring to life]. Like anytime Faye eats a bowl of anything, it's always rushed and sloppy and gets all over her face. She's a little bit like a raccoon," Daniella said. "And so it was sort of like trying to capitalize, expand and flush out one moment, that could be spawned over a series. It was important for me to honor the anime, but it was also simultaneously important for me to try to make her my own in a live-action way. I chose to sort of tap into her wit and her punchiness [more]."
What was the filming process like for Daniella?
There was one scene in particular that Daniella knew would be a big deal for Netflix Faye: the tape scene. "When we were shooting that scene, we played the audio from the original anime over the speakers on the set. But it's heartbreaking for Faye in that scene. You hear her mother's voice, and it's like, 'Oh my god, somebody loved me.' There was a universe in a time where she was nurtured and cared for and someone loved her."
But even with similarities, don't expect her journey to be exactly the same when you watch it. In fact, Daniella's favorite episode to film involved a totally new storyline for Faye.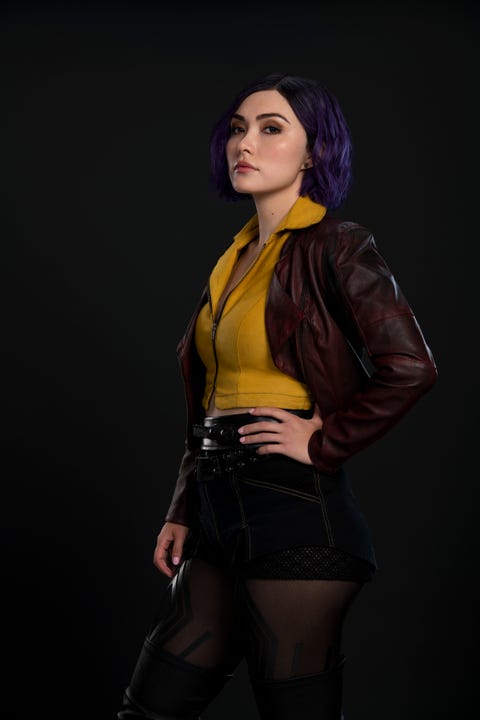 "I had the most fun on episode 7. The woman who played 'my mother,' Christine Dunford, was an absolute delight. I loved loved loved working with her we both had so much fun. We were these ragtag con women," Daniella said. "It was just so nice because we didn't know each other, and it's like this woman's playing my mother and we're both looking at each other like, 'Are we are fans expected to believe that we're related to each other?' She was just game for anything. I was a little sad when it ended. I really enjoyed working with her."
Why this role of a lifetime matters
For Daniella, the chance to play Faye brought her two major things; The first is the chance to show another Latina in a substantial role. "I'm not the first Latino in space, there's Oscar Isaac and Diego Luna. But I hope to pass off the baton to someone else. Our representation, as far as the numbers go, are pretty sad. My primary hope is that we are recognized, and we are celebrated and that there's more content for us and about us," she said. "What was wonderful about this is that I'm playing someone who is so celebrated and a fan favorite, but it has nothing to do with her background. It has more to do with her story. I hope that more Latinos get the opportunities to play those types of heroes."
And the second thing this role gave Daniella is a chance to do more comedy, something she'd like to continue in her life beyond this show. Just like Faye, Daniella is taking matters into her own hands, creating a comedy called In Town.
"As a child who grew up in the '90s, I was so fortunate and lucky. I feel like comedies have just gotten put on the backburner and I'm so over it. Can we please make some more comedies? And, dare I say, can we make some comedies with a Latino audience in mind?" she said. "I feel like after these last two years we could all use a good laugh. It was really important to me to have comedic elements, so I really, really pushed for that. Our show has something for everyone. No matter who you are."
Plaid look: Photographer: Tiziano Lugli. Hair: Kylee Heath. Makeup: Jo Strettell. Stylist: Sydney Lopez
Source: Read Full Article