Netflix's Cowboy Bebop is finally taking off, and the ship would be nothing without its captain. Thankfully, the Bebop has Jet Black, a cowboy who is all about his fam and whose past as a cop still affects him everyday.
Mustafa Shakir brought the iconic character to life and is all about making sure fans feel like they're seeing a part of the original Jet in this brand-new version. Cosmopolitan spoke to Mustafa about playing the former space cop, the intense training the cast went through, and the first time he stepped onto the iconic Bebop.
But first: Who is Jet Black?
If you're new to the Cowboy Bebop world, then you might be wondering just who Jet is. Allow Mustafa to explain: "He's cool. He's not cool in the sense of Spike who has a lot of contrast with Jet. He's super-intelligent that he's sort of myopic in the sense that he's not so on par in emotional intelligence," Mustafa told Cosmo. "But, his technical skills are through the roof. He knows a little bit about a lot of things. He's a bruiser, which is a nice combination of intelligence and brawn."
Jet owns and drives the Bebop (aka the ship that the crew lives and travels on), which Mustafa recognizes as an extra treat. "When I walked on the Bebop for the first time, it was just huge. I believe it took three months to build. When I sat down in the pilot's chair, I started flipping switches and they actually worked. It's grimey and it looks so retro-futuristic. It's was something out of my childhood that I saw in the '80s and it totally teleported me into the world."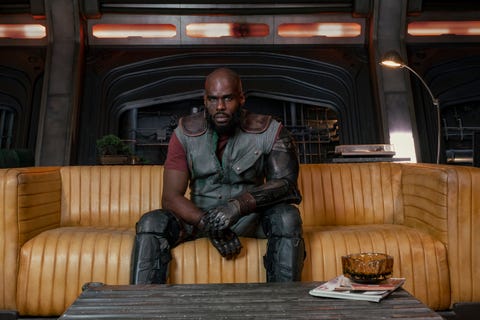 While the new live-action series adds another layer to Jet's personality (especially when it comes to his family), it was still important to Mustafa to bring parts of the original to life in this version. "I wanted to bring that sense of like gruff emotionality. I think that the expanding on that was fun with more of his backstory being shown," he said. "Taking that growth, and cop-ish demeanor, and showing that he's emotional and caring, playing up the father perspective of his personality."
The addition of Jet's daughter to Netflix's Cowboy Bebop was also a game changer. "Playing contrast is really fun. He's a big gruff guy with this huge gun, plate on his face, and scar in his eye. And then he's running around looking to get this doll for his daughter. I love that and I can relate because I have three daughters," Mustafa continued. "It's really fun to show that side of the character."
How did Mustafa get into character as Jet?
Jet's arm is fully iconic at this point, and he is often seen repairing it throughout the original series and the live-action. Mustafa said a piece was strapped onto his body for almost eight hours each day as they filmed to create the right visuals. "The level of artistry and detail that everyone put in poured into this was amazing to behold. I was really excited when I first saw it," he revealed. "I don't think that it would look that amazing if it was CGI."
The pandemic extended the amount of time the cast had to train, giving them a chance to get in extra practice time before stepping onto set. "We did Zoom training for about two weeks, got together, and did four more weeks of boot camp. We started at eight in the morning and we'd go home at two. We learned everything from how to shoot a gun to swordplay. The stunt coordinator really gave us a buffet, if you will, of physicality," Mustafa said. "[My favorite part] was playing with the sticks. Training that is so much more mental. You got to work both lobes of the brain and I love a good challenge."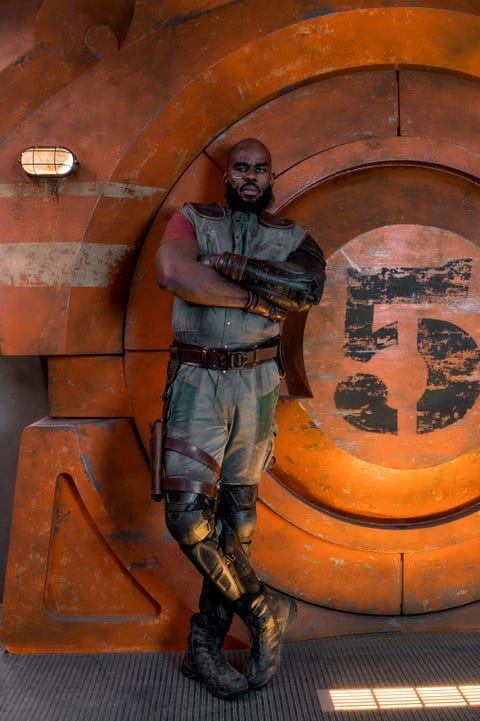 Why was it finally time to return to the Bebop?
Like many others, Mustafa discovered the original series through a friend. "[I first watched it] some years ago, just after I was at a club hanging out my boy, Eddie. He is really heavy into anime. He put it on and I was just fascinated by the jazz influence with this. The animation is very, very compelling," he said.
"I believe in divine timing. The world of Cowboy Bebop is sort of right there on the border of where we are right now as a world. A lot of the themes you'll see in the show were ahead of their time in a lot of ways and I think we've caught up with them," he said. "Having those those those reflected back is going to be pretty cool to watch."
For hardcore fans who might be a little hesitant to see how the series compares to the beloved original, the ship's very own captain has something to say.
"So much attention to detail and honoring of the original IP went into this it's ridiculous. It was sort of an obsession and an ongoing conversation of how to not mess it up and make it be what it's going to be. We really wanted to pay homage to the material," Mustafa reassured. "This was not something where we threw a bunch of money at it and see what happens. There was a lot of love."
Source: Read Full Article