Lauren Zima is breaking her silence after her boyfriend, Chris Harrison, announced that he's "stepping aside for a period of time" from the Bachelor franchise. Lauren is a correspondent for Entertainment Tonight and shared her reaction to the controversy on social media.
"What Chris said was wrong and disappointing," she wrote in an Instagram Story. "Defending racism can never happen. Accountability comes first, what's next is learning and growth."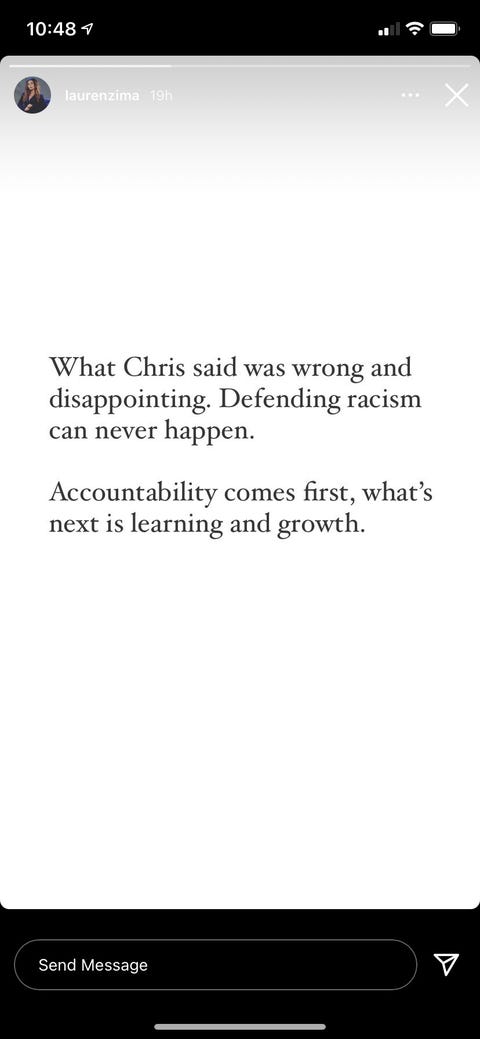 Chris recently issued an apology statement after defending Rachael Kirkconnell's racist actions. The controversy began after screenshots surfaced of Rachael at an antebellum-themed plantation party in 2018 that celebrated the old South. Chris received backlash for his comments during an interview with former Bachelorette Rachel Lindsay and is now ending his hosting duties for an unknown period of time.
"I have spent the last few days listening to the pain my words have caused, and I am deeply remorseful. My ignorance did damage to my friends, colleagues and strangers alike," he wrote in a lengthy statement shared on Instagram. "I have no one to blame but myself for what I said and the way I spoke."
Read the rest of the statement below:
https://www.instagram.com/p/CLPmjrFgEv8/?utm_source=ig_embed&utm_campaign=loading
A post shared by Chris Harrison (@chrisbharrison)
Rachael also released a statement apologizing for her past actions. It's rumored that the statement she wanted to release was rejected by ABC. Reality Steve alleges that she was being pressured by the network. Eventually, she did share an apology post to Instagram.
"While there have been rumors circulating, there have also been truths that have come to light that I need to address. I hear you, and I'm here to say I was wrong," she began. "At one point, I didn't recognize how offensive and racist my actions were, but that doesn't excuse them. My age or when it happened does not excuse anything. They are not acceptable or okay in any sense. I was ignorant, but my ignorance was racist."
Read the rest of her statement below:
https://www.instagram.com/p/CLK5YDHHDQT/?utm_source=ig_embed&utm_campaign=loading
A post shared by rachael kirkconnell (@rachaelkirkconnell)
Fans have created an entire Change.org petition calling for Chris's removal as host for the show, but it's still unknown whether or not Chris will return as the franchise's host.
Source: Read Full Article