Britney Spears got emotional during her conservatorship hearing on July 14. The "Toxic" singer did not hold back while speaking out about how dire her circumstances are, and she indicated that she's ready to fight back.
At one point, a tearful Britney accused those responsible for her conservatorship of threatening her and even "trying to kill me," per CNN. When it comes to her father, Jamie Spears, she made it clear that she does not simply want to have him removed as her conservator — she told the court that she wants him charged with conservatorship abuse. "I want to press charges against my father today," Britney said. "I want an investigation into my dad." Jamie is the conservator of Spears' estate and he previously claimed Britney's' personal conservator, Jodi Montgomery, is responsible for many of her complaints about her conservatorship. Among them is the shocking claim that she is being forced to keep her IUD implanted against her will. However, in her latest hearing, Britney said that she has no issue with Montgomery's involvement — she just wants her father gone (via TMZ).
After the hearing, Britney took to Instagram to share her feelings about how it went. She was clearly feeling optimistic and she used two videos to demonstrate her joy. She even gave the "Free Britney" movement a shoutout.
The change that Britney Spears' is excited about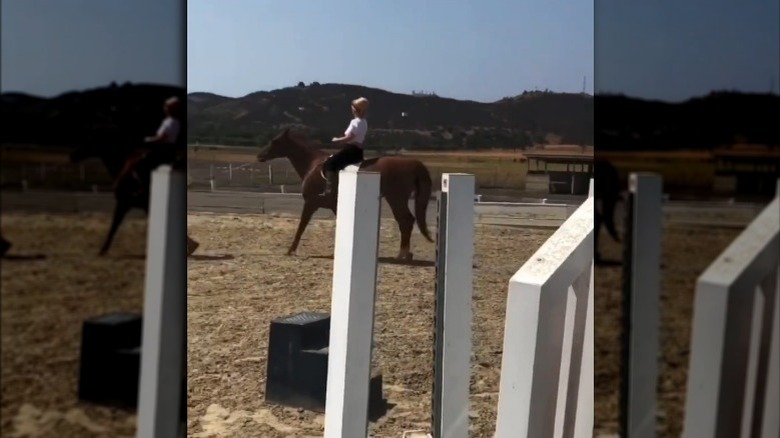 In her post, Britney Spears mentioned her new attorney, Mathew Rosengart, an entertainment litigator. As reported by TMZ, the singer scored one victory when the judge ruled that she can hire him to represent her. "New with real representation today … I feel GRATITUDE and BLESSED !!!!" she wrote. Her previous attorney, Samuel Ingham III, resigned after Spears claimed that she had never been informed that petitioning to end her conservatorship was an option.
Spears went on to thank her fans for their support and added a #FreeBritney hashtag at the end of her caption. "You have no idea what it means to me be supported by such awesome fans !!!! God bless you all !!!!! Pssss this is me celebrating by horseback riding and doing cartwheels today," she wrote. The two video clips accompanying her post did, indeed, show her riding a horse being led around a corral and doing half a dozen cartwheels along a stretch of grass between a road and a pond. Someone was seemingly driving slowly down the road while filming her.
One person who responded to Spears' post was Chris Crocker, someone who played a pivotal role in the Free Britney movement. In 2007, they achieved internet fame by filming a video begging people to "Leave Britney alone." As noted by NPR, many people are now saying that they were right about their idol's ill treatment. "You're a warrior," Crocker wrote.
Source: Read Full Article