"Modern Family" featured a supersized cast of actors over its 11-season run, so it's no surprise that several of them had other careers before they hit it big on the Emmy-winning ABC comedy series.
For example, before Ed O'Neill had set his sights on television (famously portraying patriarch Al Bundy on "Married With Children" and Pritchett patriarch Jay on "Modern Family"), he was on a trajectory for a career in the NFL. He was even drafted by the Pittsburgh Steelers in 1969, but was cut from the team in training camp, per CBS Sports. Sofia Vergara also shot to fame on "Modern Family," playing Gloria Pritchett on the hit sitcom, but once told The New York Daily News that she actually wanted to be a dentist. And before he was Phil Dunphy, Ty Burrell was a bartender in Oregon, according to his IMDb page. He also once spent a summer in Alaska working at "a local fishery." He also logged another stint as a "forest firefighter," he told Us Weekly.
But one "Modern Family" star has them all beat when it comes to a pre-ABC resume.
Eric Stonestreet once protected Garth Brooks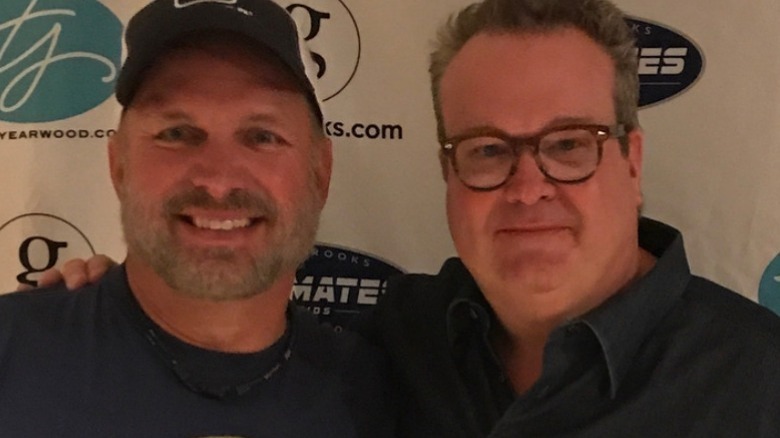 Eric Stonestreet is best known as lovable dad Cameron Tucker on "Modern Family," but more than 10 years before he scored his breakout acting role he briefly worked as a bodyguard for country music superstar Garth Brooks. Stonestreet posted the proof on Instagram as he shared photos from a 1995 Garth Brooks concert in Manhattan, Kansas — at which he was hired as security.
In the photos, which were signed by Brooks, the future actor is wearing glasses and can be seen keeping an eye on the "Friends in Low Places" singer as he reaches out to some fans in the front row of the venue. In a second pic, Stonestreet is seen standing in front of the stage to protect the superstar and is carefully watching the crowd as Brooks performs right behind him. 
While the bodyguard gig appeared to be one and done — "I worked security for A (ONE) Garth Brooks concert," Stonestreet captioned the photos — the two stars came full circle years later when they reunited at a Garth Brooks concert at The Forum in Los Angeles, posing together for a picture. 
Eric Stonestreet has some other unique jobs before he found fame on 'Modern Family'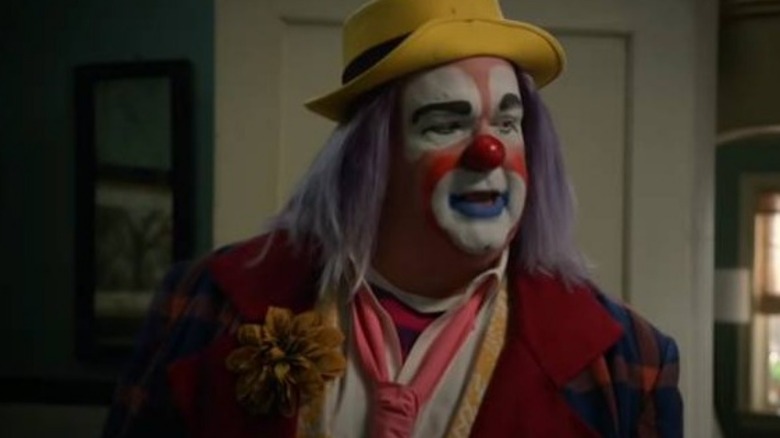 As if being Garth Brooks' bodyguard wasn't enough, Eric Stonestreet has a few more unique jobs listed on his wild resume. The future "Modern Family" star grew up raising pigs on his family's farm in Kansas, per The Wall Street Journal. And while his "Fizbo the Clown" persona was a thing on "Modern Family," Stonestreet actually worked as a clown in real life — even performing at birthday parties when he was younger. "When I was a kid, I wanted to be a clown in the circus," he once told KansasCity.com. "I was in [the Kansas City newspapers] more than a few times. If you look at that Fizbo episode from the first season, when they show the article that they flash back to, that's the actual article that was written about me (in the "Kansas City Kansan") and that's really me in those pictures."
Stonestreet had a completely different plan for his career path, though, and it initially had nothing to do with clowns or acting. After growing up near a state penitentiary, he went to school to study to be criminal justice with plans to be a prison administrator, per IMDb. But he got bit by the acting bug while in college, and he switched career gears altogether. And the rest, as they say, is history.
Source: Read Full Article