On May 31, Jin, Suga, J-Hope, RM, Jimin, V, and Jungkook of BTS appeared at the White House as part of Asian American, Native Hawaiian, and Pacific Islanders Heritage Month (AANHPI Heritage Month). During the Korean band's visit, the members briefly spoke at an official press briefing at the White House and met with President Joe Biden. While BTS' visit with Biden was not open to the press, Biden later shared some of the meeting on social media.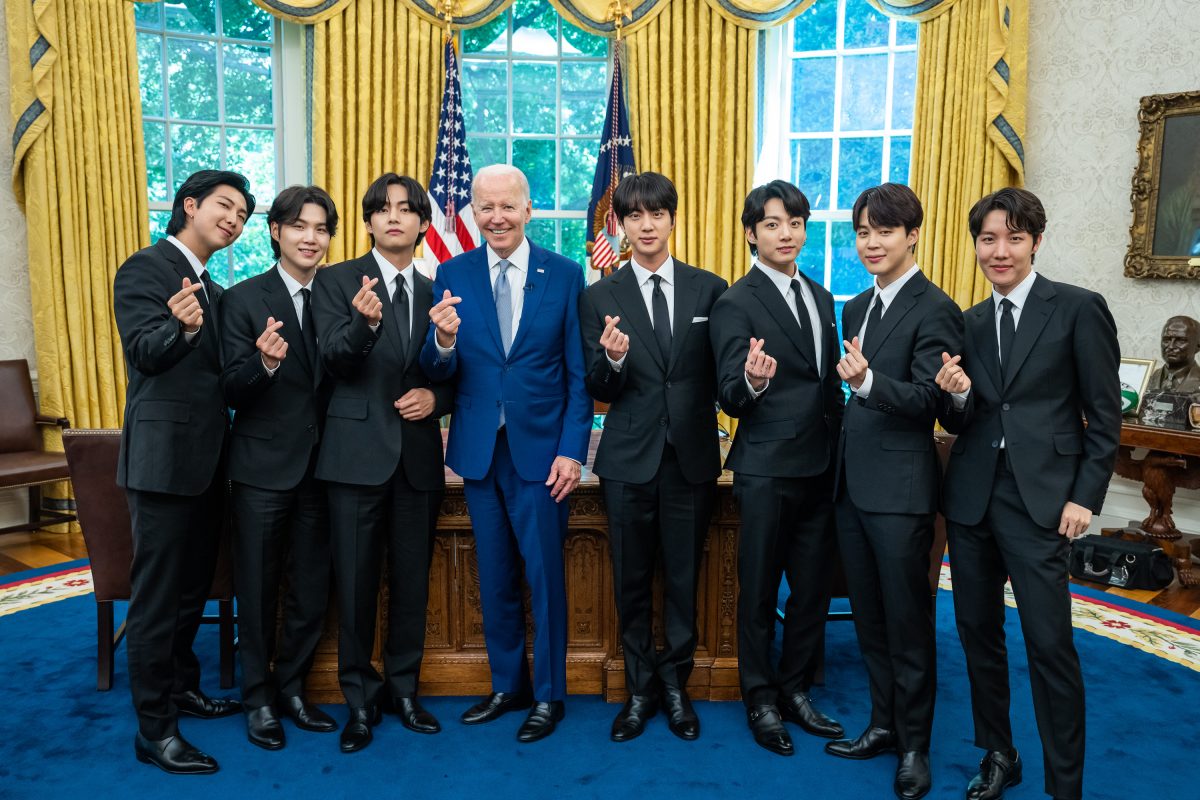 President Joe Biden shared some of his meeting with BTS
BTS' meeting with Biden took place in the Oval Office at 3 p.m. EDT following a press briefing with Press Secretary Karine Jean-Pierre.
According to a press release, the meeting lasted for 35 minutes, and "BTS and President Biden had a conversation on anti-Asian hate crimes and Asian inclusion, and spoke about President Biden's recent visit to South Korea."
While BTS' conversation with Biden was not shown to the press in real-time, Biden later posted a video of the meeting on social media.
"This is an important month here in America. A lot of our Asian American friends have been subject to real discrimination. Hate only hides. When good people talk about it and say how bad it is, it goes down," Biden told the members of BTS in the video.
RM of BTS replied on behalf of the group, saying, "We want to say thank you, sincerely, for your decision such as signing the COVID-19 Hate Crimes Act into law. So we just want to be a little help and we truly appreciate the White House and government's trying to find solutions."
BTS spoke at a press briefing at the White House
Leading up to their meeting with Biden, Jin, Suga, J-Hope, RM, Jimin, V, and Jungkook took part in a press briefing at the White House. The band did not take questions from reporters, but each member gave a statement. Jin, Suga, J-Hope, Jimin, V, and Jungkook each spoke in Korean, and RM concluded BTS' briefing in English.
"Today is the last day of AANHPI Heritage Month. We joined the White House to stand with the AANHPI community and to celebrate," Jin shared.
Jimin added, "We were devastated by the recent surge of hate crimes including anti-Asian hate crimes. To put a stop on this and support the cause, we'd like to take this opportunity to voice ourselves once again."
J-Hope then shared, "We could be here today thanks to ARMY, our fans worldwide who have different nationalities and cultures, and use different languages. We are truly grateful."
 
"We still feel surprised that music created by South Korean artists reaches many people worldwide, transcending barriers across the board including language and culture. We believe music is always a wonderful unifier of all things," said Jungkook. 
Suga added, "It's not wrong to be different. Equality begins with opening up and embracing all differences."
 
"Everyone has his or her own history. We hope today is one step forward to respecting and understanding each and every one as a valuable person," said V.
 
RM concluded, "Lastly, we thank President Biden and the White House for giving us this important opportunity to speak about the important causes and remind ourselves of what we can do as artists. Thank you very much."
More of BTS' meeting with President Joe Biden will be shared
While the video Biden posted on social media is just less than a minute long, the president promised more of his meeting with BTS will be released at a later date.
"It was great to meet with you, @bts_bighit. Thanks for all you're doing to raise awareness around the rise in anti-Asian hate crimes and discrimination. I look forward to sharing more of our conversation soon," the president tweeted.
BTS: Jungkook Thinks the Band's Grammy Awards Rehearsal Was 'Better' Than Their Performance
Source: Read Full Article