Despite having to pull out of her upcoming performance at Steven Tyler's Grammys viewing party, the 'We Can't Stop' hitmaker says that testing positive for the highly-contagious virus 'was definitely worth it.'
AceShowbiz –Miley Cyrus has revealed that she has gotten sick with COVID-19 after her whirlwind world tour. Following her COVID diagnosis, the "Party in the U.S.A." hitmaker had to cancel her Grammys party performance.
Making use of her Twitter account on Friday, April 1, the Grammy-winning musician wrote, "Traveling around the world, playin for a 100,000 people a night & meeting hundreds of fans a day the chances of getting Covid are pretty high." She went on to announce, "I have Covid now but it was definitely worth it."
In a following post, Miley said that it "sucks" that she has to pull out of her performance at Steven Tyler's Grammy Awards Viewing Party, which benefits the nonprofit Janie's Fund. The 29-year-old singer/songwriter penned, "Unfortunately because of this I'm missing out on Janie's Fund which sucks because it's a charity that's super important to me & my friend Steven Tyler."
Miley then assured her fans and followers that she's doing good after testing positive for the highly-contagious virus. "I am feeling fine so don't worry about me! Sorry Steven!" She then concluded her post as saying, "We'll have to 'Walk This Way' another time!" adding a trio of black heart emojis.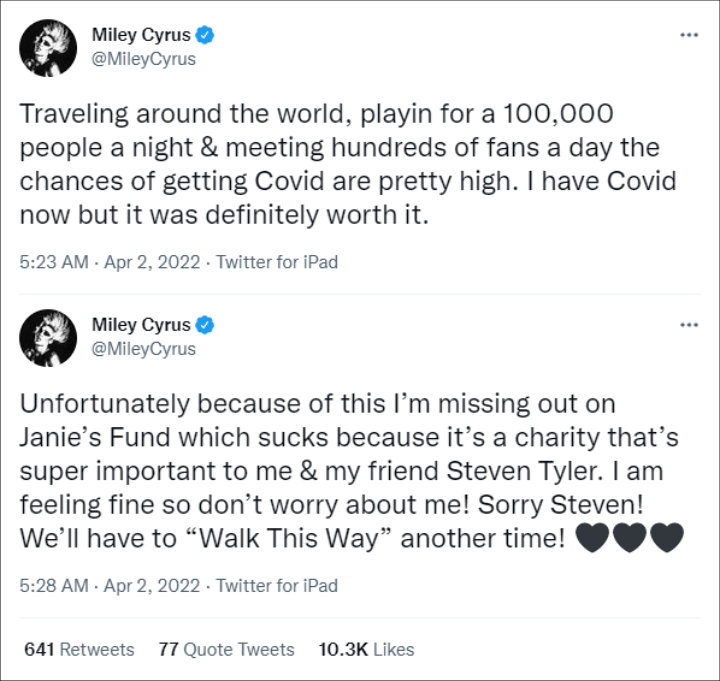 Miley Cyrus announced that she tested positive for COVID-19 after her world tour but it's 'definitely worth it.'
Miley has had a busy couple of months. Last month, the "Wrecking Ball" hitmaker played shows in Chile, Colombia, Argentina and Brazil. On March 22, she suffered a terrifying plane incident when she was flying to Paraguay to headline day 2 of the Asuncion Festival.
At the time, Miley's private jet was forced to make an emergency landing after it was struck by lightning. Miley took to Instagram to share a video that captured the terrifying situation. In the brief clip, a lighting suddenly flashed outside the plane's window and the passengers could be heard letting out big gasps. She also posted a photo of the plane's damage, which appeared to show a deep dent in the exterior of the aircraft's body.
"To my fans and everyone worried after hearing about my flight to Asuncion," Miley captioned her post. "Our plane was caught in a major unexpected storm and struck by lighting. My crew , band , friends and family who were all traveling with me are safe after an emergency landing. We were unfortunately unable to fly into Paraguay. I LOVE YOU."
Source: Read Full Article