There's nothing like a good reality show. But now that "Keeping Up with the Kardashians" has ended and "Vanderpump Rules" Season 9 hasn't aired, we're left with a deep dark void in our reality TV hearts. Thankfully, there is no shortage of incredible — but perhaps underrated — reality TV out there. If you're looking for something to pass the time before Addison Rae's family airs a show with Kourtney Kardashian producing (we're kidding…kind of), might we suggest checking out "Love & Hip Hop"?
"Love & Hip Hop" is a VH1 franchise that follows the lives of a group of aspiring or semi-successful hip-hop artists. Obviously, they focus on their careers, but because it's reality TV, they also focus on the in-fighting that goes on between the cast. Think "Vanderpump Rules" … minus the restaurant. And plus hip-hop.
It speaks to the power of reality TV that many of the artists featured on the show became famous after joining the cast. Take Rasheeda Frost, for example. Before joining "Love and Hip Hop: Atlanta," she was a professional rapper, however, she didn't gain mainstream notoriety until appearing on the show. Since then her success, and presumably her wealth, has ballooned. So, what exactly is Rasheeda worth these days? Let's find out.
Rasheeda Frost is a businesswoman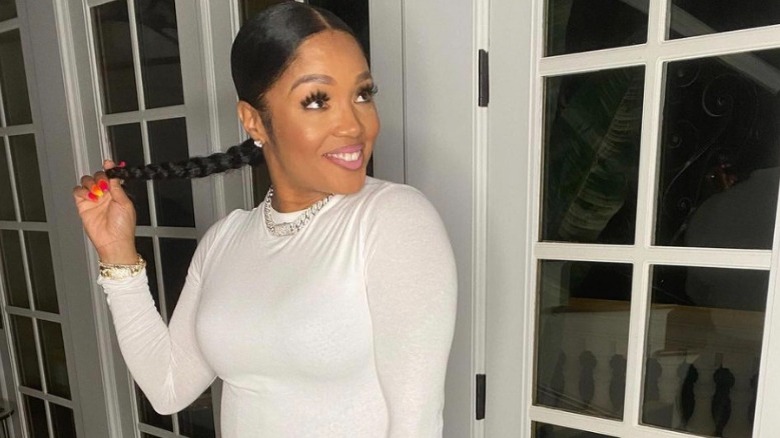 Despite her biggest claim to fame being "Love & Hip Hop: Atlanta," Rasheeda Frost had an impressive musical career before joining the show. Her first album, "Dirty South" was released in 2001 and featured big-name artists including Nelly. Her biggest song to date, "My Bubble Gum," was part of her 2004 studio album "GA Peach," which has over 7 million views on YouTube.
At her heart, Rasheeda is an entrepreneur. She has a "multi-million dollar" boutique, per Forbes, called Pressed – with a location in Atlanta, Ga. Additionally, she has her own cosmetics line, Prize, and in 2018, she launched a line of workout videos. "There isn't one right path to be successful," she told the outlet in 2018. "But, it definitely comes from personal motivation, drive, and being ok with not knowing the answers. You also can't let others discourage you. We live in a time where people are always trying to knock your hustle or take you out of the game by trying to be your competition."
So, just how much is that hustle worth anyway? According to Wealthy Genius, Rasheeda is worth around $750,000. Given the upward trajectory of her career, and all of her businesses, though, we wouldn't be surprised if she's worth a lot more! 
Source: Read Full Article