Miranda Lambert and Blake Sheldon have been broken up for some time now. They've moved on with their careers and moved on to new relationships.
But the two country stars continue to pop up in headlines together. And from the looks of things, Sheldon's love life may be making his ex-wife incredibly unhappy.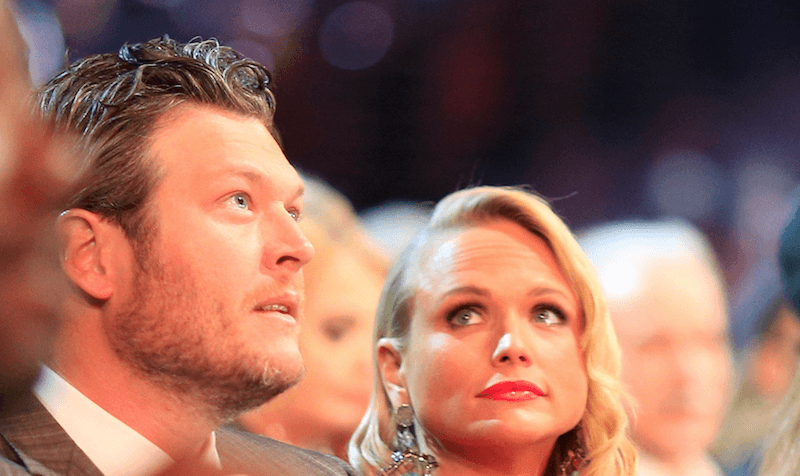 Blake Sheldon and Miranda Lambert | Christopher Polk/Getty Images
What did Blake Sheldon do to make Miranda Lambert unhappy?
As fans know quite well by now, Blake Sheldon is in a long-term relationship with singer Gwen Stefani. The country crooner and No Doubt frontwoman have been quite the item in November 2015 and have been going strong ever since. There have been multiple rumors as to whether the two secretly got married in early 2018. While it's still unclear whether the couple secretly walked down the aisle, Stefani told her good pal Ellen DeGeneres she and Sheldon are madly in love nonetheless.
Which is precisely what has Miranda Lambert so upset.
According to Life & Style, Lambert is very upset watching how madly in love her ex-husband is with Stefani. "Miranda can't stand seeing her ex-husband so in love with Gwen, planning a wedding, (and) co-parenting Gwen's sons," a source reportedly told the publication.
But wait — isn't Miranda Lambert in her own relationship?
Au contrare. You may recall Lambert was at the top of the rumor mill earlier this year when she went public about dating Turnpike Troubadours singer Evan Felker — and was blasted on social media by Felker's estranged wife. (Or, ex-wife. It's really unclear where that relationship stood when the Lambert-Felker dating rumors first emerged.) But after four months of having their relationship be the subject of tabloid fodder, the duo called it quits.
Lambert reportedly said at the time she is "happily single." But as Life & Style reports, the split has made Sheldon and Stefani's public displays of affection extra difficult to watch. The source tells the publication Lambert has gone on a major partying bender and has allegedly been drinking excessively to deal with the pain of watching her ex with someone else.
"Friends and family have been so concerned that they've been considering an intervention," the source continued
Does this mean Miranda Lambert wants Blake Sheldon back?
It's difficult to say. When it comes to celebrity gossip, it can be difficult to tell what's real and what's just hearsay — especially when it comes to two highly talked-about figures like Miranda Lambert and Blake Sheldon.
We think it's more likely Lambert is just reeling from her recent breakup and is sad when she sees her ex being so happy. Keep in mind, Lambert has had her fair share of romances since the two split up. So it's entirely possible Lambert is more sad about her breakup with Felker than anything else.
Then again, you never know what may happen next between Lambert and Sheldon. Stay tuned …
Check out The Cheat Sheet on Facebook!
Source: Read Full Article