After the rock band cancels their show at the Huntington Bank Stadium, officials of the University of Minnesota, which operates the venue, declare that they will not change the existing protocols.
AceShowbiz –Foo Fighters won't perform in Minneapolis soon. Just a few hours after announcing the "LIVE IN NORTH AMERICA 2022" tour, the rock band declared that they canceled one of the shows which was supposed to take place in Huntington Bank Stadium, Minnesota over COVID-19 policies.
The group broke the news via a statement shared on Twitter on Tuesday, November 30. "Due to Huntington Bank Stadium's refusal to agree to the band's COVID safety measures, Foo Fighters are unable to perform at that venue," they first stated.
"We apologize for any inconvenience and are working on finding a suitable replacement -one that will prioritize the health and safety of everyone working and attending the show," the message added. Alongside the note, they penned, "Updates: Minneapolis, please see below – we hope to see you soon!"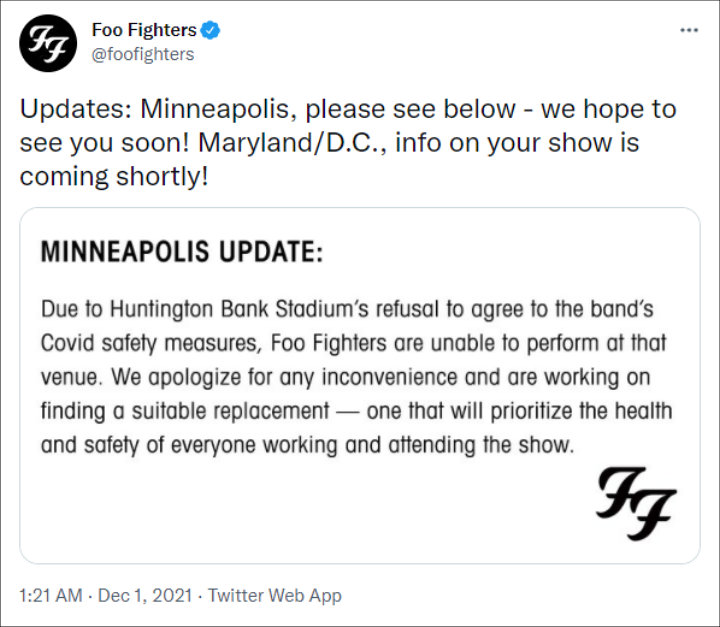 Foo Fighters announced that they canceled Huntington Bank Stadium show.
However, officials of the University of Minnesota, which operates Huntington Bank Stadium, insisted that they follow the state and federal guidelines regarding vaccines and mask-wearing. "Huntington Bank Stadium has successfully hosted Gopher Football since August while fully complying with state and federal COVID guidance," they said in a statement.
"All who attend events at our public institution, whether football fans, concert goers, or others, are treated equally and encouraged to take steps to protect themselves and others," they continued. Noting that the university declined to change its existing protocols for bigger events, they added, "We continue to encourage everyone to get vaccinated, wear a mask when in large crowds, and take appropriate steps to protect public and personal health."
Foo Fighters announced the tour dates via Twitter and Instagram on Tuesday. " 'LIVE IN NORTH AMERICA 2022' Tickets are on sale Friday, Dec. 3rd at 10am local time. Watch your inbox for pre-sale details! Pre-sales start TODAY!" they declared.
The band will embark on the tour in May next year. It will hit 18 major cities across the United States. They will kick things off in Burgettstown, Pennsylvania on May 14 and finish the tour in Los Angeles, California on August 20.
Source: Read Full Article