The pop music scene has changed a lot since Christina Aguilera arrived in the late 1990s. The "Genie in a Bottle" singer made waves with her sophomore album Stripped in 2002. But if tracks like "Dirrty" didn't solidify her edgier sound and persona, her performance with Madonna and Britney Spears at the 2003 MTV Video Music Awards did the trick. Years later, Aguilera revealed what bugged her about the much-talked-about music performance.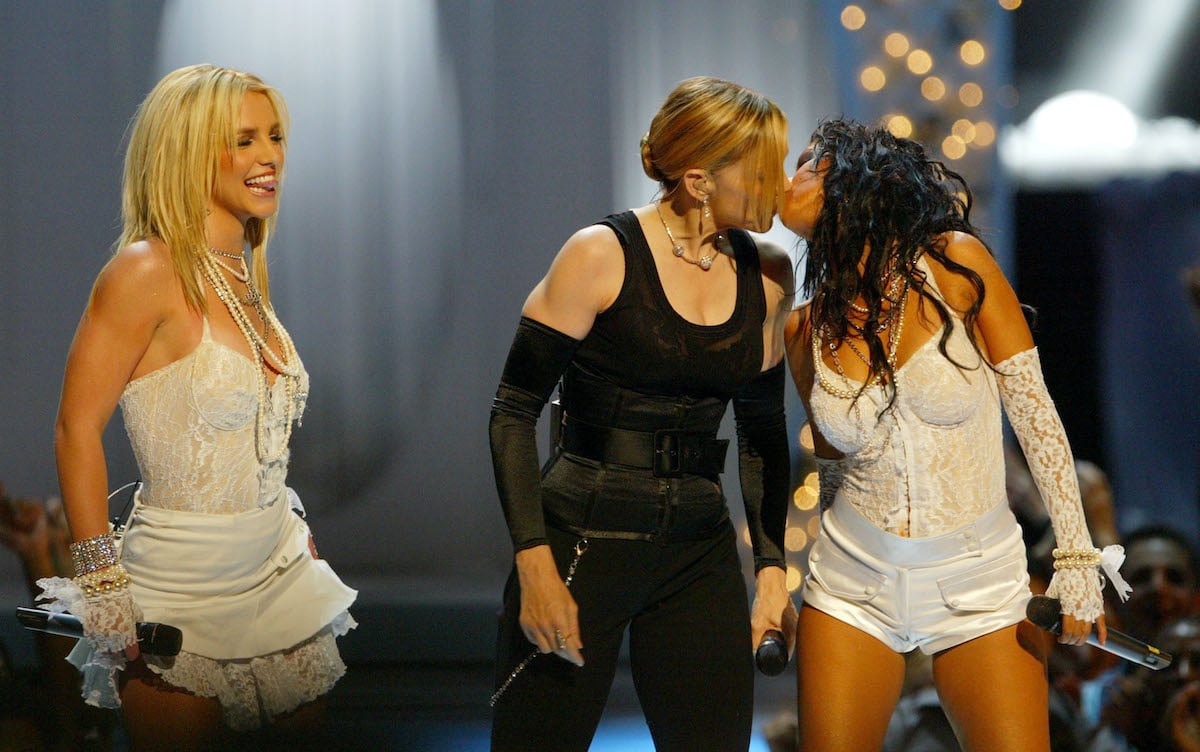 Britney Spears and Christina Aguilera joined Madonna onstage in 2003
After working together on The All-New Mickey Mouse Club, Spears and Aguilera struggled early in their music careers to shed their wholesome "pop princess" images. Of course, few icons reimagined themselves as often or successfully as Madonna. So it made sense for Spears and Aguilera to join her onstage at the MTV Video Music Awards in 2003.
The provocative performance — headlined by Madonna — featured both the singer's classic "Like a Virgin" as well as her latest single, "Hollywood." And during the latter bit, she culminated her vocals by locking lips with both Spears and Aguilera. However, that's not what the folks watching the awards show saw at home, as the Madonna-Aguilera kiss barely made it on air.
Christina Aguilera once weighed in on being left out of the footage
The next day, the photo of Madonna and Spears kissing was everywhere. Viewers and the media seemingly overlooked the fact that Aguilera participated in the kiss as well. In 2018, Aguilera sat down for an interview with Andy Cohen on SiriusXM. And the host took the time out to gauge her reaction to being left out of the media coverage for the 2003 VMAs.
"It was weird. And you know why they cut away for it? They cut away to get Justin's reaction. … They were exes, but still it was a cheap shot. … I definitely saw the newspaper the next day, and it was like 'Oh, well, I guess I got left out of that one.' … Everything happened so quickly back then, and everything was in a whirlwind. I could have been on tour at the time or whatever. But I had my own performance that night. … It was a kickass performance. So I was okay. She can have that kiss. It's okay."
Aguilera references her performance of her hit single "Fighter," which featured guitarist Dave Navarro. Still, fans would hardly hold it against her if she was a bit disappointed her moment was stolen by MTV's desire to feed into Spears' break-up with Justin Timberlake the previous year. Still, Aguilera's rarely been one to bite her tongue. So we imagine she's over it by now.
What has the singer been up to lately?
Following that VMAs performance, Aguilera continued to rule the charts. Her 2006 album Back to Basics yielded such hits as "Ain't No Other Man" and "Hurt." And she's released three more albums and been featured on several hit songs. Among them are guest appearances on Maroon 5's "Moves Like Jagger" and "Say Something" with A Great Big World.
Most recently, Aguilera released a new song titled "Brave Loyal True" for Disney's live-action Mulan remake in 2020. In addition, she re-recorded "Reflection," a new she first performed for the original animated film in 1998. Aguilera also concluded a 25-date concert run in Las Vegas in early 2020, just before the coronavirus (COVID-19) pandemic escalated.
Source: Read Full Article