No musical artist has captured the zeitgeist of America in the late 20th and early 21st centuries quite like Bruce Springsteen. Sure, he's had a couple of terrible albums (we're looking at you, Working on a Dream), but by and large, he's been nothing but successful since debuting in the 1970s. Let's take a photo tour of American icon Bruce Springsteen's life, from the early years to the heights he reached later in his career.
We'll discuss the one way he started a musical trend (No. 13), his sometimes troubled love life (the nation's highest civilian honor,), and his most valuable body part (No. 21).
1. Where it all started
Bruce Springsteen baby photo. | Bruce Springsteen via Instagram
Photo date: Sept. 23, 1949
Bruce Frederick Joseph Springsteen was born in Long Branch, New Jersey, Sept. 23, 1949. His parents, Douglas and Adele, couldn't wait to show start documenting their first child's life; they took baby photos the same day he was born. He was born in Long Branch, but he grew up in Freehold, New Jersey.
2. A difficult relationship with his father
Bruce Springsteen (right) during a 1966 recording session with his band The Castiles. | Bruce Springsteen via Instagram
Photo date: 1966
It sounds stereotypical, but Bruce Springsteen really did have a difficult relationship with his father. Bruce was dead-set on being a rock star, and his dad didn't approve. "When I was growing up there were two things that were unpopular in my house. One was me, and the other was my guitar," he said in the past, according to The Independent.
3. Inspired by The King
Bruce Springsteen is welcomed in Barcelona like Elvis was back in the day. | Bruce Springsteen via Instagram
Photo date: May 15, 2016
Bruce Springsteen is nicknamed The Boss, but he was inspired by The King. When he saw Elvis perform on The Ed Sullivan Show, Springsteen immediately knew he wanted to be a lifelong musician. Among his artistic heroes, Elvis is probably the most influential. He hopped the gates at Graceland in 1976 hoping to meet Elvis.
4. He was an outsider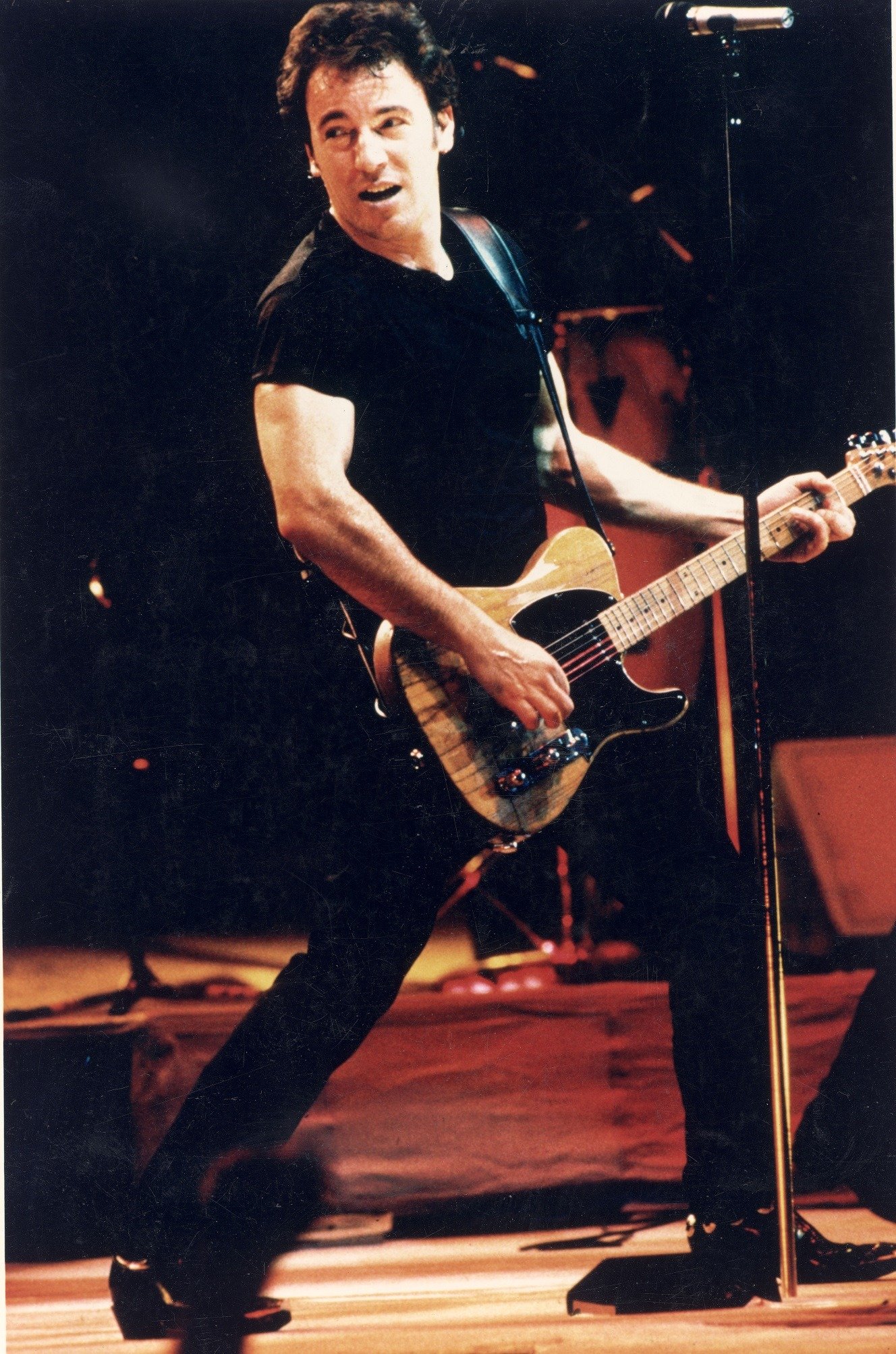 Playing live during a concert in the 1980s. | Hulton Archive/Getty Images
Photo date: 1980s
The man who so eloquently depicts American life didn't really fit that mold and was an outsider growing up. He said a nun put him in a garbage can under her desk in third grade, and he later skipped his high school graduation because he didn't feel comfortable attending the ceremony.
5. The first guitar
Bruce Springsteen visits his mother Adele in the crowd in 2016. | Bruce Springsteen via Instagram
Photo date: March 29, 2016
He plays mostly Fender guitars these days, but his first six-string was a Kent his mother Adele bought him for his 16th birthday. Without that first instrument, Bruce Springsteen might have lacked the encouragement to pursue music, and we might never have been blessed with one of the great American musicians of all time.
6. He dodged a bullet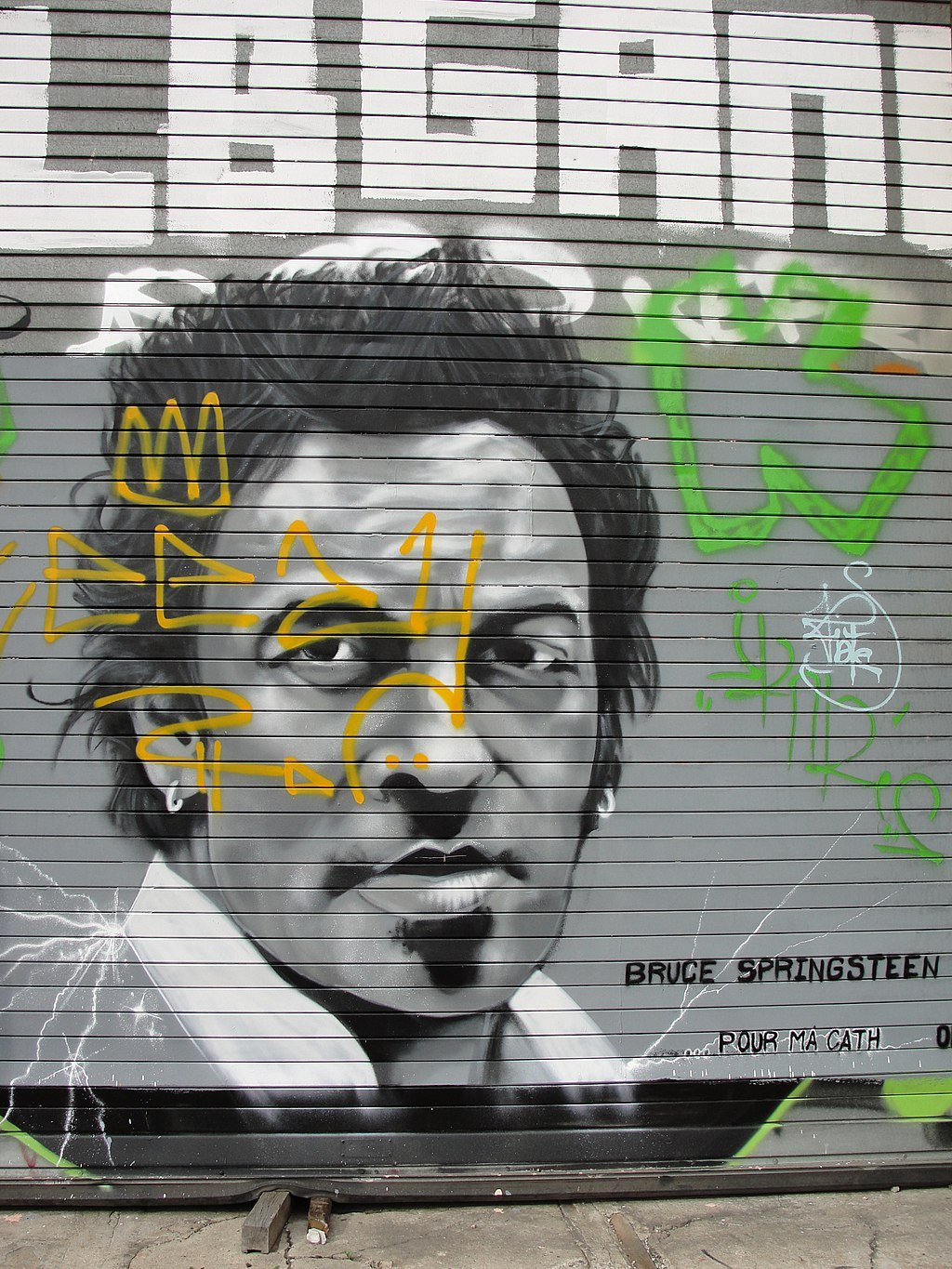 A graffiti image of Bruce Springsteen in Saint Etienne, France. | Floraliën Gent via Wikimedia Commons
Photo date: 2010
Bruce Springsteen was drafted to serve in Vietnam in 1967, but he dodged the draft. He had friends die in the war or return permanently injured, so he pretended to be high on drugs at the Army interview to get out of service. He admits to being a "Stone-cold draft-dodger," but his guilt about dodging the draft inspired him in the long run. After the war, he met numerous Vietnam vets and was inspired to write one of his most famous songs years later.
7. The first album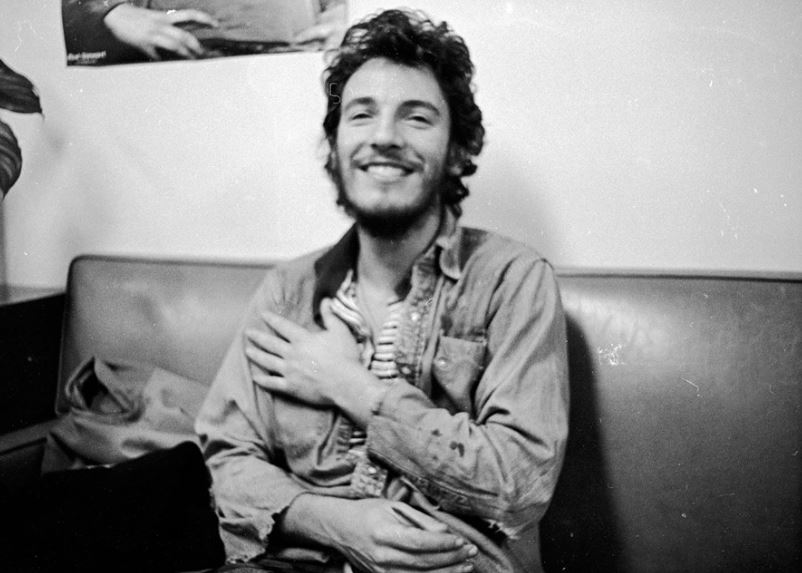 Taking a break from recording debut Greetings From Asbury Park, N.J." in 1972. | Bruce Springsteen via Facebook
Photo date: 1972
The first two Bruce Springsteen albums, Greetings from Asbury Park, N.J. and The Wild, the Innocent, & the E Street Shuffle, both hit shelves in 1973, on Jan. 5 and Sept. 11, respectively. Both releases were critical successes but commercial flops at the time, but his next five albums are among the best of his career.
8. Ties to Asbury Park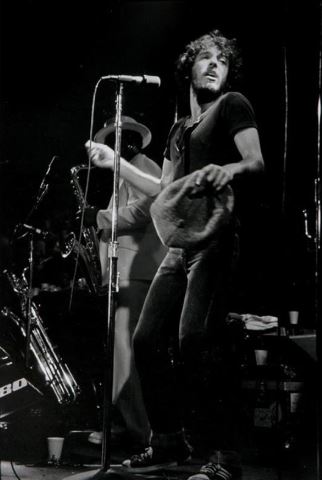 Performing live in the 1970s. | Bruce Springsteen via Facebook
Photo date: Unknown, early 1970s
Some of Bruce Springsteen's earliest gigs after signing with Columbia Records happened in New York City, but he cut his teeth in smaller clubs in New Jersey. Like Long Branch, Asbury Park is a beach town along New Jersey's northern coast, and it's just as much a part of his Jersey upbringing, which is a reason it comes up so often in his music
9. Born to Run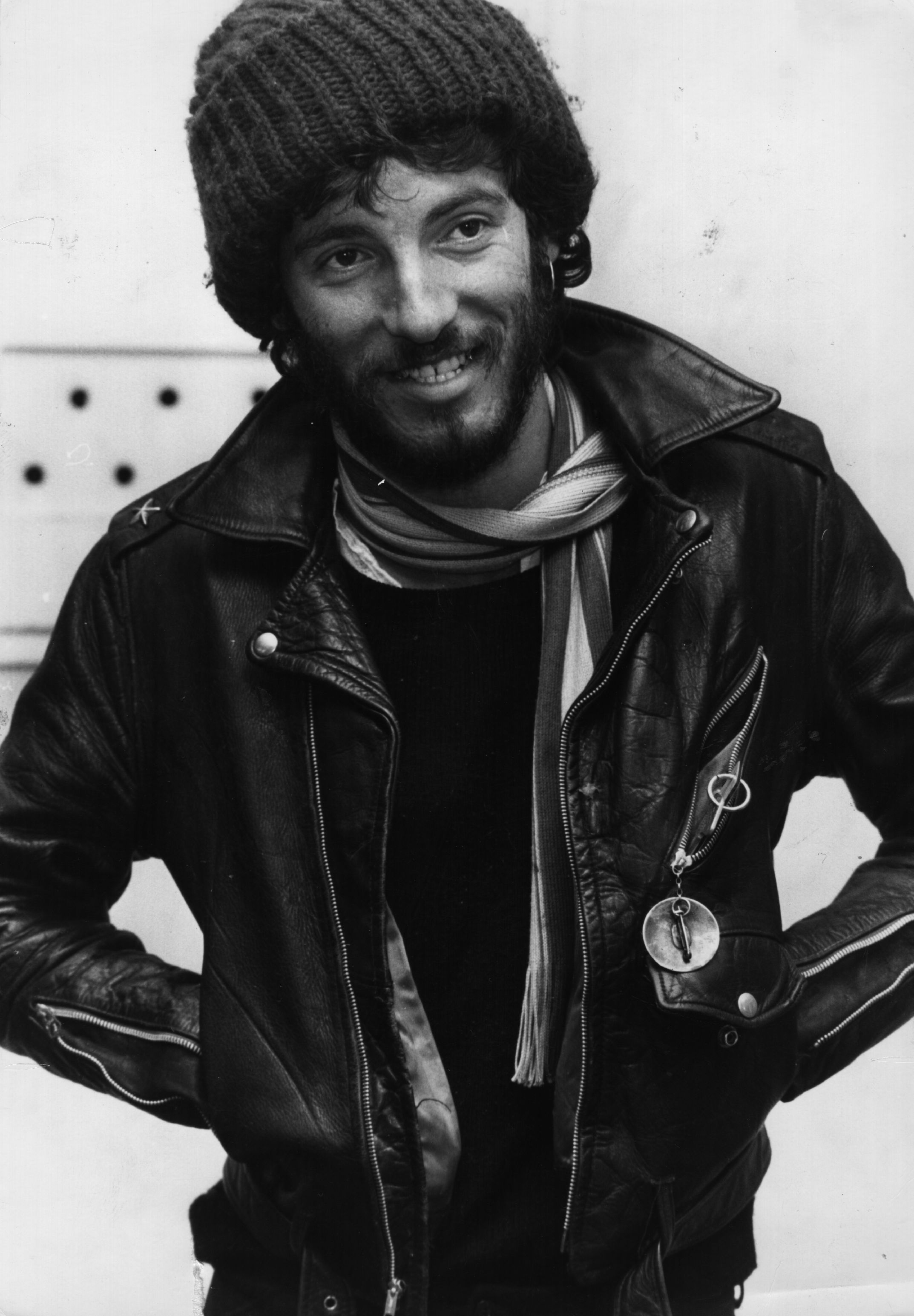 Bruce Springsteen in 1975 around the time of Born to Run. | Monty Fresco/Evening Standard/Getty Images
Photo date: 1975
The third album was make or break territory for Bruce Springsteen, and the fact you're reading this tells you how it all turned out. The lead-off song "Thunder Road" and the signature track "Born to Run" are both flat-out classics. It was his big breakthrough album and cemented his status as a master storyteller and a blue-collar hero.
Next: Keeping the band together.
10. Life on the road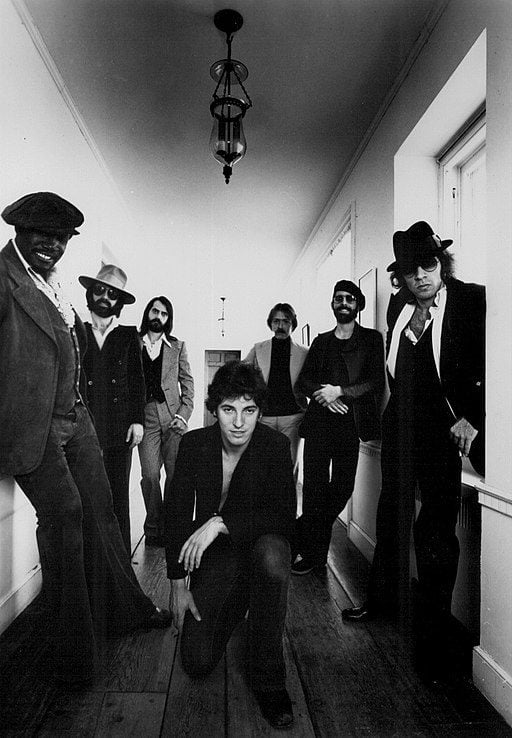 A promotional photo of Bruce Springsteen and The E Street Band from 1977. | Columbia Records via Wikimedia Commons
Photo date: 1977
Even though Born to Run was a runaway success, Bruce Springsteen and The E Street Band didn't return to the studio to record a follow-up until 1977. In the interim, they toured extensively and earned their status as an outstanding live band. That reputation still holds true in the 21st century.
11. Darkness on the Edge of Town
Bruce Springsteen around the time of the Darkness at the Edge of Town sessions. | Bruce Springsteen via Instagram
Photo date: 1977
Where his three previous albums were more uplifting and anthemic, fourth album Darkness on the Edge of Town explored darker topics. Songs such as "Badlands" and "Factory" lyrically explore the dark side of the American dream. Even though it's darker, the album contains some of Bruce Springsteen's greatest songs. It was a departure from the earlier work, and it eventually morphed into a detour.
12. Early 1980s albums continue the departure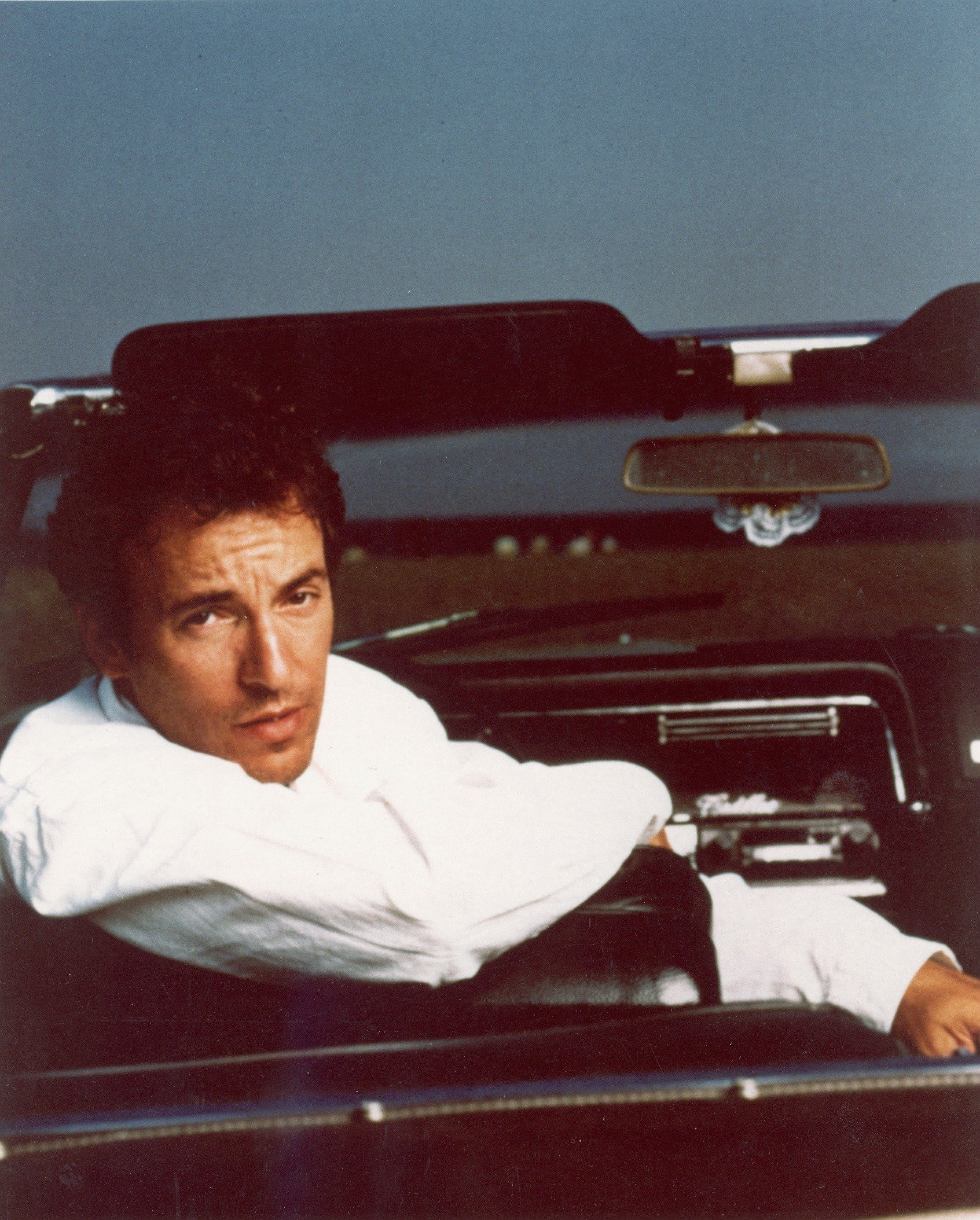 Bruce Springsteen at the wheel of a Cadillac convertible. | Hulton Archive/Getty Images
Photo date: 1987
If Darkness on the Edge of Town was a departure toward darker lyrical topics for Bruce Springsteen, then The River and Nebraska continued the detour. The former, from 1980, has song titles such as "The Price You Pay," "Fade Away," and "Wreck on the Highway" that hint at the themes on the double album.
Nebraska was going to be a full band effort, but Springsteen released it as a solo acoustic album in 1982. Like its predecessor, it tackles some pessimistic topics, but also like the record that came before it, Nebraska remains one of Bruce Springsteen's best albums.
13. Still in Nebraska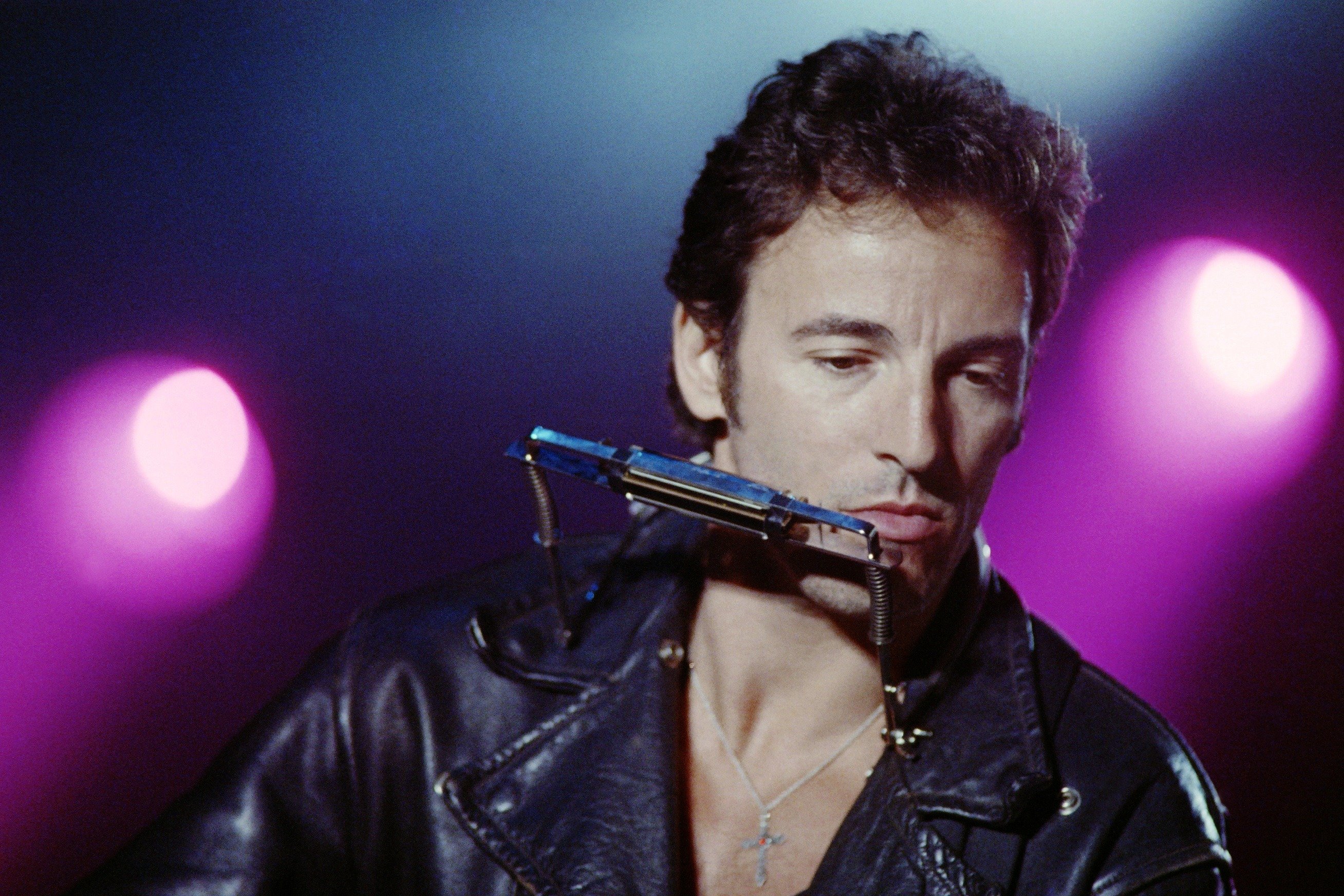 American Bruce Springsteen performs at Vincennes racetrack in Paris. | Gilles Leimdorfer/AFP/Getty Images
Photo date: June 18, 1988
Musical artists such as Beck, Johnny Cash, Eric Clapton, and Nirvana, achieved incredible success by stripping down their sounds, but Bruce Springsteen did it first. He was the first mainstream artist to go acoustic for a major release, and the fact he achieved such amazing results with Nebraska paved the way for those that followed.
14. Bruce Springsteen knows the working class
Bruce Springsteen in the Lapa neighborhood of Rio de Janeiro in 2013. | Bruce Springsteen via Instagram
Photo date: 2013
Why is Bruce Springsteen able to depict the blue-collar life so well? Because he knows it first hand. His dad was a bus driver (and millworker, and prison guard) and his mom a secretary at an insurance office when he was growing up. Plus, he doesn't shy away from mixing with his fans when he's on the road, as this photo from a Brazil tour stop shows.
15. Born in the U.S.A.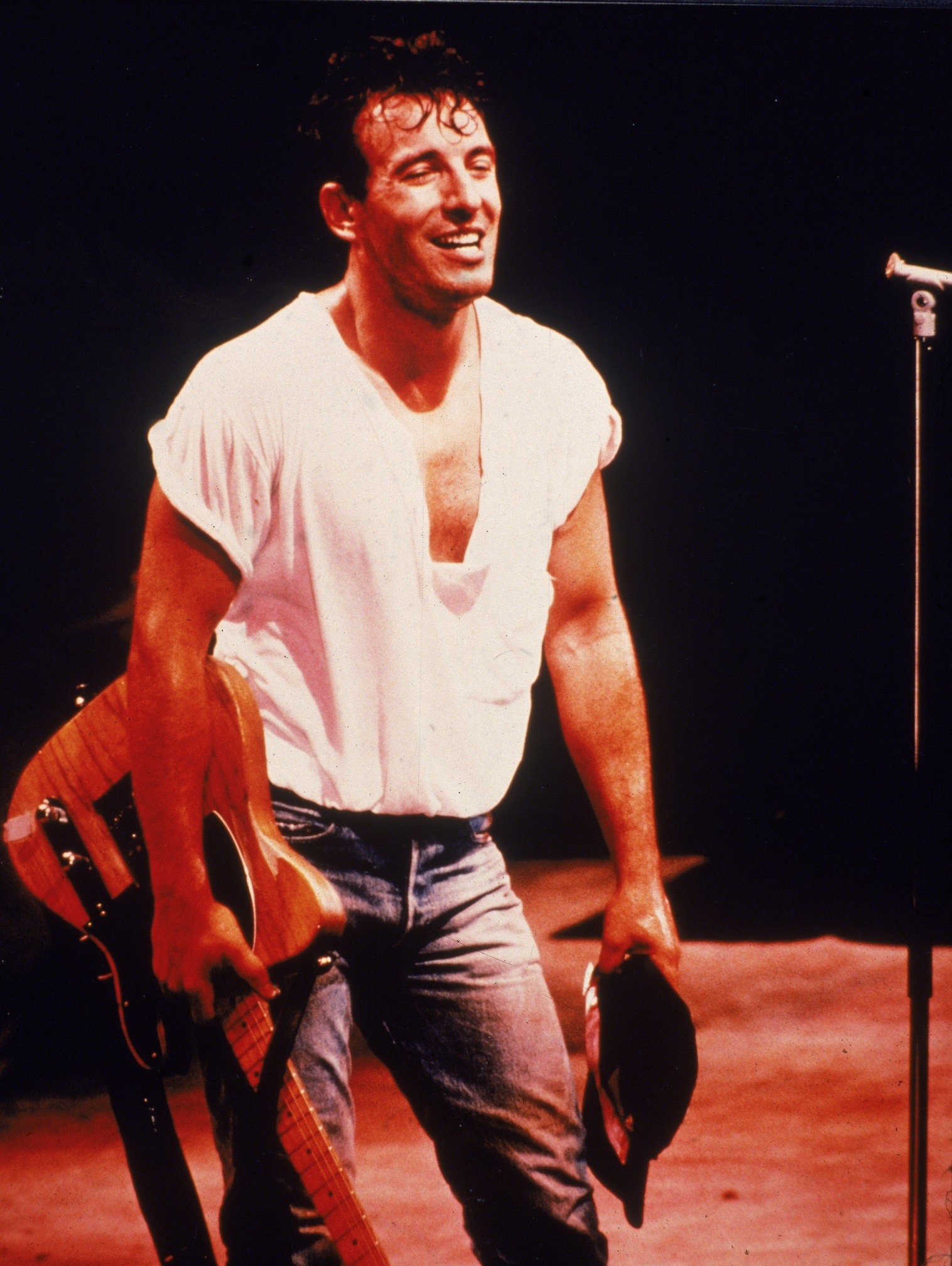 Springsteen holding a guitar during a concert in the early 1980s. | Hulton Archive/Getty Images
Photo date: Unknown, early 1980s
Bruce Springsteen's albums from the 1970s and early 1980s are some of his finest works, but 1984's Born in the U.S.A. is probably his most well-known album. It spawned seven top-10 hits, according to AllMusic, including the anthemic but misunderstood title track. Though the shouted words of 'Born in the U.S.A.!' chorus seem rousing, they're the exclamation point to a patriotic-sounding song that isn't patriotic at all.
16. One way Bruce Springsteen is better than Elvis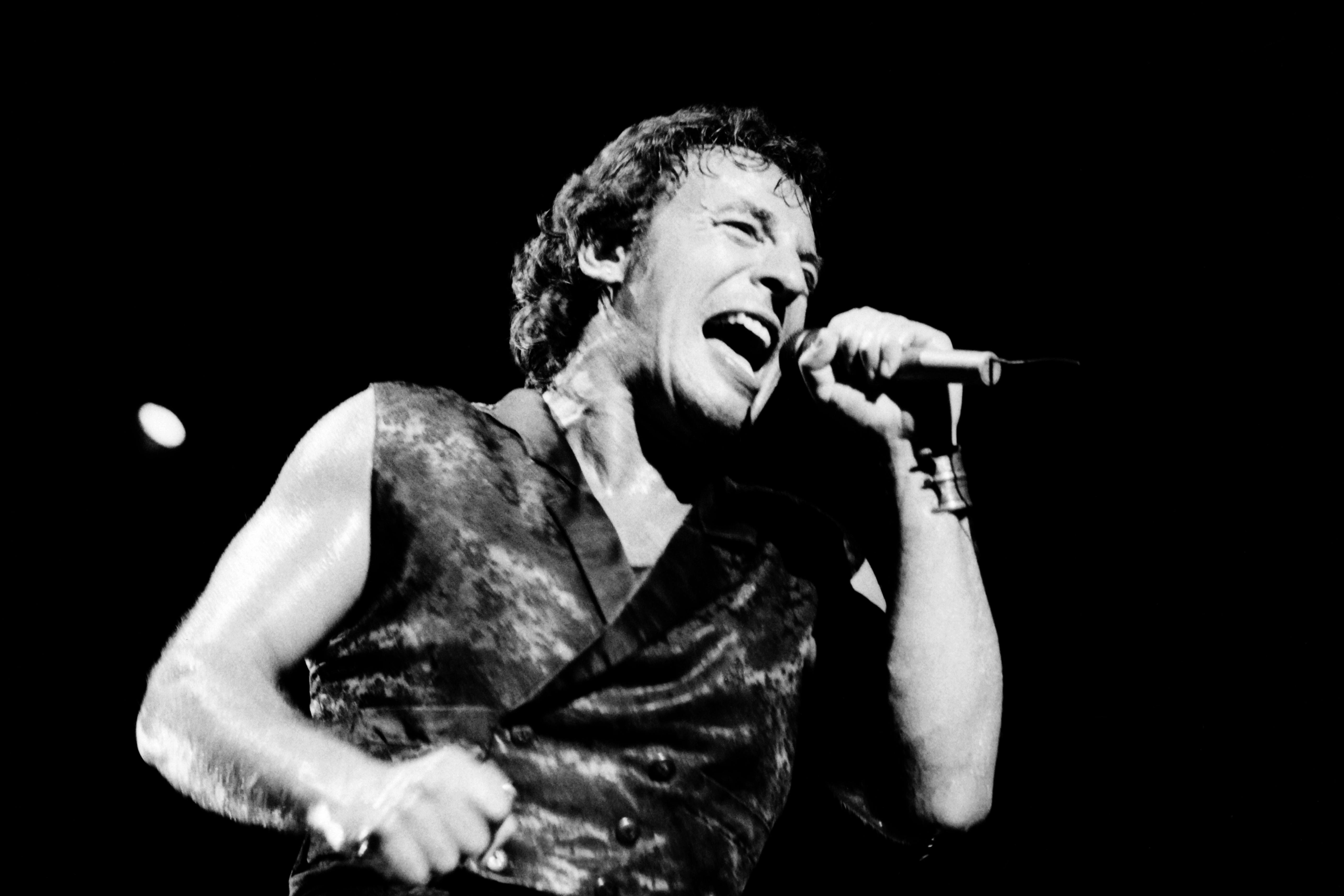 Performing at an Amnesty International concert Abidjan, Côte d'Ivoire. | Getty Images Stringer/AFP/Getty Images
Photo date: Oct. 10, 1988
Elvis inspired Bruce Springsteen to be a rock star, but the student bested the master in the end. The Boss is one of the artists with the most No. 1 albums ever. He has 11 to Elvis' 10, which is more than Madonna, The Rolling Stones, and anyone else aside from The Beatles and Jay Z.
17. Troubled love life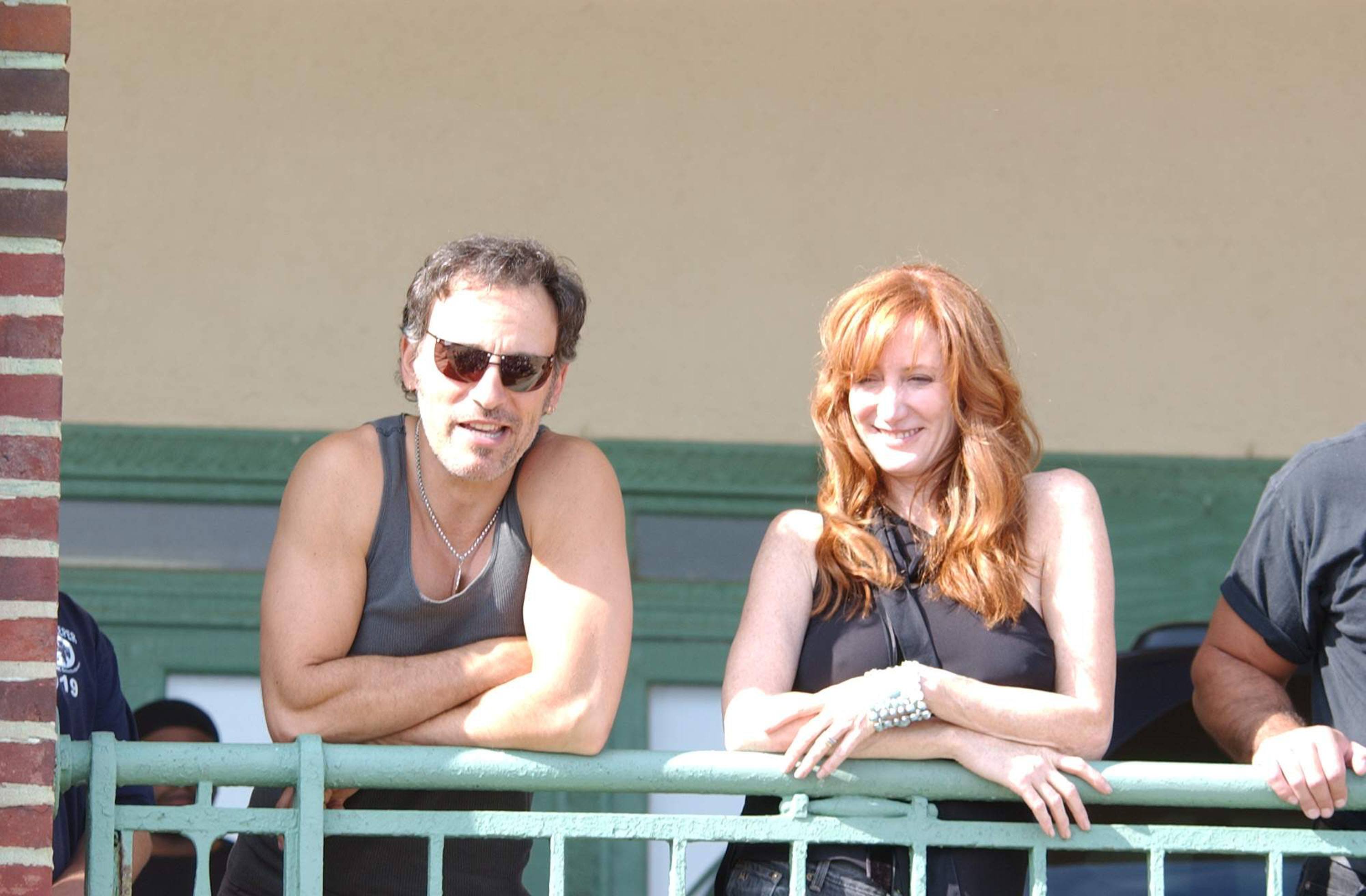 Bruce Springsteen and his second wife, Patti Scialfa, in 2002. | June McKim/Getty Images
Photo date: July 25, 2002
Despite his artistic success, Bruce Springsteen wasn't as spot-on in his love life. After the success of Born in the U.S.A., he married actress Julianne Phillps in May 1985, but they divorced less than four years later. It turns out, he was secretly dating bandmate Patti Scialfa while he was married to Phillips. However, after the divorce, Springsteen married the mistress, so to speak, and it worked out much better, as we'll see in a minute.
18. So long, E Street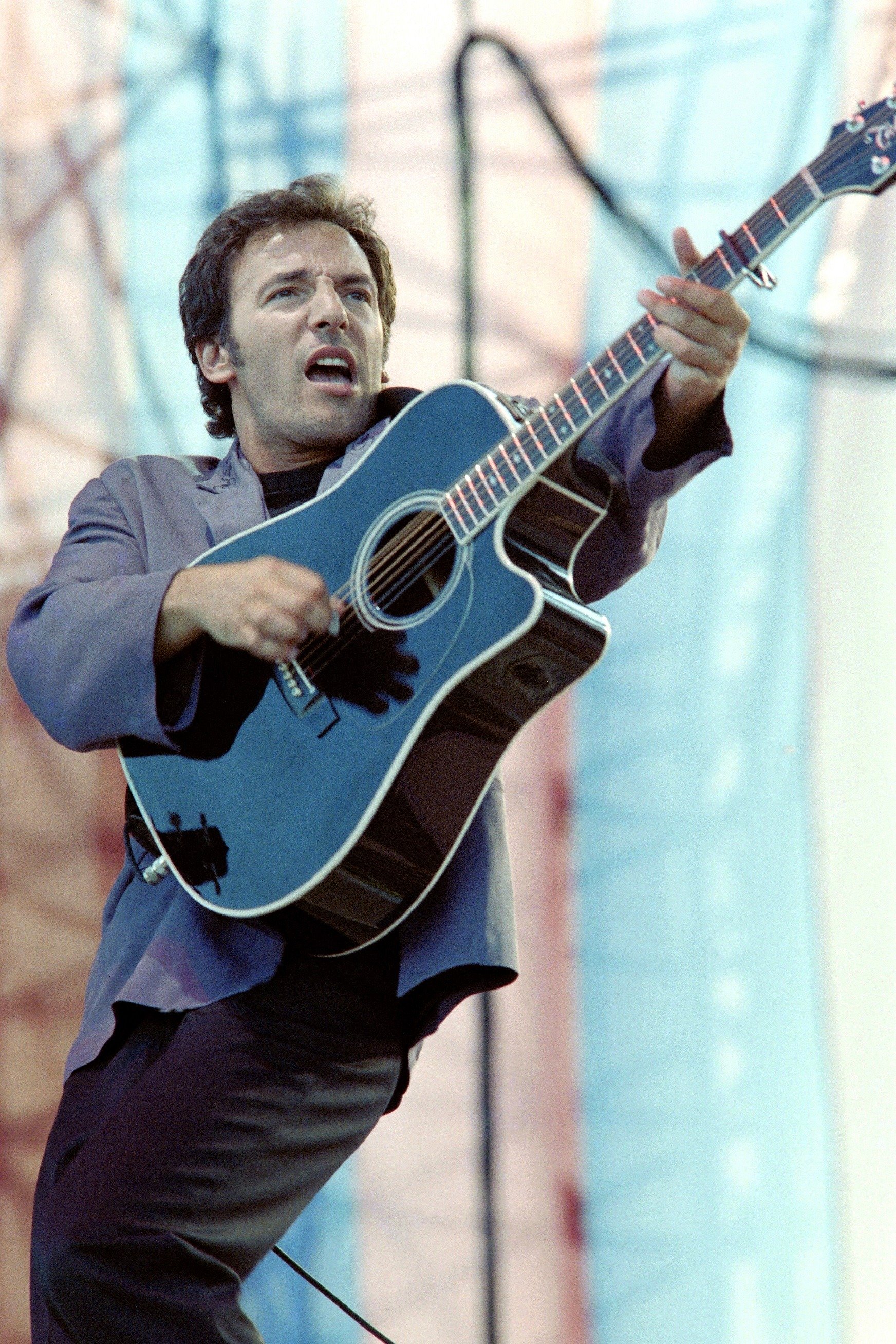 This 1988 concert in Paris was one of Springsteen's last (for a time) with The E Street Band. | Bertrand Guay/AFP/Getty Images
Photo date: June 19, 1988
Bruce Springsteen split with the E Street Band in 1989, and in the early 1990s released two albums that fans can take or leave: Human Touch and Lucky Town. It was the first time since the first two albums came out in 1973 that he released two studio works in the same year. Springsteen avoided kowtowing to 1980s musical trends, but the early 1990s were a creatively fallow period. However, he regrouped in a major way.
19. Hitting the awards circuit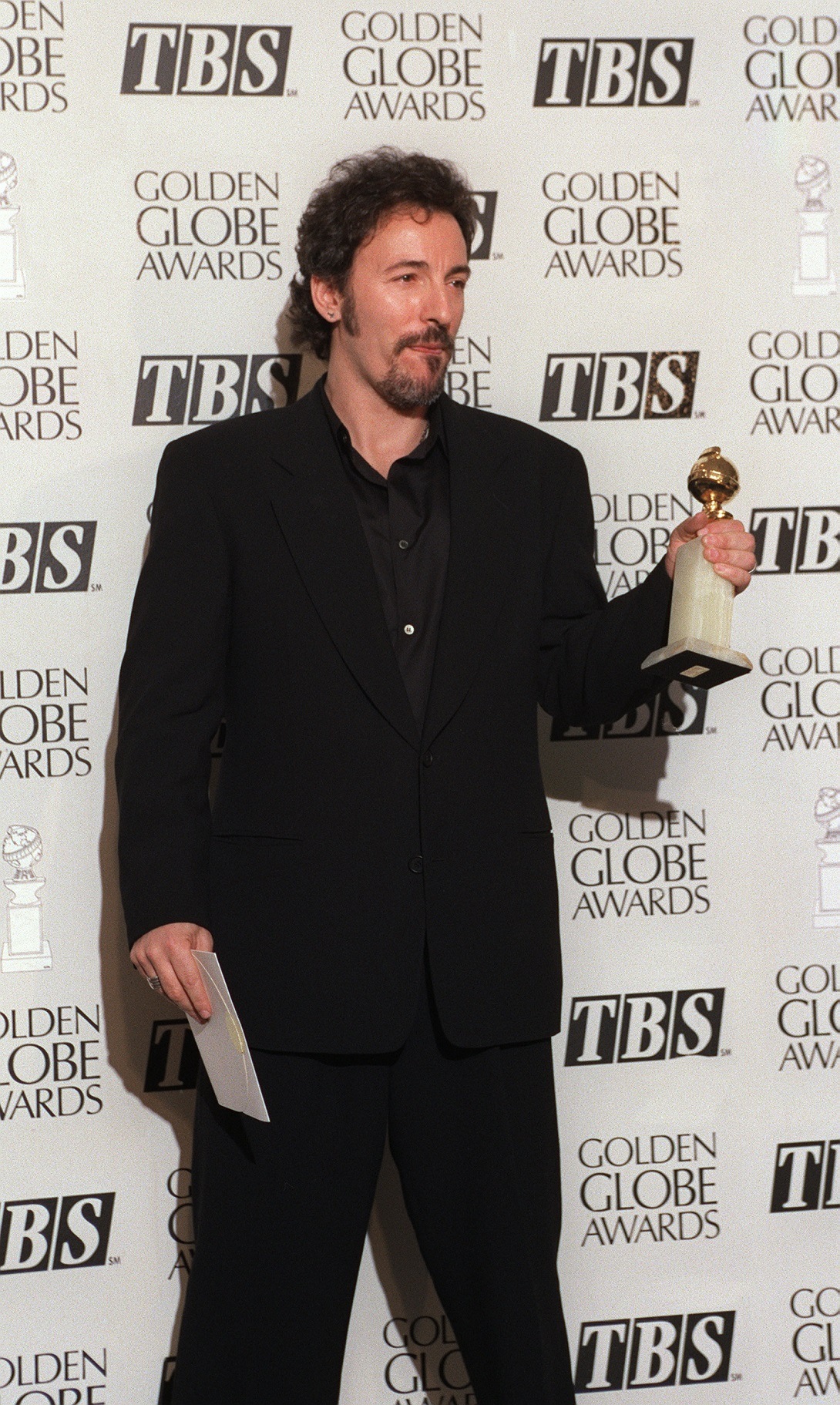 Springsteen holds his Golden Globe for best original song. | AFP/Getty Images
Photo date: Jan. 22, 1994
Even though his two 1992 albums weren't anything to write home about, Springsteen rebounded in a big way on the awards circuit in 1994. He won a Golden Globe award for best original song for "Streets of Philadelphia," and he won the same prize for the same song at the Academy Awards. He earned another Oscar nomination in 1996 for "Dead Man Walking."
20. Great Grammy!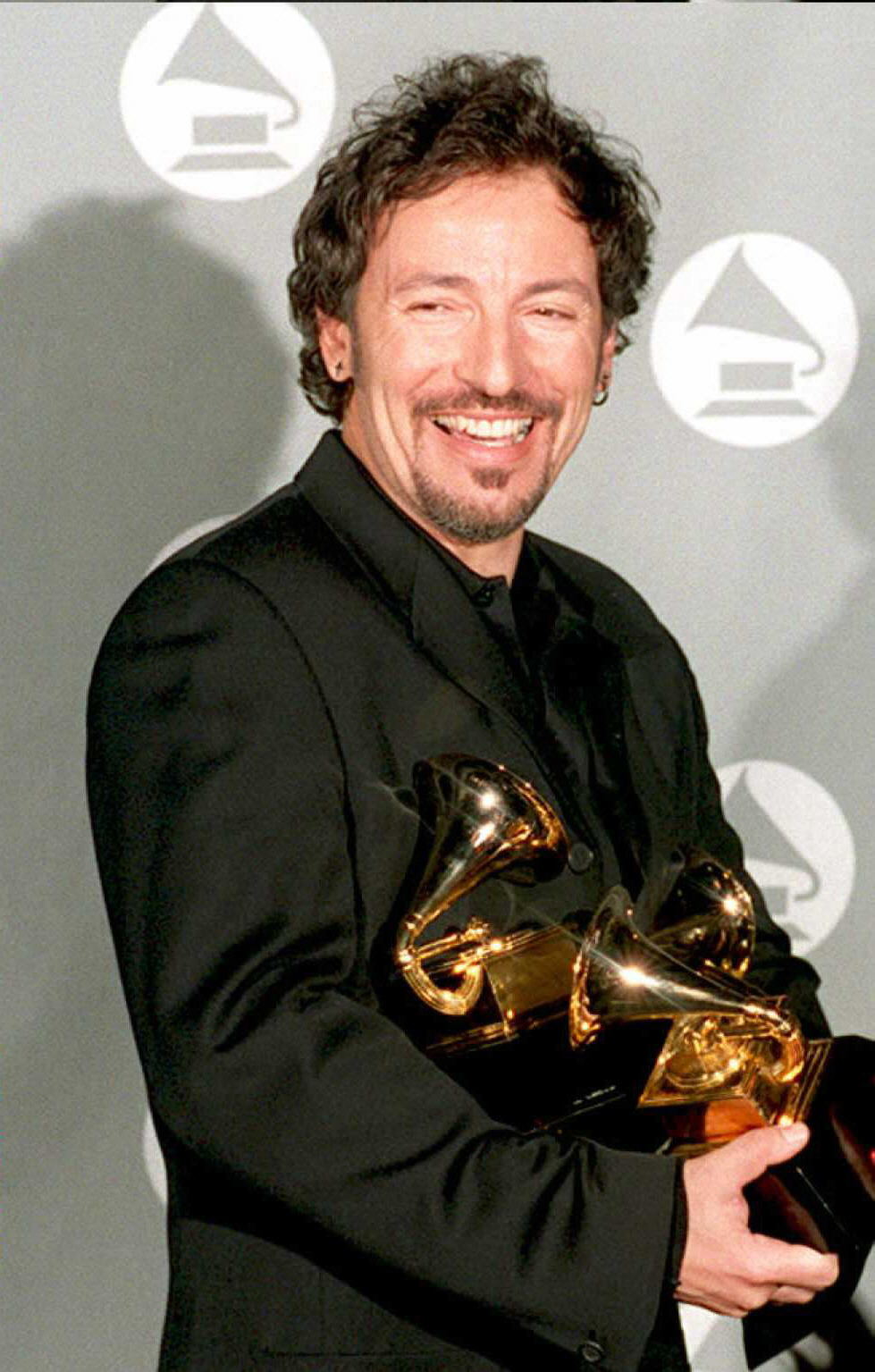 Bruce Springsteen holds his four Grammy awards from 1995. | Dan Groshong/AFP/Getty Images
Photo date: March 1, 1995
On the heels of the Golden Globes and Academy Awards success of 1994, Bruce Springsteen cleaned up at the 1995 Grammys. He won for Song of the Year, Best Male Rock Vocal Performance, Best Rock Song, and Best Song Written specifically for a Motion Picture or TV for "Streets of Philadelphia." So far, he has 20 Grammy wins and more than 50 nominations in his career. He won Best Rock Vocal Performance in 1984 for "Dancing in the Dark," and picked up the same award in 1987, 1994, 2002, 2004, 2005, 2007, and 2009.
21. Those pipes are worth a fortune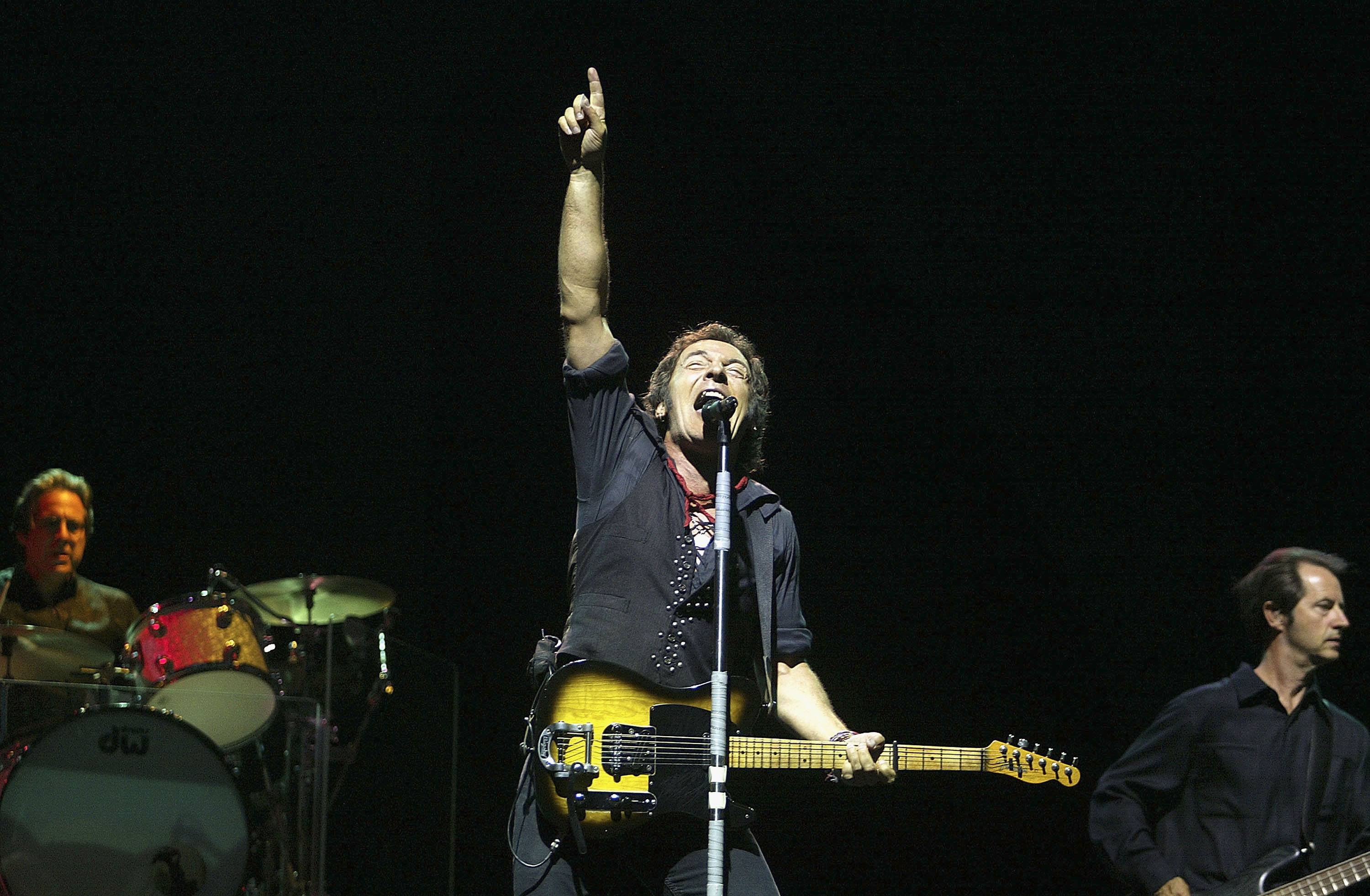 Bruce Springsteen is flexing his most valuable body part. | Mario Tama/Getty Images
Photo date: July 21, 2003
Aside from the musicianship and lyrical motifs, Bruce Springsteen's warbly voice is one of his signatures. That voice alone is worth a fortune. The Boss insured his vocal chords for $6 million, and they are some of the most expensive celebrity body parts out there.
22. Legal troubles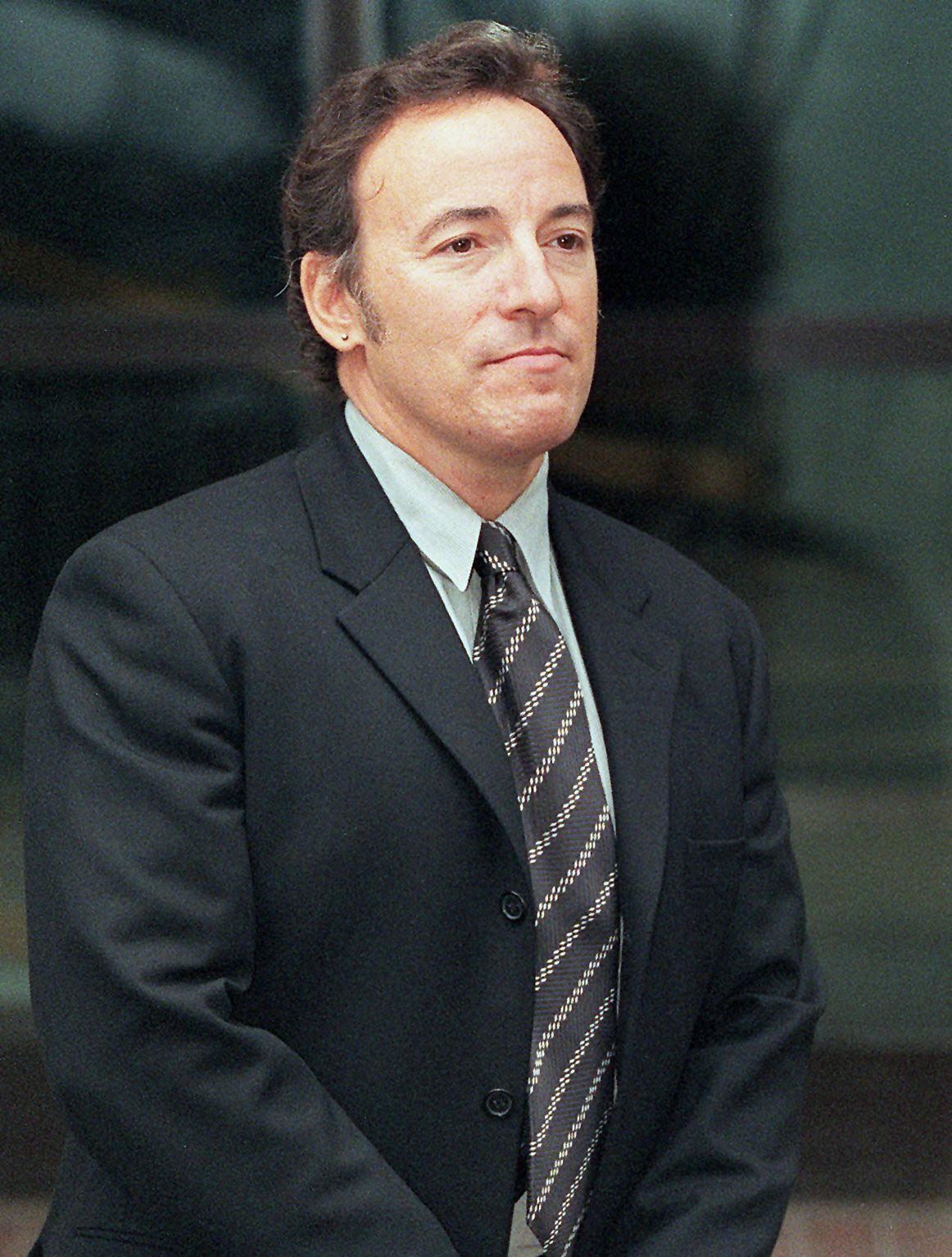 Bruce Springsteen leaves the High Court in London after taking the stand as a witness. | Alan Gibson/AFP/Getty Images
Photo date: Oct. 8, 1998
Springsteen had some legal issues with his manager in the 1970s between the time of Born to Run and Darkness on the Edge of Town. He had more problems along those lines in 1998. British record label Masquerade Music released some unauthorized recordings from 1977, and Springsteen had to go to court to protect his intellectual rights.
23. Hall call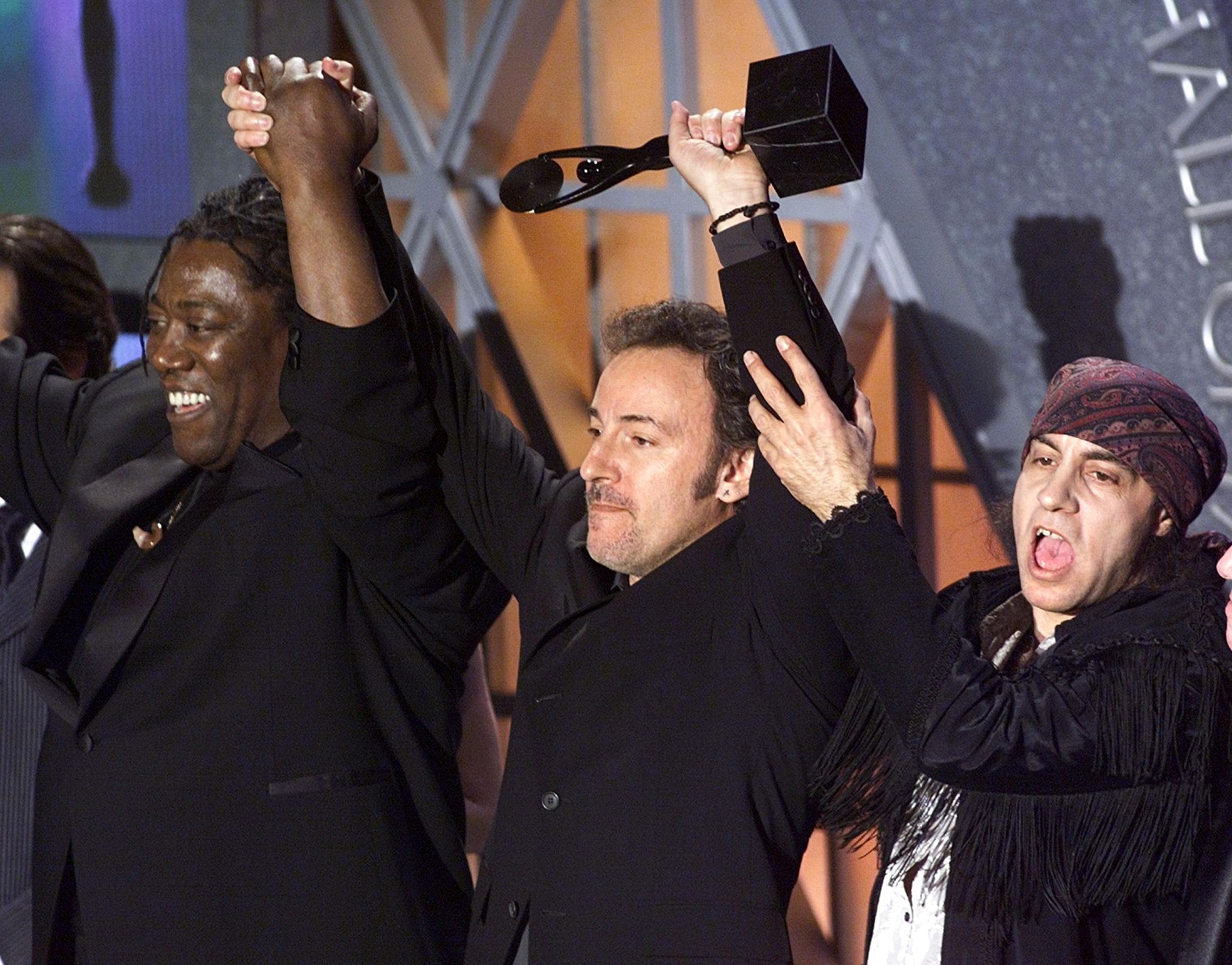 Rock and Roll Hall of Fame inductee Bruce Springsteen (middle) and members of his E-Street Band enter the Rock and Roll Hall of Fame. | Timothy A. Clary/AFP/Getty Images
Photo date: March 15, 1999
Bruce Springsteen, reunited with The E Street Band, finally entered the Rock and Roll Hall of Fame in 1999 after nearly 30 years in the music business and a slew of hit songs and albums. Billy Joel, Curtis Mayfield, Paul McCartney, Del Shannon, Dusty Springfield, and George Martin also made the cut in 1999.
24. Using his name to do good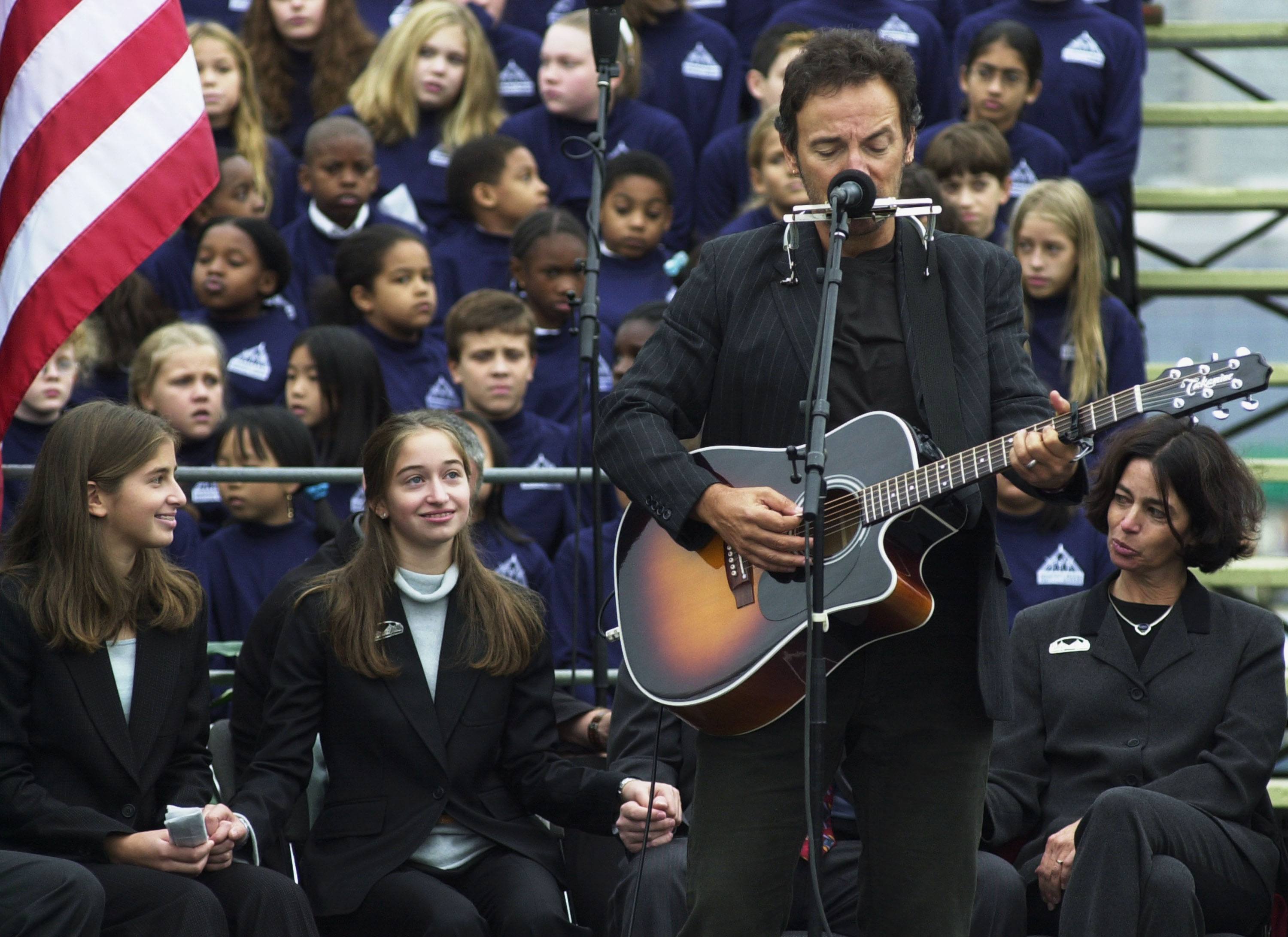 Bruce Springsteen performing "Thunder Road" at the Leonard P. Zakim Bunker Hill Bridge dedication ceremony in Boston. | Jacob Silberberg/Getty Images
Photo date: Oct. 4, 2002
We saw earlier how Bruce Springsteen has no trouble mixing with his fans, but he does more than that with his celebrity. He played a No Nukes concert early in his career and performed at an Amnesty International concert in 1988, but those are just the tip of the iceberg. He's played for numerous causes, including World AIDS day in 2014 and a dedication ceremony for civil rights leader Leonard Zakim in 2002.
25. High honors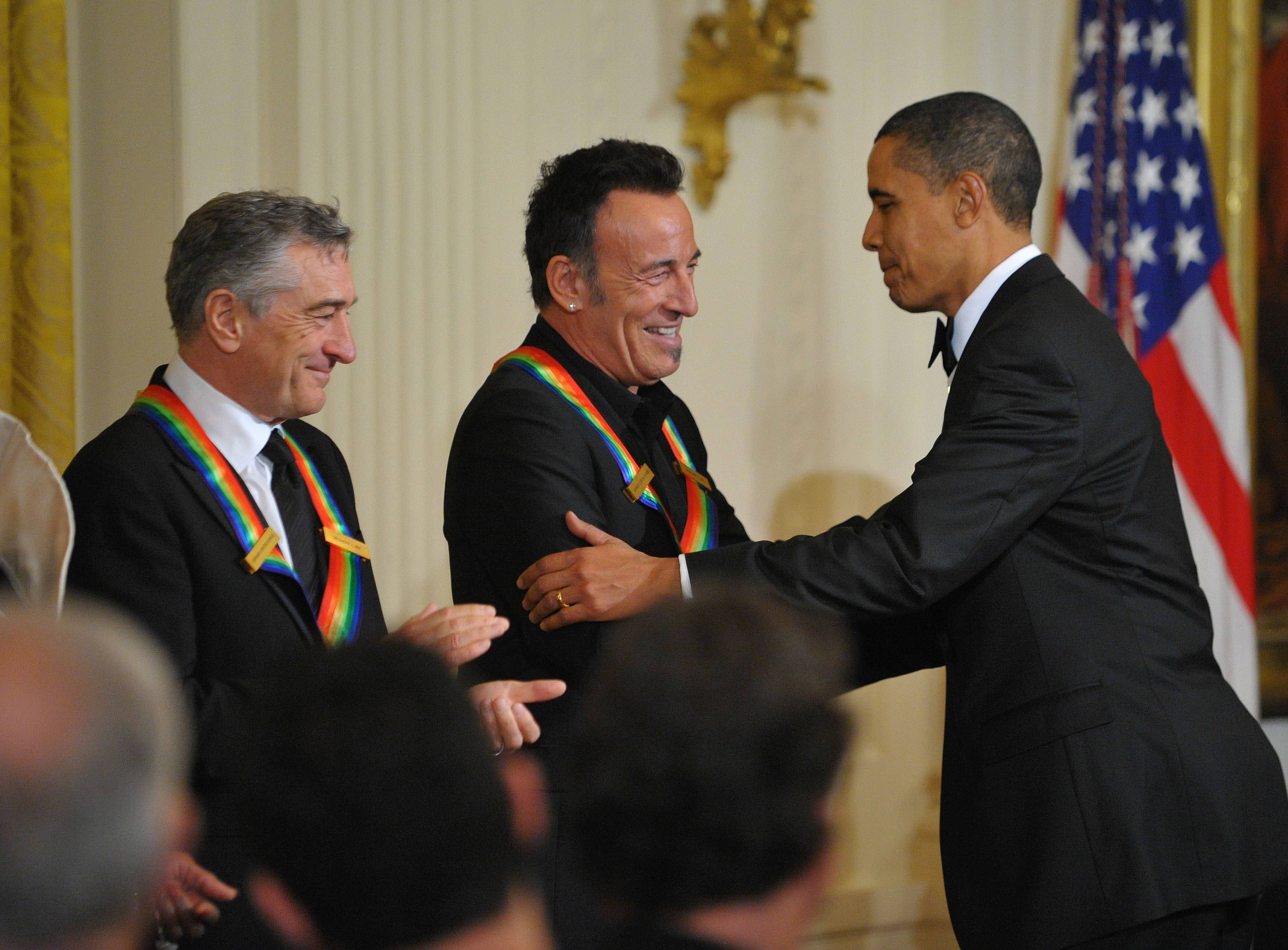 US President Barack Obama shakes hands with Bruce Springsteen during a reception for Kennedy Center Honorees. | Mandel Ngan/AFP/Getty Images
Photo date: Dec. 6, 2009
The Kennedy Center Honors are one of the highest artistic distinctions given in the United States, and Bruce Springsteen joined the ranks in 2009. B.B. King, Aretha Franklin, Stevie Wonder, Johnny Cash, and Springsteen idols Peete Seeger and Bob Dylan are some of the other musicians to earn the honors.
26. The wife and kids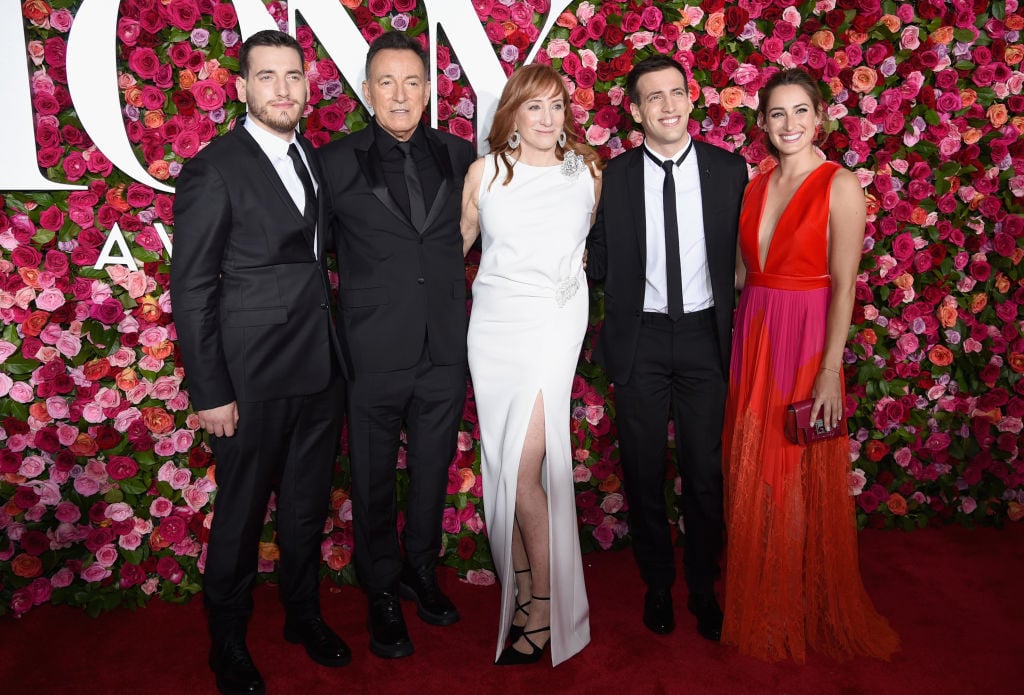 The Springsteen clan attends the 2018 Tony Awards. | Dimitrios Kambouris/Getty Images
Photo date: June 10, 2018
Remember how we said Bruce Springsteen's second marriage, to Patti Scialfa, worked out much better than his first? Well, you're looking at the proof. Aside from being married for more than 25 years, the couple has three children together: Sons Evan (at left above) and Sam Springsteen and daughter Jessica.
Next: Is there anything he can't do?
27. He's not just a musician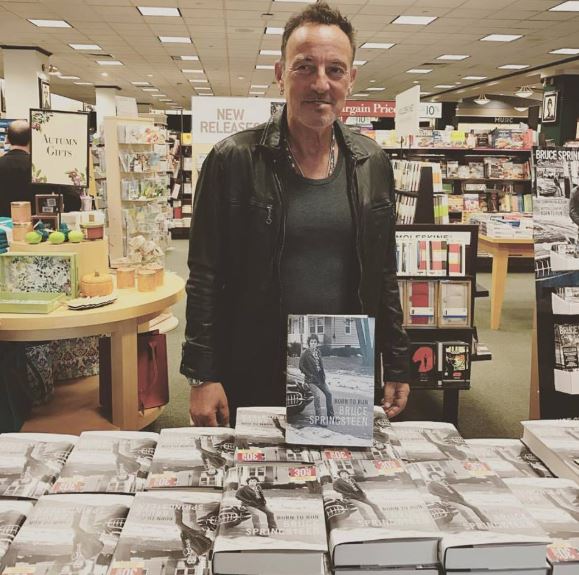 Bruce Springsteen on Sept. 26, 2016, during a publicity stop for his book "Born to Run." | Bruce Springsteen via Facebook
Photo date: Sept. 26, 2016
Guitarist. Vocalist. Humanitarian. Multiple award winner. Bruce Springsteen has done a little bit of everything during his career, and he added author to the list in 2016. His autobiography, appropriately enough titled Born to Run, hit the shelves in 2016 after nine years of on-again, off-again sessions peppered between recording and touring.
28. Big time honors yet again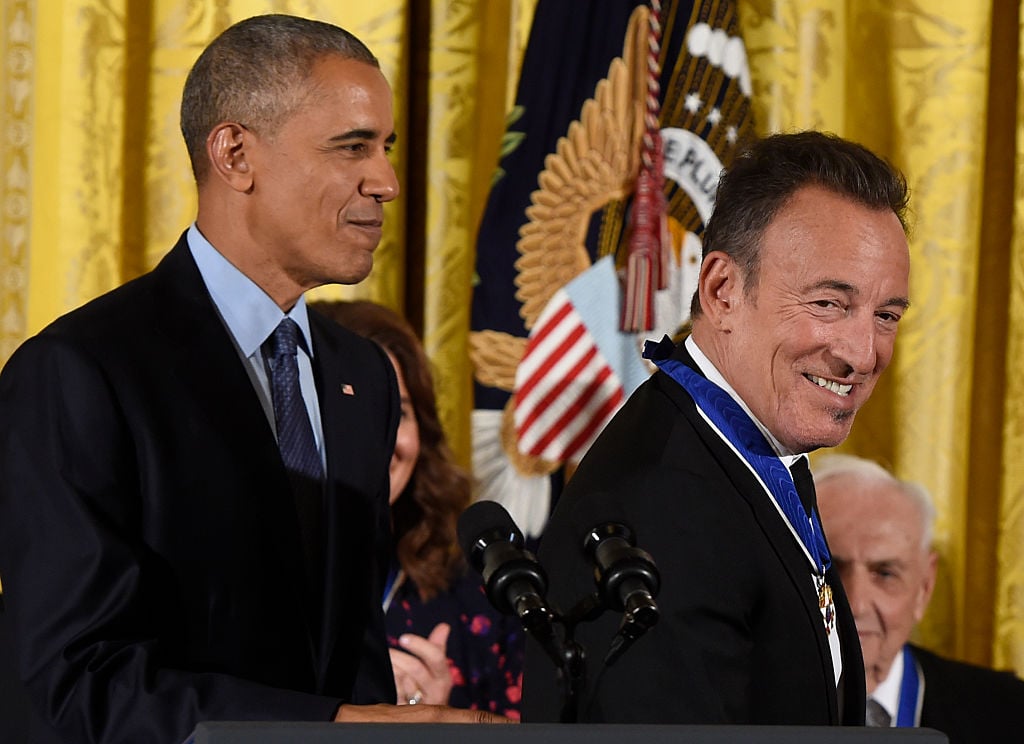 President Barack Obama presents Bruce Springsteen with the Presidential Medal of Freedom in 2016.| Saul Loeb/AFP/Getty Images
Photo date: Nov. 22, 2016
If Springsteen didn't have enough awards on the shelf before 2016, he added another. President Barack Obama presented him with the Presidential Medal of Freedom, the nation's highest civilian honor, in November of that year. The medal is akin to being knighted in England or receiving the Legion of Honour in France.
29. Up in lights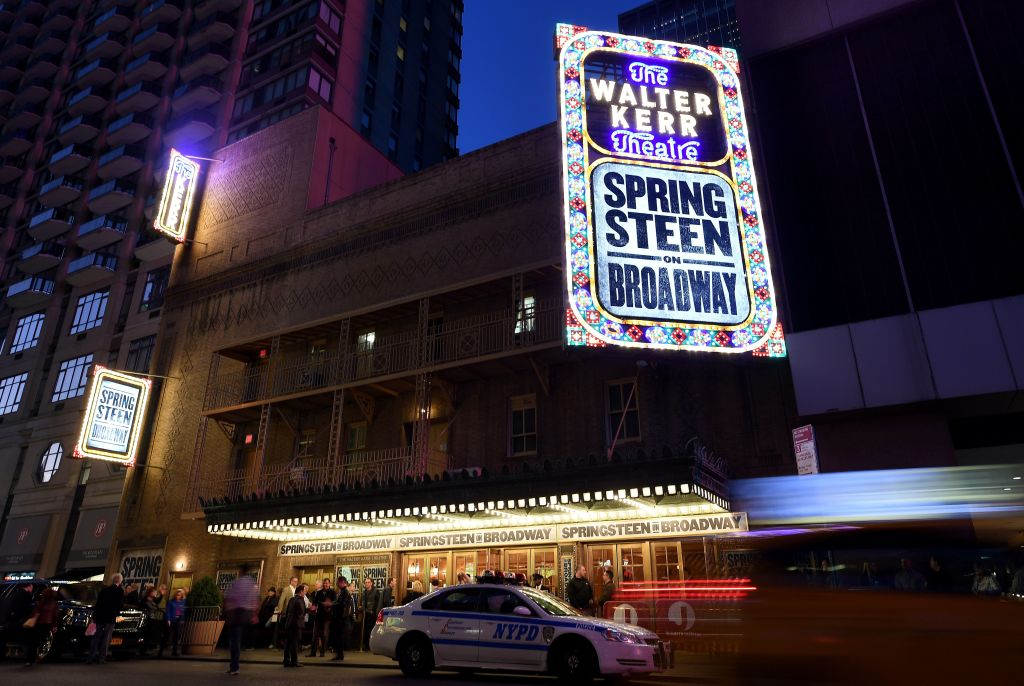 Theater marquee for Bruce Springsteen's show 'Springsteen on Broadway' the Walter Kerr Theatre. | Angela Weiss/AFP/Getty Images
Photo date: Oct. 3, 2017
His name has appeared on just about every sign, billboard, or stadium scoreboard imaginable, but Bruce Springsteen saw his name on another kind of marquee in 2017. He started a long-running Broadway concert series in New York City in October of that year. Originally scheduled to run about six weeks, the rocker added dates that extended the run to June 30, 2018, and then to Dec. 15, 2018.
30. Three-quarters of the way to joining an elite club
Bruce Springsteen (right) accepts a Tony Award from Billy Joel on June 10, 2018. | Theo Wargo/Getty Images
Photo date: June 10, 2018
He's played almost every stage imaginable, but 2017 saw Bruce Springsteen make his Broadway debut.  The show runs through December 2018, and Springsteen received a Tony Award in June 2018. With three major awards in hand, all he needs is one more to join an exclusive group of celebrities who won an Emmy, Grammy, Oscar, and Tony.
Biographical information courtesy of Biography and CNN.
Check out The Cheat Sheet on Facebook!
Read more: Every NFL Team's Best Player Ever in the Super Bowl Era
Source: Read Full Article