One year after his divorce settlement with ex-wife Eve Mavrakis, Ewan McGregor and girlfriend Mary Elizabeth Winstead welcomed their first son on June 27, per an Instagram post from McGregor's daughter, Clara McGregor. "Welcome to the world little brother," Clara wrote, calling lil' bro "the greatest gift." Ewan and Winstead, who met on the set of FX's "Fargo", started as an item amidst much controversy. The same day in 2017 that Ewan and Mavrakis announced their separation, The Sun published photos of him and Winstead canoodling in London before taking off on Ewan's motorcycle. Oops! 
When Ewan filed for divorce from Mavrakis in November 2017, The Sun reported that Mavrakis was already aware of Ewan's extramarital feelings, but was also told things had not advanced further. However, as a source told the British outlet, "Eve is sure Ewan and Mary were together before he confessed his feelings for her. It is hard for her to believe him." 
Per Us Weekly, Mavrakis, at least, scored in the divorce proceedings, with their 2020 settlement granting her their $6.6 million home, $15,000 per month in child support, and $35,868 in spousal support. In light of Ewan's happy addition, fans are wondering who the mother of his eldest four children, once oft-seen by his side at red carpet events, really is. Here are some things you might not have known about Mavrakis. 
Ewan McGregor's oldest child takes more after his ex-wife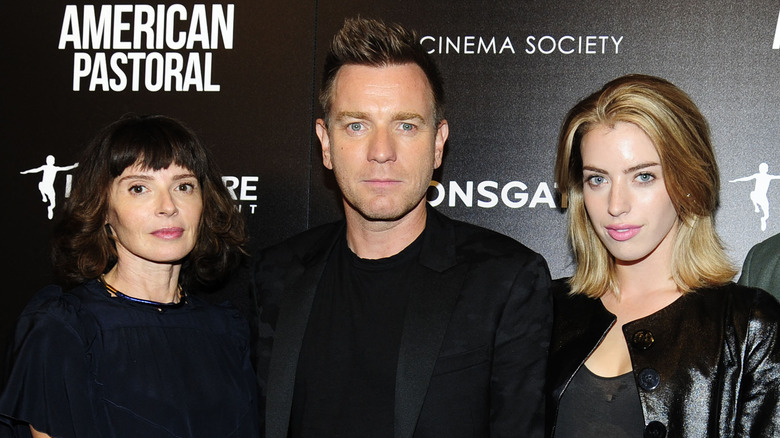 Many fans are already acquainted with Ewan McGregor's girlfriend, Mary Elizabeth Winstead, but how about his ex-wife of 22 years, Eve Mavrakis? According to The Sun, Mavrakis, an art director and production designer born in Dordogne, France, married Ewan McGregor in 1995 after the two met on ITV's "Kavanagh QC." Her IMDB shows a short but prestigious filmography, with her lending her visual eye to classics like Guy Ritchie's 1998 "Lock, Stock, and Two Smoking Barrels." 
In 2018, McGregor famously thanked both girlfriend and ex-wife during his acceptance speech for his role on the third season of FX's "Fargo" (on which he costars with Winstead). McGregor stated, "I want to take a moment to say thank you to Eve, who always stood by me for 22 years, and my four children: Clara, Esther, Jamiyan, and Anouk … And there wouldn't have been any Ray without Mary Elizabeth Winstead." That is either a major flex or simple — if admirable — naivete.
Much like Mavrakis, Clara — the oldest of her four children — would prefer to keep her talent behind the camera. "Shooting for a big magazine like Vogue or Vanity Fair would be my dream job. I'd also like to keep my artistic side and have my work put on display in exhibitions," Clara told the Daily Mail in 2014 (via the Daily Record). Either way, artistic talent runs deep in this ever-expanding blended family! 
Source: Read Full Article