Do you consider yourself a fan of Andy Samberg? Did you make a point to tune in each week during his relatively lengthy run on "Saturday Night Live" to see his silly skit-based antics? Get a kick out of his portrayal of a pop singer in mockumentary "Popstar: Never Stop Never Stopping"? Perhaps you were thrilled when he took on the role of arguably immature Detective Jake Peralta on "Brooklyn Nine-Nine." Or maybe you laughed (again and again while watching the same day over and over) while he stayed stuck in a time loop in 2020's "Palm Springs" along with Cristin Milioti.
The latter role was a gig that Samberg was attracted to, in part, thanks to the fact that "it was well-written, and mixed with real comedy," he told GQ in July 2020. Beyond that, he explained, "[That], for me, is how life feels. It's miserable and terrifying and wonderful and beautiful." After a quick laugh, he added, "And in the darkest moments, comedy rises out of it." And while making independent films often mean you "eat sh*t on getting paid money and having a good schedule and having a good trailer and all of the cushy movie amenities," he said it is all worth it when "you're creatively excited about what you're doing."
You may be familiar with the bullet points of Andy Samberg's career, but how much do you know about the comedy star? Keep reading and you may discover some interesting, intriguing, and downright shocking things that you didn't know about this famous figure.
Andy Samberg wasn't exactly born with that name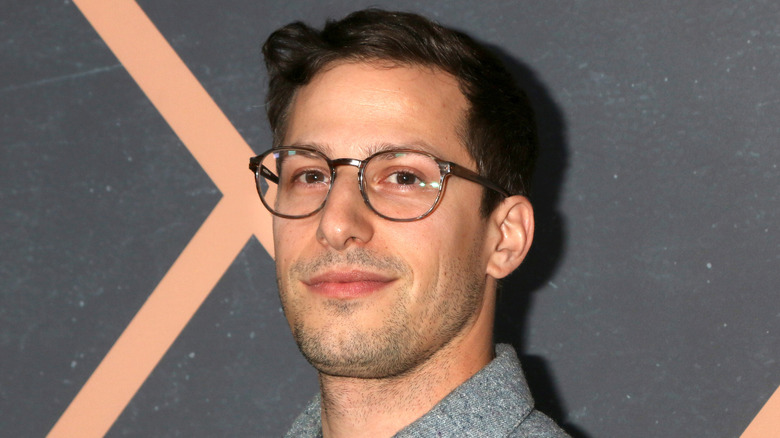 There are plenty of celebrities who changed their names when they become adults because it either better suits who they are as a person (or a performer), or because they want a stage name that is both unique and memorable. That's perhaps why David Robert Jones went by David Bowie, Mark Sinclair uses the name Vin Diesel, and you know Winona Laura Horowitz as Winona Ryder. As for Andy Samberg, the name we know wasn't exactly the name that he was given by his parents, mom Margi Samberg, who was an elementary school teacher, per Biography, and dad Joe Samberg, who is a photographer.
The star was actually born as David A. J. Samberg, according to TimeOut. Now, we feel like it is safe to assume the initial "A" stands for Andrew, but it could be for Arthur, Archie, or even Amadeus. While you might think that he swapped up his first name when he was older, it turns out that he actually decided to change it up when he was just five years old. Although some parents might think that their child is simply going through a phase and will later come to like their name, Andy's parents were apparently on board with their son's decision. At least, one definitely was. Andy explained to TimeOut that his "hippie mom was down" with the switcheroo.
To paraphrase Rod Kimble from "Hot Rod," life is short, stunt it and change your name if you so desire.
Andy Samberg and his childhood chums found great success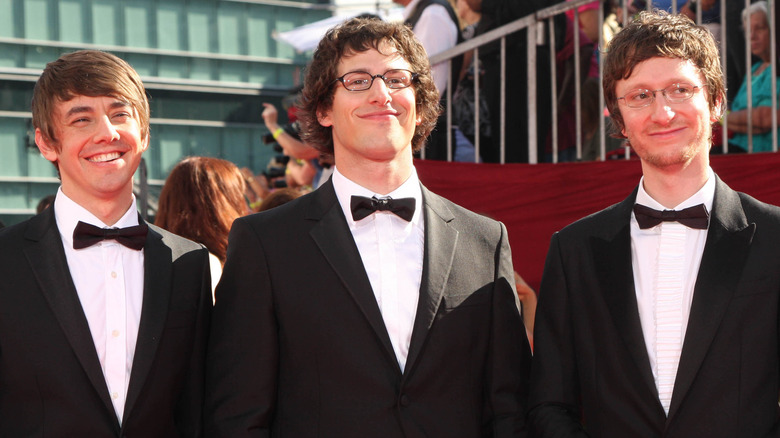 Andy Samberg grew up in California, according to Biography, and it was there that he became friends with two people who would also go on to be successful in the entertainment industry. While attending Willard Junior High, Samberg met Jorma Taccone and Akiva Schaffer — yes, as in the other two members of quirky sketch group The Lonely Island.
As The Lonely Island started to find their footing in the industry, they were hired as writers for the 2005 MTV Movie Awards, which Jimmy Fallon was hosting, per Wired. MTV notes that "Fallon thought Samberg was hilarious and introduced him to ["Saturday Night Live"] creator and executive producer Lorne Michaels." Samberg, Taccone, and Schaffer all auditioned for "SNL," and while Samberg was hired as on-camera talent, his friends were brought on as writers.
Indeed, after finding viral fame thanks to "Lazy Sunday," they've gone on to make fans laugh on "SNL" and beyond with "Motherlover," "D**k in a Box," and "YOLO." They were also behind the "Everything Is Awesome" song from "The Lego Movie," have released multiple albums, and earned two Grammy nominations. As if that wasn't impressive enough, they were actually given the job of helping to lead the "SNL Digital Short" series, which Vulture explains "usher[ed] 'SNL' into the age of digital online content in a time when it needed to tap into that relevance more than ever." Because of the trio's involvement, "for better or for worse the 'SNL Digital Short' title remains synonymous with The Lonely Island."
Chelsea Perretti had a crush on Andy Samberg when they were kids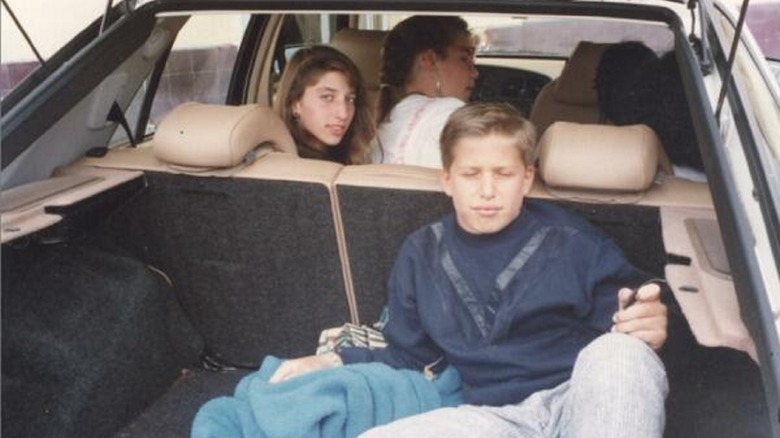 Andy Samberg's The Lonely Island collaborators weren't the only childhood friends who he went on to work with in the entertainment industry. In 2014, someone on Twitter shared an old photo of Samberg in a car when he was around 11 or 12 years old. There were also two other people in the vehicle and one of them was Chelsea Peretti, who you may recognize as Gina Linetti, the longtime friend of Samberg's "Brooklyn Nine-Nine" character. Peretti shared similar photos on Instagram years later, one of herself and one of Samberg looking oh-so-cool.
In fact, these two might have been more than friends if Peretti's feelings for Samberg had been reciprocated. While sitting down for a chat with Conan O'Brien, she admitted, "I had a huge crush on Andy!" She then gave a little detail of what that crush involved, first noting that Samberg "will never acknowledge" the fact when she brings it up. "He just dead eyes me," she recalled. "I used to call his house on those old-timey phones that we used to have … I would call and hang up, call and hang up as some young girls do — irritating young girls — and I don't know what my end game was really, I didn't have a plan." 
She added, "There were no emojis then. That would have made it so easy."
Andy Samberg's 'personal rule' was inspired by Amy Poehler and Tina Fey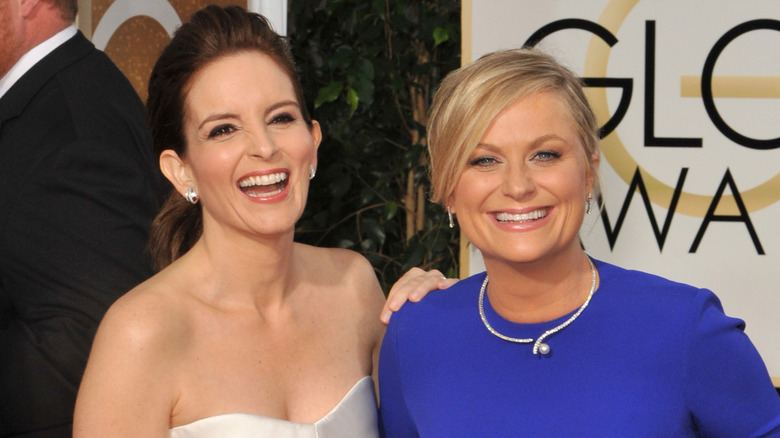 Andy Samberg may have landed some major roles over the years, however, he has also done guest spots on plenty of popular shows like "Portlandia," "Arrested Development," and "The Sarah Silverman Program." On top of that, he played Park Ranger Carl (a man who is a shockingly loud speaker) on "Parks and Recreation," and appeared as himself during an episode of "30 Rock."
In fact, it was the stars of "Parks and Rec" and "30 Rock," Amy Poehler and Tina Fey, that helped to lead Samberg to where he is today. When the actor decided that he wasn't interested in returning to "SNL," he originally didn't think that another television gig was what he wanted to do. However, GQ noted that "he'd made it a personal rule" to follow in the steps of Poehler and Fey. "That has never steered me wrong," he explained. "They are smart and good."
When Mike Schur and Dan Goor — who were the producers that had created Poehler's hit show — approached Samberg, he was definitely interested. Samberg told GQ, "'Parks and Rec' was a fantastic show and I loved it, and my wife loved it, and we watched it, and I love Amy, and I love Mike Schur. And he and Dan Goor asked me if I wanted to do another one of those, basically, and I was like, 'Sh*t, I have to say yes.'"
Weird Al Yankovic and Will Ferrell are Andy Samberg's heroes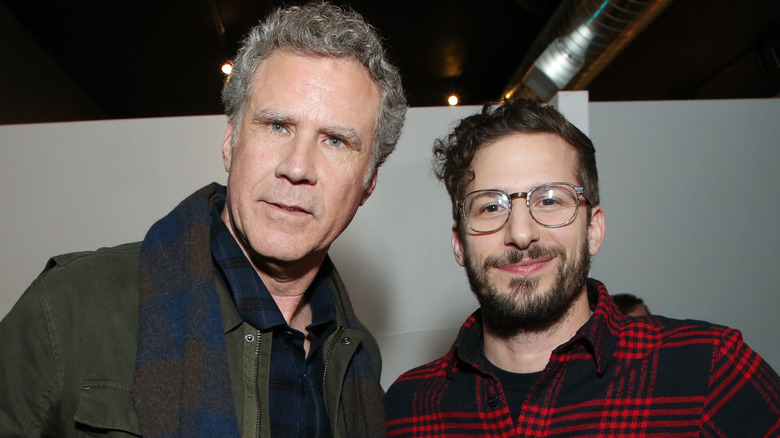 Andy Samberg may have established himself as someone that younger performers can look up to, however, he has a few entertainment industry heroes of his own. Along with the other members of The Lonely Island, Samberg got a chance to work with show business legend Weird Al Yankovic. "We had all this stuff lined up," Jorma Taccone said in GQ while recalling the less-than-ideal timing of when the opportunity popped up. However, as the outlet noted, for the chance "to spend a day with their comedy hero, Taccone explained that they were willing to "cancel f**king everything." As for Yankovic, who was a success long before Samberg made his name, joked about his adoration of the trio, saying, "I actually remember listening to The Lonely Island on my AM/FM clock radio in bed, when I was just a little kid."
While teaming up with "Weird Al" was surely an awesome experience, Samberg has also opened up about taking on a project that was meant for another funny man that he's been inspired by. Talking to The Columbus Dispatch about the 2007 film "Hot Rod," he said, "It was a huge concern that the film was originally for [fellow 'SNL' alum] Will Ferrell. There's no filling those shoes." He went on to call Ferrell "the funniest dude in the world" and a hero. Anyone else think that Samberg and Ferrell should team up for a new comedy?
Harboring hate for Seth Meyers' dog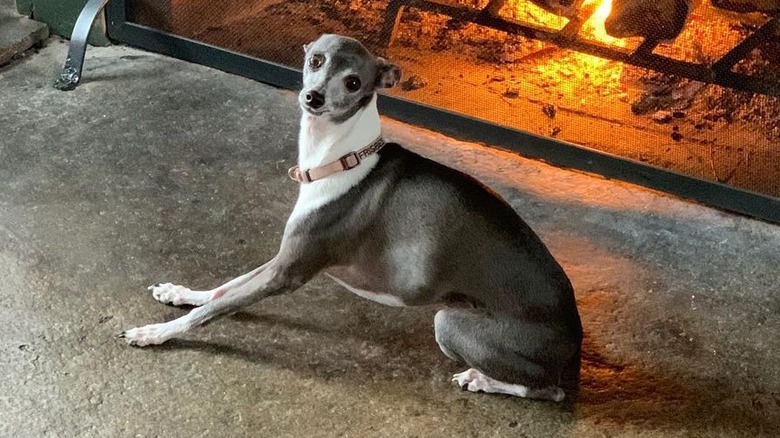 Andy Samberg may have a fair share of friends and influences in the entertainment industry, however, there's someone — or rather, some dog — with a celebrity connection that he just can't stand. Late-night television host Seth Meyers has an Italian greyhound named Frisbee. Just check out the star's Instagram account and you'll see Frisbee warming up by a fire, curling up for a nap, and just generally being (arguably) adorable. However, while Meyers seems to love Frisbee, Samberg does not.
The actor has made it clear more than once that he isn't a fan of Frisbee. In fact, while chatting with the dog's famous owner during a chat on "Late Night with Seth Meyers," Samberg mentioned the fact that the pooch made an appearance on the Meyers family Christmas card, which he didn't appreciate. "You might as well [have] sent me anthrax. Look at this piece of sh*t," he said. Oh, but Samberg wasn't done taking swipes at the pup. "I've been walking home drunk in New York at 4:00 in the morning and seen rats I like more than Frisbee," he said. Ew… and poor Frisbee.
In July of that same year, Samberg "finally confront[ed]" Frisbee on "Late Night." As it turns out, that the sweet pic of the dog napping was actually a dig at Samberg. The caption read: "Tried to get Frisbee to watch ["Palm Springs"] with me but when she heard Samberg was in it she said she'd rather sleep with her nose close to her butthole." Ew… and poor Andy Samberg.
The SNL alum is married to a famous singer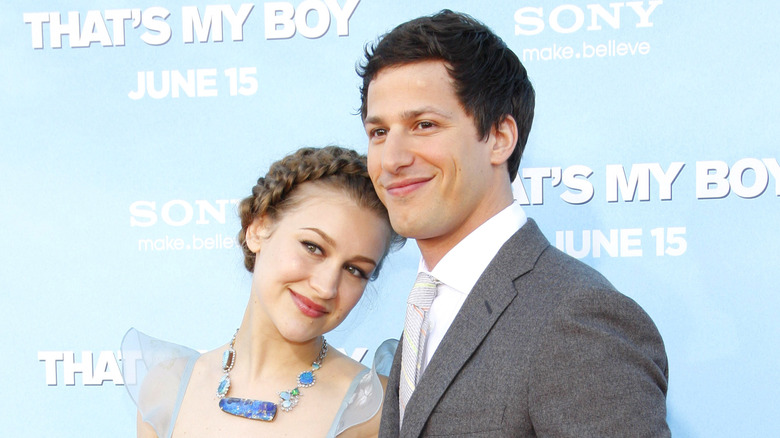 Andy Samberg may be a star, but he's not the only famous person in his family. The actor is married to musician Joanna Newsom, a singer-songwriter as well as a multi-instrumentalist who can handle everything from a keyboard to a harp. With a sound that's considered to be psychedelic folk, she has quite a following, as her second studio album, 2006's "Ys," did reach No. 134 on the Billboard 200 chart.
As for Samberg and Newsom's relationship, the two dated for five years before marrying in 2013. While that's all well and good, the story of how they got together is pretty perfect when you consider the fact that it involves a (sometimes, er, NSFW) comedian.
In a 2015 "Larry King Now" interview, Newsom called her husband "the biggest superfan" of her work, so he was surely thrilled when he finally got the chance to meet her. "Fred Armisen brought him to one of my shows," she explained during a 2016 appearance on "Late Night With Seth Meyers" (via Entertainment Weekly). She continued, "I had just been with my band backstage, like an hour before, watching 'Just 2 Guyz.' He has a tiny part. He plays Steve the c***. So when I met him, he was kinda shy, and I said, 'Oh my god, you're Steve the c***!'" While that might have thrown other people off, Newsom admitted that when it comes to her husband, "He always says he saw heart bubbles."
Being a dad has changed Andy Samberg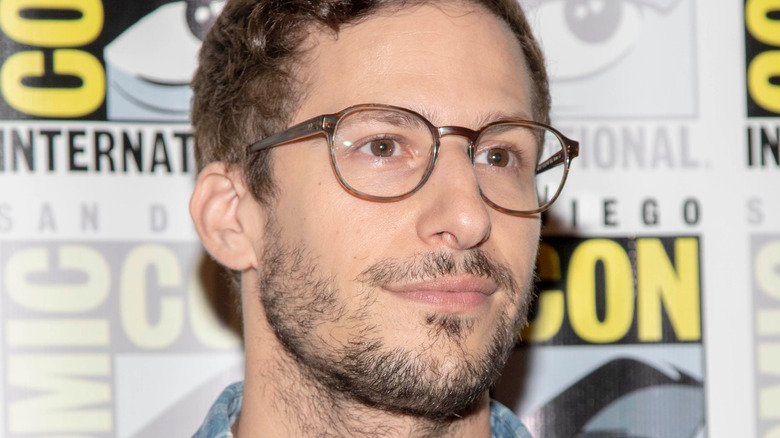 In addition to being famous people, Andy Samberg and Joanna Newsom happen to be parents. The two welcomed a daughter into the world in August 2017. When it comes to being a dad, Samberg told The New York Times, "It's been the best thing that's ever happened to me. Just like a beautiful, incredible dream. It has surpassed every expectation I ever had. It's definitely been very blissful."
Samberg also (jokingly or not?) revealed how being a dad has "changed" him, telling Jimmy Kimmel, "I was suddenly gripped with the urge to buy those Steph Curry nurse shoes." Showing off the bright white pair, he noted, "My dad instincts are kicking in. I gotta rock these." While also recalling that when they arrived, he felt like he was "making them work," he then realized that's because he's now a dad that he thinks they "look good."
Granted, Samberg seems to have embraced all aspects of being a father, including forming the appropriate figure. "I feel like I'm working on a pretty signature dad bod. I pick her up a lot, so my guns are really rockin'," he said in 2020 on "Late Night with Seth Meyers" (via E! News). He went on to add, "But I eat all of her bread crust, so my tum's a little fat. I've eaten more crusts in the last two-and-a-half years than in the rest of my life combined. I can't remember the last time I had a normal bite of a sandwich."
There's a burger named after Andy Samberg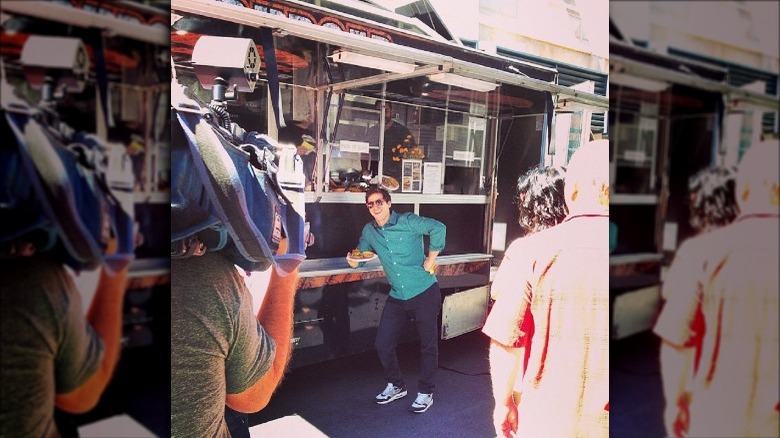 When we mention food and celebrities, you may picture your favorite Food Network personalities or competitive YouTube eaters. You might even think about Dwayne "The Rock" Johnson and his massive cheat day meals. While Andy Samberg might not come to mind, perhaps he should because the star helped to create a burger that was named after him.
In 2014, the actor teamed up with Umami Burger, a chain that has also worked with Cindy Crawford, Jaden Smith, The Black Keys, and Alton Brown. Appropriately deemed The Samberger, People explains that the comedian's Chicago-style hot dog-inspired burger features "a beef patty topped with spicy sport peppers, roasted tomatoes, chopped dill pickles, relish made out of kombu (an edible kelp), roasted garlic aioli, poppy seeds, and yellow mustard." 
"I worked tirelessly 'munchin around' with the Umami Burger team to design a burger that would best represent everything I stand for," Samberg shared, per EW. Saying that they "tried many combinations and flavors, and ultimately landed on a Chicago Dog-themed burger," he noted, "[It] has literally nothing to do with me. But it tasted really good so we went with it."
Costing $13, the aforementioned outlets pointed out that $1 of that was going to be donated to the Center for Early Intervention of Deafness. Although when Umami Burger brought some for the cast of "Brooklyn Nine-Nine," they probably let the actors have the food for free.
Andy Samberg lives in a house that Charlie Chaplin once called home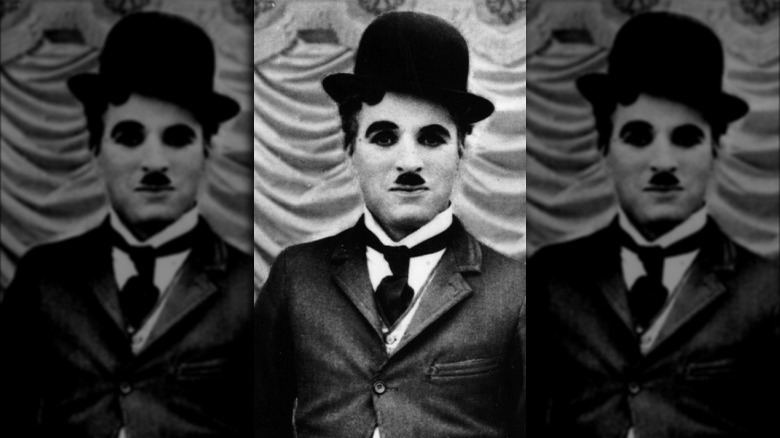 You might imagine that a goofy guy like Andy Samberg lives in a comfy bachelor pad, but this celebrity is a family man who actually lives in a fancy home which is "a slice of L.A.'s rich real estate history," according to the Los Angeles Times. Samberg and his wife, Joanna Newsom, own Moorcrest, a residence that was once the home of both silent-era star Charlie Chaplin and actor Mary Astor. Granted, the house is anything but normal. Variety called it "a straight-up cray-cray manse in L.A.'s Beachwood Canyon composed of a fearless and delightfully eccentric if undeniably disharmonious cacophony of Gothic, Moorish, Andalusian, and Art Nouveau influences."
Purchasing the home for $6.25 million in 2014, Samberg and Newsom ended up with a 1920s abode that spans three stories and 6,400 square feet with four bedrooms and six bathrooms. In the primary suite, the pair can enjoy "a knock-yer-socks-off hand-hammered copper fireplace and an attached bathroom with mosaic tiled tub and separate steam shower." There's also a "Gaudí-esque kitchen," "gilded columns," "hand-painted ceilings, and baseboards fashioned from copper and marble," as well as an atrium which boasts a glass ceiling.
Outside, Curbed Los Angeles notes that Moorcrest's pool area is like the set of a movie thanks to a path made of stepping-stones as well as "a little (man-made) cave." That definitely sounds like a place where he could relax after a long day of filming.
Andy Samberg puts his fortune to good use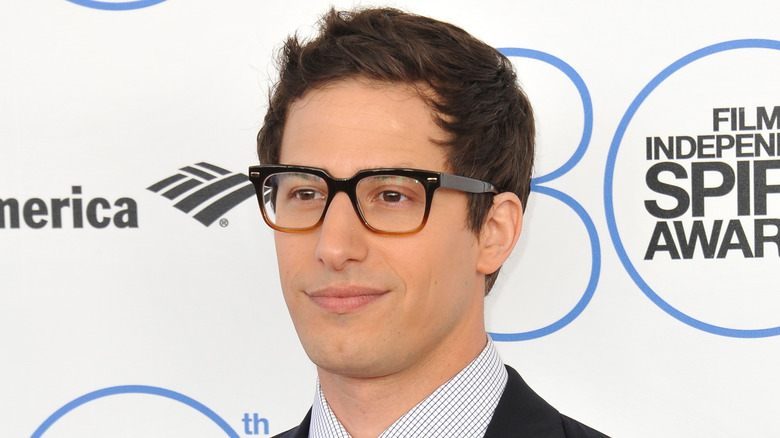 Thanks to his success, Andy Samberg's made quite a bit of money. According to Celebrity Net Worth, he brought in $125 thousand for each episode of "Brooklyn Nine-Nine." Pulling double duty as the lead and one of the creators, the outlet pointed out that "he'll likely earn tens of millions over his lifetime from the sale of the show's 130+ episodes into syndication." That will definitely be a nice financial boost, but the comedy great can already consider himself a rich man thanks to the fact that his fortune sits at an impressive $20 million.
What does Samberg do with that kind of dough? While we're sure that he enjoys a fair share of it buying things like his fancy home, it also seems like he puts his funds to good use by supporting causes that he believes in. In June 2020, the stars of his popular show donated money for something that might have seemed at odds with how they make their money.
Dan Goor, co-creator of "Brooklyn Nine-Nine" — a show about a group of police officers — took to Twitter to release a statement on behalf of those who work on the comedy, telling followers, "The cast and showrunner of Brooklyn 99 condemn the murder of George Floyd and support the many people who are protesting police brutality nationally." The message continued by announcing that they had "made a $100,000 donation to The National Bail Fund Network."
Source: Read Full Article