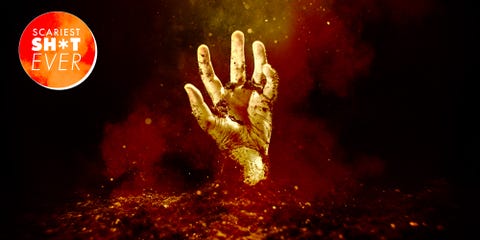 As far as horror movies go, zombies really get a raw deal (LOL, no pun intended). They're never going to get the kind of romantic treatment that vampires enjoy—can you imagine a teenage love triangle starring a zombie? Nope—and they don't inspire tragic twist endings like ghosts so often do. Thing is: some of the best and most iconic horror movies ever made involve flesh-eating hordes. Here are 13 (of course, 13) of them.
WATCH NOW
ICYMI: director George Romero's low-budget classic basically paved the way for every zombie movie you've ever seen. More than that, the movie remains incredibly chilling in its own right: seven people are trapped in a rural farmhouse, and picked off one by one by a bunch of flesh-eating monsters. The realization that the monsters' victims aren't just killed, but reanimate as living corpses, is drawn out to expertly horrifying effect.
WATCH NOW
Often credited as the first movie to introduce the concept of zombies eating brains, Return of the Living Dead follows a ragtag group of people—including a warehouse owner, a mortician, and a gang of teenage punks—who come together to face a gang of zombies. Some extra behind-the-scenes drama: the film sparked a legal battle with George Romero, who was pissed that RofLD was in competition with his own sequel, Day of the Dead, which opened in theaters that same year.
WATCH NOW
Here's your other Night of the Living Dead sequel. This one is from George Romero and Dario Argento, and follows the broader effects of the zombie pandemic that originated in NotLD. The incredibly intense and sharply written film focuses on a group of survivors barricaded inside a shopping mall.
WATCH NOW
Sometimes you just need to immerse yourself in an incredibly bleak post-apocalyptic world to distract yourself from the actual news. It's fun! Picking up in England shortly after a highly contagious and mysterious virus has triggered the collapse of society, Danny Boyle's drama follows one survivor (Cillian Murphy) after he wakes up from a coma and encounters other people struggling to cope with WTF just happened.
WATCH NOW
Though a sequel to 28 Days Later, this film features an all-new cast and a new director, but has a similarly gripping raw quality. As the title suggests, we're now a month on from the epidemic that destroyed society, and follow an intricate and ultimately doomed (spoiler: zombies are relentless) military effort to establish a safe zone from the virus in London.
WATCH NOW
Edgar Wright's punchy zom-rom-com (yup, you're welcome) is essential viewing if you don't think you like zombie movies. An aimless, recently-dumped slacker (Simon Pegg) finally finds the direction his life has been lacking when a zombie apocalypse overtakes London, and forces him to take charge as his friends struggle to survive. Alongside the laughs, there are plenty of real scares. A strong emotional arc, too.
WATCH NOW
As it turns out, the zombie genre features a lot of genuinely great sequels. #TheMoreYouKnow. Picking up some time after Dawn of the Dead, Day of the Dead is set in a world that has been overrun by zombies. Survivors live in underground bunkers. A group of scientists is struggling to find a cure to the pandemic. And even by the standards of this series, it's dark as hell.
WATCH NOW
One of the best found footage movies ever made, REC follows a reporter and her cameraman into an apartment complex in Barcelona, where the appearance of mysterious and violent symptoms among some residents has sparked an uprising. As things get more and more nightmarish, it's impossible to look away.
WATCH NOW
Remember when Emma Stone, Woody Harrelson and Jesse Eisenberg were all in a zombie comedy together? Well, they were. And it's exactly as delightful as that very brief summary sounds. Zombieland follows Eisenberg as a nerdy college student trying to survive life after a zombie apocalypse. He ends up on a road trip with three other survivors in search of both a zombie-free sanctuary, and the world's last Twinkie bar.
WATCH NOW
Brad Pitt stars in the list's most recent truly good zombie movie, as a UN investigator who travels across the world to try and stop a rapidly spreading zombie pandemic. Despite an extremely troubled production—the entire third act was famously rewritten and re-shot long after initial shooting had wrapped—this is a pretty smart and thrilling movie.
WATCH NOW
Lord of the Rings director Peter Jackson might not be the first name that jumps to mind when you think zombie movies, but he should be! His directorial debut was this gory slapstick zombie-fest about a young man whose mean mom is bitten by a rabid rat-monkey and rises from the dead as a cannibalistic monster—which really puts a dampener on his brand-new relationship.
WATCH NOW
Before you say this doesn't count as a zombie movie, hear me out. The monster at the center of Mary Shelley's novel, and this definitive Boris Karloff-starring adaptation, is an artificially reanimated creature made out of corpse parts. Sure, he doesn't eat brains, and a pretty key part of the story's subtext is that Frankenstein's monster might have more humanity than Frankenstein himself, buuuuut that's part of what makes this such a great early entry in the zombie genre!
WATCH NOW
A medical student invents a process for reanimating dead bodies. What could go wrong? Originally planned as a play and later as a TV pilot, Re-Animator definitely earns the X rating it initially received from the MPAA, but balances out the gore with some dry black comedy.
Source: Read Full Article