This time, our heroine turns into a big, fluffy red panda instead of a terrifying green monster
"When we first started talking about Billie Eilish and FINNEAS — back before they'd won a billion GRAMMYS — we could see then how they had their finger on the pulse," producer Lindsey Collins said. "We were big fans. We met with them and pitched this crazy idea of a boy band, asking if they'd be interested in writing and producing the songs. They were!"
Given the way the band's name is written, they clearly take inspiration from *NSYNC, whose hit song "It's Gonna Be Me" primarily underscores the preview.
But let's circle back to the actual premise of "Turning Red." Because yes, you read right earlier: Mei Lee is essentially getting a Hulk storyline, but instead of turning into a huge green monster, she turns into a giant red panda when she's mad. According to her mother, voiced by Sandra Oh, "any strong emotion will release the panda."
So when Mei calms down, she returns to her normal self. It's a headache, but as she seems to learn while playing dodgeball, it can actually be a pretty useful thing.
"Turning Red" hits theaters on March 11, 2022.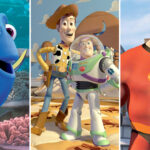 Source: Read Full Article