Following on the heels of the pop culture interpretations of the British royal family — perhaps most notably the portrayals of Diana, Princess of Wales, and Prince Charles in Netflix's "The Crown" — film studio Neon announced their next film "Spencer" would do the same. Cast in the role of Lady Di is actor Kristen Stewart, who has seen a resurgence in social media acceptance, as well as the film industry at large, since her "Twilight" days.
On August 26, Neon shared the first trailer for "Spencer" ahead of its premiere at Venice Film Festival next month, according to IndieWire. In it, Stewart revitalizes some of Diana's most fashionable looks, while simultaneously intending to give viewers a glimpse of the woman outside of the regal spotlight. Needless to say, social media immediately burst with reactions upon the trailer's release. Here is why the internet is buzzing about Kristen Stewart's role in "Spencer."
Kristen Stewart looks just like Princess Diana in the 'Spencer' trailer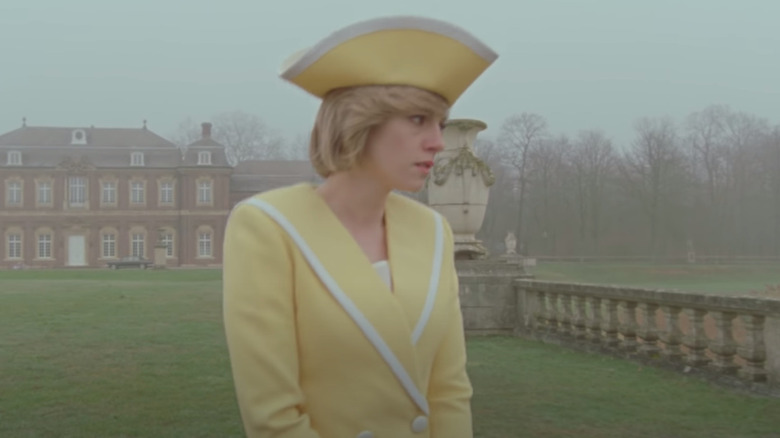 With the release of the "Spencer" trailer, the internet immediately reacted to Kristen Stewart's portrayal of Diana. If anyone had doubts about the initial casting, this video is proof that Stewart as Diana is uncanny. In fact, her portrayal of Diana follows a similar tension and style to Emma Corrin's Diana in "The Crown," as well as Elizabeth Debicki's, who is the third actor to play Diana on the series. 
"Spencer" director Pablo Larraín previously explained to Deadline why he chose Stewart for the part. "To do this well, you need something very important in film, which is mystery," he explained. "Kristen can be many things, and she can be very mysterious and very fragile and ultimately very strong as well, which is what we need." Calling her a "force of nature," Larraín said that "the way she responded to the script and how she is approaching the character, it's very beautiful to see."
Although audiences are just now seeing the trailer for the Diana biopic, Stewart has been working on perfecting the role and honoring the late princess. In November 2020, Stewart told InStyle about putting her all into the historical figure. "The accent is intimidating as all hell because people know that voice," she said at the time. "In terms of research, I've gotten through two and a half biographies. … It's one of the saddest stories to exist ever, and I don't want to just play Diana — I want to know her implicitly."
Source: Read Full Article