Hollywood is full of beautiful people. From actors and musicians to models and reality stars, most celebrities get paid a pretty penny because of their looks. Therefore, when these stars start linking up as couples, they can literally stop traffic and set red carpets ablaze. We all love a good love story, and Hollywood is full of hookups, makeups, and breakups. It's a bit like high school on steroids and with a lot more lunch money.
Supercharged looks only add to the glamour of celebrity couples, and right now in Hollywood, there are more than a few ridiculously beautiful pairs roaming about.
1. Will Smith and Jada Pinkett Smith
Will Smith and Jada Pinkett Smith | Adrian Sanchez-Gonzalez/AFP/Getty Images
Actors Will and Jada Pinkett Smith have been together for over twenty years, and yet, they've only gotten more attractive with age. With the Fresh Prince of Bel-Air alum headed into his 50s and his Girls Trip actress wife in her late 40s, they still look as stunning as they did when they were gracing the red carpets together in the '90s. Though they've often been plagued with divorce rumors, the couple who have both hopped on social media to show us their best lives recently are going stronger than ever.
After all of these years not only does their love continue to sparkle but both of their faces remained stunning and full of joy. Oh, to be that wealthy and in love.
Next: A '90s teen heartthrob couple who still sizzle in the 21st century. 
2. Sarah Michelle Gellar and Freddie Prinze Jr.
Sarah Michelle Gellar and Freddie Prinze Jr. | Evan Agostini/Getty Images
Another celebrity couple that has withstood the test of time and has had a drink from the fountain of youth is the '90s "It couple," Sarah Michelle Gellar and Freddie Prinze Jr. The couple initially met in 1997 on the set of the teen horror flick; I Know What You Did Last Summer. They wed in 2002, and they have two beautiful kiddos together. Though they've been keeping things fairly lowkey these days, the duo has been known for their cutesy PDA displays in the past.
If you really want to see how obsessed the beautiful couple still is with one another you can just head over to Gellar's Instagram page.
Next: Jim Halpert did good.
3. Emily Blunt and John Krasinski
Emily Blunt and John Krasinski attend Disney's Alice Through the Looking Glass event | John Sciulli/Getty Images
Emily Blunt and John Krasinski could be a Disney fairytale couple come to life. Krasinski fell in love with his wife in 2007 after seeing her in The Devil Wears Prada, but he didn't meet her until 2008.  The pair were engaged the next year and were married by 2010. When the 6′ 3″ Office alum and the British darling stare at each other, our hearts leap.
Blunt said the sexiest thing about The Quiet Place director after the birth of their second child. She told People, "John is the most unbelievable daddy."
Next: Ella and Alexander's mom and dad.
4. George Clooney and Amal Clooney
George and Amal Clooney. l GettyImages/Andrew Goodman
If power couple George and Amal Clooney ever take pity on us and show us their beautiful twin babies, we're certain will be blinded by how iconic they look. After all, their parents are simply picture perfect. The world was nearly left in shambles when Hollywood's most notorious bachelor swooped human rights lawyer and activist Amal Clooney off her feet and put a ring on it in 2014.
The hunky dark-haired actor had finally met his match with the gorgeous British-Lebanese barrister who also happens to be an NYU and Oxford graduate. On any major red carpet throughout the year you can see the pair gazingly longingly into one another's eyes, and we would hate if we weren't so obsessed.
Next: The most stunning royals. 
5. Meghan Markle and Prince Harry
Prince Harry, Duke of Sussex and Meghan Markle, Duchess of Sussex return in a horse-drawn carriage after attending the Queen's Birthday Parade, 'Trooping the Colour' on June 9, 2018.| Daniel Leal-Olivas/ AFP/ Getty Images
Duchess Meghan Markle and Prince Harry aren't exactly Hollywood, at least the duchess isn't anymore. However, we think they certainly count for this post. The Duchess of Sussex was already breathtakingly gorgeous as Rachel Zane on the beloved USA drama, Suits. Therefore, when the caramel-skinned dark hair beauty started dating and eventually married Britain's most dashing ginger, the world turned on its axis.
It's no wonder that they vacation with the Clooneys. The whole trip they took to Italy should have been a fashion spread. Now we're just awaiting a wee little royal.
Next: A model and her musician 
6. Gigi Hadid and Zayn Malik
Gigi Hadid and Zayn Malik | Mike Coppola/Getty Images
We don't know if supermodel Gigi Hadid and musician Zayn Maik are officially back on, but we do know they sizzle together either way. Hadid and the Pakistani British singer were hot and heavy for years before briefly calling it quits in 2018 only to get right back together. Despite their tumultuous status, the young couple isn't afraid to express all of the feels on social media for everyone to gaze at in envy.
Only time will tell if this pair will be able to withstand the test of time.
Next: A superhero and a reformed gossip girl
7. Ryan Reynolds and Blake Lively
Blake Lively and Ryan Reynolds pose | Blake Lively via Instagram
Ryan Reynolds and Blake Lively are so beautiful that we could scream. The stunning duo fell in love when they were on a double date with other people, and they were married by 2012, just two years after they co-starred in the atrocity that was Green Lantern.
The pair might look like perfection, but they don't take themselves seriously. In fact that often hilariously troll one another on social media. They also seem to have a friendship at the core of their relationship which is perfect when all of the glitz and glam comes off.
Next: A acting couple that keeps their love under wraps. 
8. Ryan Gosling and Eva Mendes
Eva Mendes and Ryan Gosling attend "The Place Beyond The Pines" premiere | Sonia Recchia/Getty Images
After meeting on the set of the film, The Space Beyond the Pines in 2011, Ryan Gosling and Eva Mendez became enthralled with one another, and the rest is history. They've kept their love story super lowkey, rarely even being seen together. However the gorgeous Gosling and the Cuban American Mendes and bonded for life.
The pair has two daughters together, Esmerelda, born September 12, 2014, and Amada Lee born April 29, 2016, All we know is those babies have some incredible genes. What a gift.
Next: Becks and Posh
9. David Beckham and Victoria Beckham
David Beckham and Victoria Beckham | Anthony Harvey/Getty Images
Some people get all the looks, as is the case with soccer legend David Beckham and his fashion mogul wife, Victoria Beckham. The power couple is a global sensation. With their stunning looks, they've slayed fashion campaigns, weddings, events and everything in between. Posh and Becks have been married since 1999, and they've been kind enough to pass along their perfect faces to their four children.
From their youngest little Harper to their oldest Brooklyn, who is already a heartthrob on his own, the Beckhams are a stunning family affair and we live for it.
Next: A TV queen and her hunky fiancee 
10. Gina Rodriguez and Joe LoCicero
Gina Rodriguez and Joe LoCicero attend the 90th Annual Academy Awards| Kevork Djansezian/Getty Images
Jane the Virgin star Gina Rodriguez and her hunky, actor/Muay Thai fighter fiancee Joe LoCicero have been heating up our Instagram feeds with their sultry vacation pictures and stunning looks. The pair began dating in 2016 when LoCicer guest starred on Jane the Virgin, and the rest is history.
In 2015, Rodriguez told People how she approaches love in Hollywood. She said, "Relationships and friendships have gotten a little more difficult. You have to keep a real and honest and clear passageway with everybody in your life. You can't allow the yes men to get in your head because the hype can be scary."
It looks like Rodriguez has finally found the one.
Next: A sultry couple who shuts down red carpets.
11. Sofia Vergara and Joe Manganiello
Joe Manganiello (L) and Sofia Vergara attend the 2018 Vanity Fair Oscar Party | Dia Dipasupil/Getty Images
Actors Sofia Vergara and Joe Manganiello sizzle apart so they are literally combustible together. The pair got engaged back in 2014, after dating for six months and for Manganiello it was truly a dream come true. After all, the Modern Family actress was his celebrity crush and he begged her costar, Jesse Tyler Ferguson, for Vergara's number when he heard she was single again.
Now even after several years of marriage, the pair can't keep their hands off of each other. The DCEU actor told People, "I really do believe that we were put on the planet to be with each other."
Next: The quarterback and his supermodel wife. 
12. Tom Brady and Gisele Bündchen
Gisele Bündchen and Tom Brady | Andrew H. Walker/Getty Images
Supermodel Gisele Bündchen began dating New England Patriots quarterback Tom Brady in December 2006, and the two tied the knot just over three years later. For over a decade,  the pair has stunted together at football games, at events, and with their family.
Though they are both getting older, they haven't slowed down, nor have they lost any of their stunning looks. The Super Bowl Champ told People, "I've been very blessed to find her. Wonderful woman, wonderful partner."
Next: Can these opposites just adopt us already?
13. John Legend and Chrissy Teigen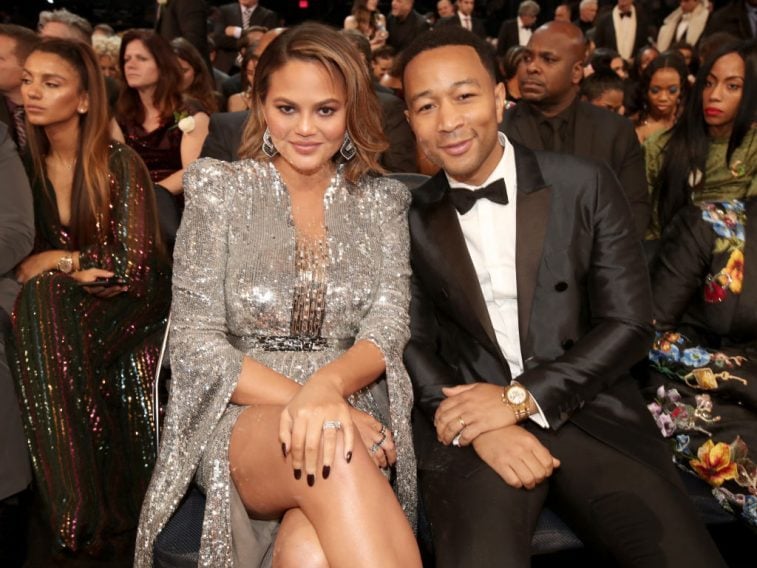 Chrissy Teigen and John Legend | Christopher Polk/Getty Images for NARAS
Though they are both stunning people, John Legend and Chrissy Teigen are complete opposites which is probably why we adore them so much. Legend is a more reserved calm musician, while supermodel Teigen is outgoing and boisterous. The couple who have been married since 2013 have shared their lives and precious children, Luna and Miles with the world.
Even when the Cravings author is cooking up tasty treats as Legend is on hand to try out her creations, the pair is just perfection. The singer told People, "I think she's brought me out of my shell a bit and made me enjoy life a little bit more."
Next: A dashing couple who met while getting 'Revenge.'
14. Emily VanCamp and Josh Bowman
Emily VanCamp and Josh Bowman on 'Revenge' | Richard Cartwright/ABC
Though they keep their personal relationship private, we saw the fireworks between engaged actors Emily VanCamp and Josh Bowman when they starred together on their ABC series, Revenge. On the series, the pair portrayed a husband and wife, who just happened to be mortal enemies.
Luckily, things are much more loving between the Avengers actress and the Time After Time alum. The duo has been engaged since May 2017. We're mostly just excited to see their wedding photos because they're going to look exquisite. Though the pair really work hard to keep their personal life out of the spotlight, VanCamp did tell People about, the "wonderful love in [her] life."
Next: A TV legend and her superhero hubby. 
15. Lisa Bonet and Jason Momoa
Actor Jason Momoa and Lisa Bonet attend the premiere of Warner Bros. Pictures' "Justice League" | Emma McIntyre/Getty Images
Actress Lisa Bonet and her Aquaman husband, Jason Momoa are a sight for sore eyes. Though the stunning duo did not officially tie the knot until 2017, the pair first began dating in 2005 after being introduced by mutual friends. Bonet has one daughter actress, Zoe Kravitz from her first marriage, and she and the Game of Thrones alum have a daughter named Lola Iolani Momoa and a son named, Nakoa-Wolf Manakauapo.
When the pair isn't huddled up together on red carpets, Momoa is gushing about his wife. He said, "I think I'd be in a whole worse place if I didn't have a beautiful wife and children. I'm very thankful for my family. They keep me in the sky, but they also keep me grounded."
Follow Aramide Tinubu on Twitter @midnightrami.
Read more: Celebrity Couples That You Didn't Know Have Open Marriages
Check out The Cheat Sheet on Facebook!
Source: Read Full Article