Ariana Grande is one of the biggest pop stars in the world. Critics and the public celebrate her four-octave vocal range, but she also stuns her fans with songwriting. She's stepping further into entertainment on the feature film scene. She's set to play Glinda for the upcoming Wicked movie adaptation.She also recently starred in Don't Look Up along with Kid Cudi, where their song "Just Look Up" missed out on a Golden Globes nomination. Here's why that's so wrong.
Ariana Grande and Kid Cudi's "Just Look Up" track in 'Don't Look Up'
Grande and Cudi appear in Don't Look Up as musicians named Riley Bina and DJ Chello. They sing the song "Just Look Up" to a packed crowd about the oncoming meteor hurtling toward Earth. Riley and DJ Chello dated and very publicly broke up. As a result, the media surrounds the celebrities and ignores Dr. Randall Mindy (Leonardo DiCaprio) and Kate Dibiasky's (Jennifer Lawrence) comet warning.
"Just Look Up" is written by Grande, Cudi, Nicholas Britell, and Taura Stinson. The song echoes Don't Look Up's climate crisis commentary. "Just Look Up" also carries the movie's tone, where it approaches a serious subject with humor. The lyrics garnered several laughs from press screenings, as the song begs people to "turn off the s*** box news" and "get your head out of your ass."
The Golden Globes should have nominated Ariana Grande and Kid Cudi for 'Don't Look Up'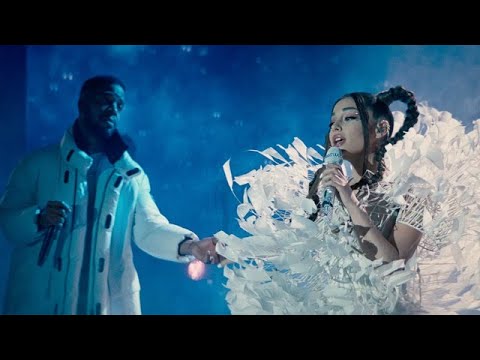 Grande and Cudi's "Just Look Up" seemed like an obvious choice for a Golden Globes nomination in the Best Original Song — Motion Picture category. The track perfectly captures the movie's message and tone. It also provides further development of Riley and DJ Chello's relationship. Additionally, Grande's vocals are absolutely out of this world.
Don't Look Up is a satire on events that "haven't happened … yet." However, some critics called the movie out for not going far enough, given real-life events that took place over the last several years. Nevertheless, Grande and Cudi successfully connect the movie with the real world, as it begs the audience to hear its message on the climate crisis. It also connects to the current coronavirus (COVID-19) pandemic.
"Just Look Up" tells its message at just the right time. Awards shows tend to highlight movies that capture the moment, which Grande and Cudi's song certainly does. Don't Look Up is a movie of now and the song not getting a nomination is a real head-scratcher. Hopefully, the Academy Awards doesn't make the same mistake. Grande and Cudi performing "Just Look Up" on the Oscars stage just feels right.
The Golden Globes Best Original Song — Motion Picture nominations
The Golden Globes honored several other movies for the Best Original Song — Motion Picture category. " Be Alive" from King Richard, "Dos Orugitas" from Encanto, "Down to Joy" from Belfast, "Here I Am (Singing My Way Home)" from Respect, and "No Time to Die" from No Time to Die all scored nominations. The last two songs from James Bond movies Skyfall and Spectre won an array of awards, so we'll see if it continues that streak.
The Golden Globes missed out on giving Grande and Cudi the deserved nomination. This is one of the very noticeable snubs of the announcement. You can see Don't Look Up now in theaters or stream it on Netflix starting Dec. 24.
Source: Read Full Article