Since the dawn of the entertainment industry, pop culture has been fascinated by celebrity families. Harry, Albert, Sam, and Jack Warner founded Warner Bros. in 1923 (via Britannica), setting the template for famous relatives running the movie business. When the first generations of movie stars grew up, fell in love, and had families and children, occasionally those kids grew up to be celebrities themselves. It just makes sense: growing up in Hollywood and on sets, celebrity kids catch the bug and want to try building a career in entertainment for themselves. And… Mom and Dad's connections certainly don't hurt.
More rare than simple celeb parentage is the celebrity family crossover. Sometimes, the famous children of famous people get together romantically, combining two celebrity dynasties into one. It doesn't always work out; in Hollywood, as in life, relationships can be fleeting. However, it's fun to think about what life might be like for families in the spotlight. Imagine famous in-laws who find themselves having an awkward dinner with other VIPs thanks to their kids falling in love! Read on for our favorite celebrity couples whose romances brought together their famous families.
Martin Lawrence's daughter Jasmin and Eddie Murphy's son Eric are dating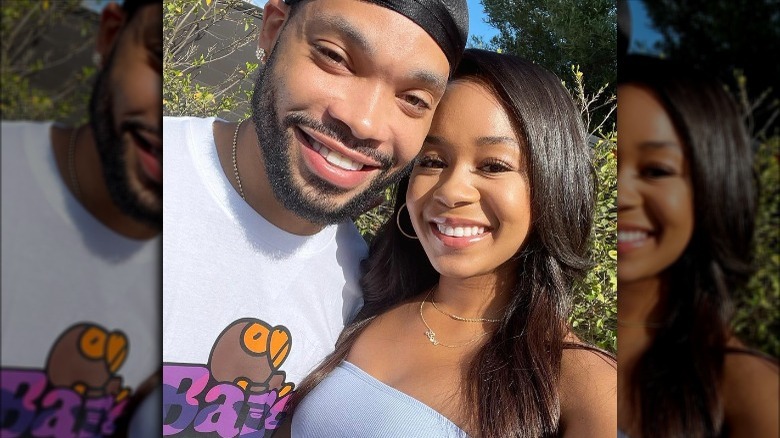 Fans were excited to learn that the offspring of two of Hollywood's funniest comedians, Martin Lawrence and Eddie Murphy, have found love. Murphy is a former "SNL" cast member who found massive success in films including "Coming to America," "Beverly Hills Cop," and as the voice of Donkey in "Shrek," whereas Lawrence had a sitcom named after him before catapulting to new heights alongside Will Smith in "Bad Boys." Murphy and Lawrence first worked together on the 1992 film "Boomerang," linking back up years later in 1999's "Life." By that point, they were so iconic as a duo that they were credited on the film's poster as simply "Eddie & Martin."
Lawrence's daughter, Jasmin Lawrence, started dipping her toe in the acting business in 2020, appearing alongside her dad in "Bad Boys For Life." The next year, she delighted fans by sharing a selfie on Instagram cuddled up with Eric Murphy, Eddie's son. She captioned the snap, "I'm so incredibly blessed to know you, to love you, and to have you by my side. Cheers to many more blessings, laughs, and beautiful memories!" As Popsugar noted, Eric had already spilled the tea on the relationship a few weeks earlier with his own loved-up IG post, but the story didn't pick up traction until Jasmin reciprocated. Eddie and Martin have yet to comment on their children's romance, but we can't imagine they're unhappy about having their families connected again after all these years!
Lori Harvey reportedly dated a famous rapper — and his son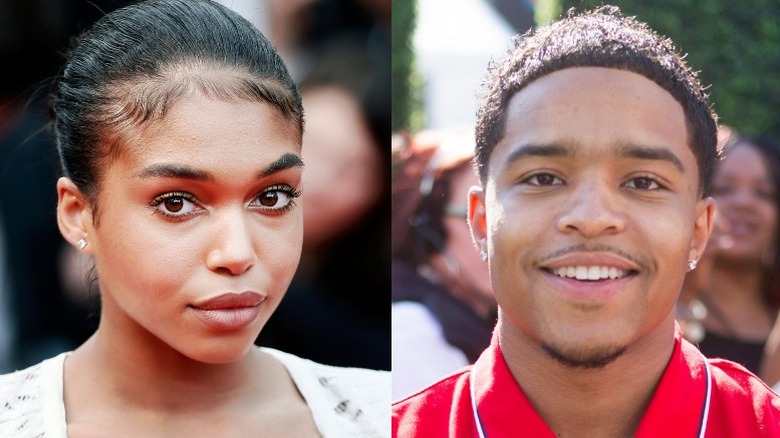 Steve Harvey's daughter, Lori Harvey, proudly represents African American women on the runway as a high fashion model. For example, after working with Dolce & Gabbana in 2017, she told BET, "I feel like you don't see a lot of color in the fashion industry in general. You just don't."
In 2019, Lori sparked headlines and speculation after she was photographed walking around New York in matching outfits with rapper Sean "Diddy" Combs, per TMZ. After Diddy and Lori were seen vacationing together in Cabo San Lucas, Diddy's son Christian cryptically told HollywoodLife, "They good. They're just being… private time."
This relationship wouldn't fit on this list, except for the fact that before she dated Diddy, Lori was in a relationship with his son Justin! According to E!, the Harvey and Combs families were first connected months before Diddy and Lori's relationship, when Lori and Justin dated too, having been spotted together at Diddy's Super Bowl party.
Ultimately, the Harvey and Combs families went their separate ways. As of this writing, Lori is in a long-term relationship with "Black Panther" hunk Michael B. Jordan. Her "Family Feud" host dad, for his part, told Ellen DeGeneres that he "hope[s] they last." He joked that he "tried not to like [Michael]," but the Marvel star "is such a good guy" that he "just can't find nothing wrong with him." No family feud here!
Brooklyn Beckham's relationships have merged multiple famous families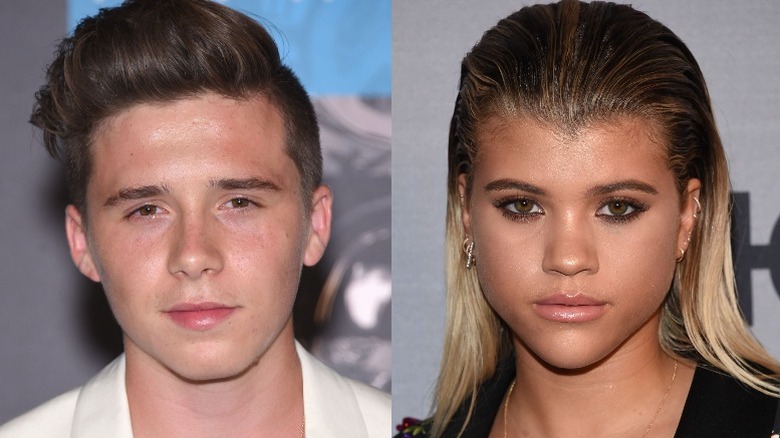 Brooklyn Beckham, eldest son of soccer superstar David Beckham and Victoria "Posh Spice" Beckham, is all grown up. In addition to Brooklyn's modeling career, having inherited his parents' good looks, he is also a photographer. He published a book of his photos called "What I See" at age 18, telling Sky News, "I carry a camera around with me absolutely everywhere so I don't miss a potential photographic moment."
Brooklyn's first high-profile romance was with actor Chloë Grace Moretz; the two dated on and off, starting in 2014. Soon after he and Chloë split for good in 2016, Brooklyn was captured by paps in some photographic moments himself, on several dates with model Sofia Richie. Like Brooklyn, Sofia also comes from a famous family: she is the daughter of acclaimed musician and "American Idol" judge Lionel Richie, as well as the sister of "The Simple Life" star Nicole Richie. People reported that Brooklyn and Sofia were spotted bowling in London and on a late-night Halloween stroll in Beverly Hills, while Dolly Magazine coined the couple name Sooklyn.
Unfortunately, Sooklyn was not to last, but both have found romantic success elsewhere. Brooklyn got engaged to "Bates Motel" star Nicola Peltz, which actually merged the Beckhams with another uber-wealthy and quasi-famous family (Nicola's father is billionaire industrialist and financier Nelson Peltz; her mother is former model Claudia Heffner Peltz, per Tatler). Sofia moved on with reality star Scott Disick before linking up with record executive Elliot Grainge.
Lily Collins comes from music royalty, and fiance Charlie McDowell was raised by acting legends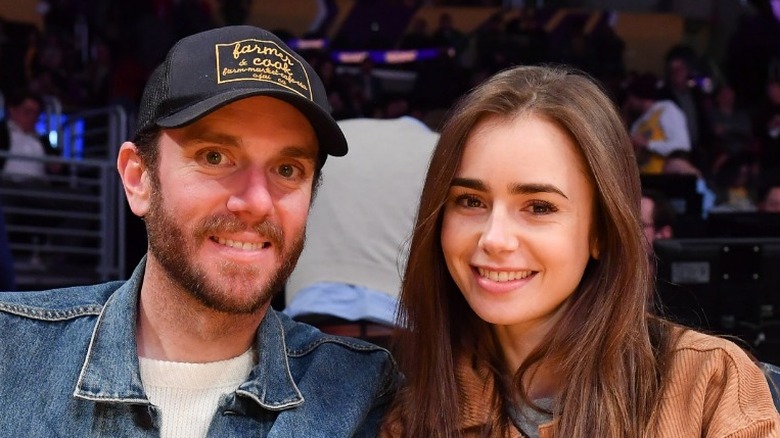 Lily Collins is the daughter of British musician Phil Collins, the man responsible for both the Oscar-winning "Tarzan" soundtrack and that incredible drum moment on "In the Air Tonight." Lily instead forged her path in the entertainment industry through acting, earning her own accolades with an Emmy nomination in 2021 for her starring role in Netflix's "Emily in Paris."
In 2019, Lily met director Charlie McDowell on the set of "Gilded Rage," his film about the murder of investment banker Thomas Gilbert Sr. She told The Mirror, "The second I met him, I knew I wanted to be his wife someday." But even two years before meeting Charlie, Lily said on "The Talk" (via US Weekly), "I'm really attracted to mysterious creatives, and I love people that are able to put their emotions out there." Sure enough, the two got engaged in September 2020.
Like Lily, Charlie comes from a famous, Academy Award-winning family. He's the son of Oscar-winner Mary Steenburgen and "A Clockwork Orange" star Malcolm McDowell; his parents split when he was young, so he was primarily raised by Steenburgen and her husband, "The Good Place" star Ted Danson. On "The Kelly Clarkson Show," Mary said, "[Lily is] a spectacular human being. She's so gorgeous but she's even more gorgeous on the inside." With Lily and Charlie's marriage, four famous families actually become linked, making the Collins-McDowell-Steenburgen-Danson family a true piece of Hollywood royalty. 
Grace Gummer and Tay Strathairn connected their famous families in secret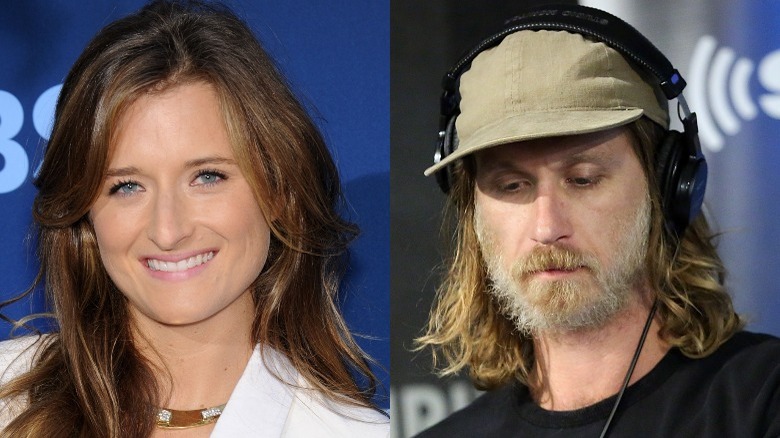 Usually, when famous celebrity kids get together, it makes the news. In the case of Grace Gummer's marriage to Tay Strathairn, though, the world didn't learn that the wedding had even happened until the two filed for divorce. Although she is the daughter of artist Don Gummer and Meryl Streep, possibly the most well-known actor in the world, Grace stepped out from her mother's shadow and built a career all her own. She works in both television and film, having starred on shows including "The Newsroom" and "Frances Ha."
When she was younger, Grace tagged along with Meryl to the set of 1994 adventure movie "The River Wild." That's where she first met Tay, the son of her mother's co-star David Strathairn, an Oscar nominee himself. US Weekly says Grace told friends, "They say we met then, but no one remembers!" They didn't see each other again for years.
Meanwhile, Tay made a name for himself as a musician, playing with folk-rock band Dawes for years. Tay and Grace reconnected, dating for several years before they were married in secret. No announcement was made to the press at the time. However, the marriage was not long for this world; just 42 days after they wed, US Weekly reported that the duo filed for divorce, revealing their partnership to the public at the same time as they severed the connection between their famous families. 
Drew Barrymore and Balthazar Getty brought together two of LA's most powerful families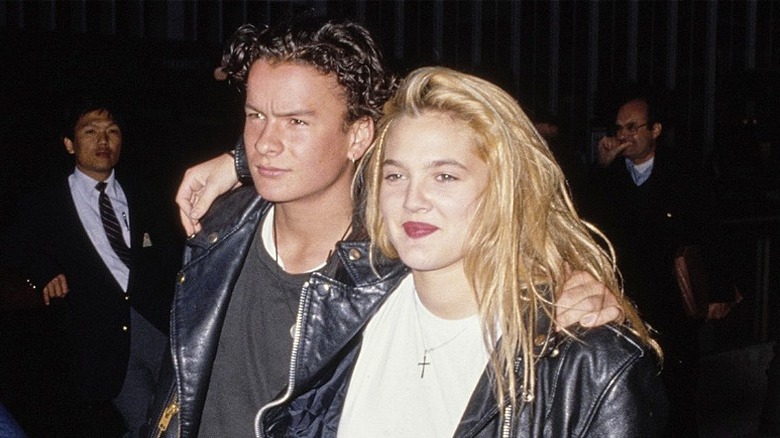 For much of the history of American acting, few last names have carried more weight than that of the Barrymore family. Her ancestors were legends of the stage and screen, so it was only natural for actor and current daytime talk-show host Drew to join the family business early; per The Guardian, she appeared "in a dog food commercial at the age of 11 months," before breaking through with her star turn in "E.T. the Extra-Terrestrial" several years later.
For several months in 1990, Drew dated actor Balthazar Getty (via US Weekly), who starred in "The Lord of the Flies" that year. Both were teenagers at the time. Balthazar is a descendant of the Getty oil dynasty, and the Gettys have grown into an influential force in Los Angeles as both patrons of the Getty Institute and the founders of Getty Images.The relationship between Drew and Balthazar only lasted a few months, time enough for the stars to be photographed together (by Getty Images, fittingly enough) at several film premieres and date nights… and then they split.
Thankfully, though, the two seem to have remained on good terms after their breakup. In 2016, Balthazar captioned a since-deleted throwback photo on Instagram, "Me and the homey drewbarrymore [sic]." 
Miley Cyrus's relationship with Patrick Schwarzenegger linked three famous families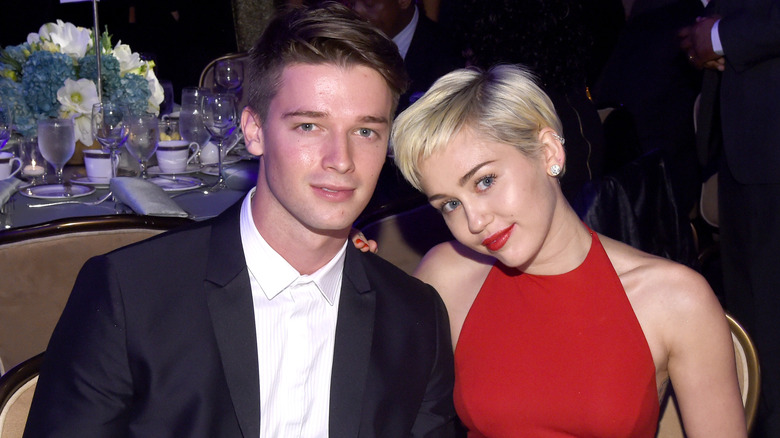 Some celebrity kids get so famous they surpass their parents. That's the case with Miley Cyrus, who got her start as a popstar leading a double life on the Disney series "Hannah Montana." The show rocketed her to instant superstardom, so it's easy to forget that her father, Billy Ray Cyrus — who also played her dad on the show — was famous first.
After starring together in "The Last Song," Miley had a years-long romance with Liam Hemsworth. They dated and broke up several times, including multiple engagements, a marriage, and a divorce. But when Miley and Liam broke off their first engagement in 2013, Miley was linked the following year to a guy from a different celebrity clan. She dated Patrick Schwarzenegger, the son of actor and former California governor Arnold Schwarzenegger and journalist Maria Shriver. Arnold later told Howard Stern, "When I did meet Miley Cyrus, when she came up to Sun Valley, skiing, during our holidays, I found out that she was a fantastic person. … She was a wonderful person."
Miley and Patrick's relationship didn't work out; the LA Times announced their breakup in 2015, and she soon got back with Liam. If it had, though, Miley wouldn't have just been a Schwarzenegger. She would have also been part of the Kennedy dynasty, as Maria Shriver is former President John F. Kennedy's niece!
Nicolas Cage's marriage to Lisa Marie Presley joined two celeb dynasties together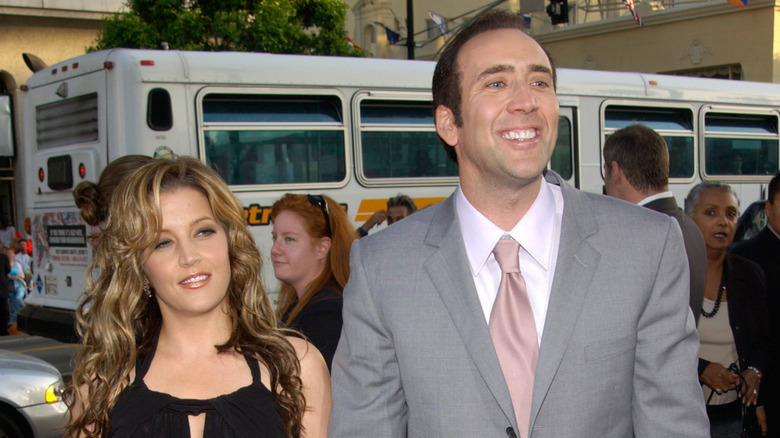 One tried-and-true strategy for a celebrity kid to forge their own path is to go by a different name than their family. It's easy to forget that Nicolas Cage was born Nicolas Coppola, and that (via Entertainment Weekly) he's part of the mega-famous Hollywood dynasty that includes "The Godfather" director Francis Ford Coppola. Nic is the son of film executive August Coppola, making him Francis Ford Coppola's nephew.
In 2002, Nicolas Cage's whirlwind three-month marriage to Lisa Marie Presley was a tabloid sensation. Lisa Marie Presley is the daughter of Priscilla and Elvis Presley, the King of Rock 'n' Roll. Rumors swirled that Cage was a huge Elvis fan and had intentionally pursued Lisa Marie because of who her parents were. Setting the record straight on some of the more salacious claims, he told Barbara Walters in a 2003 post-divorce interview, "There's no answering machine with my voice on it as Elvis. We weren't going to buy Graceland." Of the tempestuous marriage's quick ending, Nic told Barbara that he and Lisa remained friends at that time. He added, "It's sad and I miss her every day. … Sometimes I wish we couldn't have rushed the marriage and sometimes I regret rushing the divorce, but it just seemed like it wasn't going to change."
Fun fact: while the ever-so-brief union temporarily brought the Presley family into the Coppola fold, it also had the side effect of making Cage the stepfather of "Zola" actor Riley Keough, who is Lisa Marie's daughter's with musician Danny Keough. 
Judy Garland's daughter dated Lucille Ball's son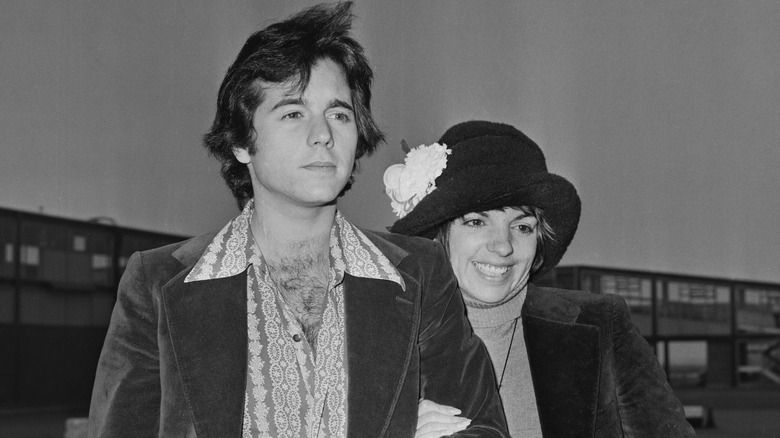 Few movie stars in history were more famous than Judy Garland. Born to vaudeville stars, her debut stage performance happened at just two years old. Years later, "The Wizard of Oz" made her a household name. Garland married director Vicente Minnelli in 1945 and gave birth to their daughter, Liza Minnelli, the following year. 
Similar to Garland's big screen icon status, few television stars were more famous than Lucille Ball. The redheaded comedian won the hearts of America through "I Love Lucy," and when she and her real-life husband and co-star Desi Arnaz had a baby, they planned her C-section for the same night their fictional alter egos gave birth on the show! The resulting birth of Desi Arnaz Jr. was such a media sensation that the very first cover of TV Guide called him "Lucy's $50,000,000 Baby," the estimated amount Lucy and Desi were making in merchandising deals.
In her mid-20s, Liza Minnelli was a star on the rise, and in the early 1970s, she met Desi Arnaz Jr. The two fell into a long-term relationship. He was her date to the 1972 premiere of "Cabaret" and the 1973 Oscars, where she won Best Actress. According to Closer, though, the combination of Judy Garland and Lucille Ball's family was not a happy one; Lucy reportedly did not approve of their relationship, considering Liza was seven years older than Desi. After bringing together two of Hollywood's most famous families, Liza and Desi ultimately went their separate ways.
Kylie Jenner once dated her good friend Jaden Smith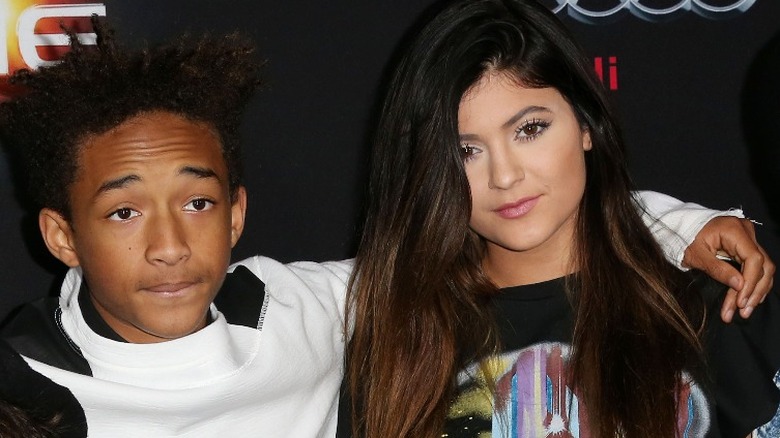 When "Keeping Up with the Kardashians" premiered in 2007, viewers met Kim Kardashian and her massive family that includes momager Kris Jenner, former Olympian Caitlyn Jenner, and sisters Kourtney, Khloe, Kendall, and Kylie. Fans know and love youngest sis Kylie Jenner for her cosmetics empire and her high-profile romance with rapper Travis Scott, including their daughter Stormi. Often forgotten, though, is the fact that Kylie dated fellow celeb kid Jaden Smith when they were younger!
Jaden is, of course, the son of Will Smith and Jada Pinkett Smith. Like the Kardashian-Jenners, the Smiths have built quite the famous family for themselves. Daughter Willow and mom Adrienne Banfield-Norris join Jada on "Red Table Talk," while Jaden followed his dad's path into acting and music. And when he was younger, Jaden dated his good friend Kylie, bringing the Smith and Kardashian-Jenner families temporarily together. 
US Weekly first reported on the new relationship in March 2013, and by the next month Jaden was telling Hello! that the new romance was "pretty awesome." Jaden was even Kylie's date to Kim Kardashian's 2014 wedding to Kanye West, per E!. Unfortunately, as fans know, the connection between the Smiths and KarJenners was not meant to last, and Kylie and Jaden went their separate ways romantically. Thankfully, though, they have stayed friends; model Fai Khadra shared an Instagram Story of them hanging out at Justin Bieber and Hailey Baldwin's wedding (via Harper's Bazaar)!
Source: Read Full Article