"Sex and the City" may have been a pop culture sensation when it ran from 1998 to 2004, but the HBO series was filled with plenty of dark secrets. Not least of which was the reported ongoing feud between stars Sarah Jessica Parker and Kim Cattrall. As if to confirm the alleged animosity that has plagued the cast for years, and prove that time does not heal all wounds, Kim Cattrall made it clear she wanted nothing to do with the 2021 "SATC" revival coming to HBO Max.
But while we're still learning new information about the reboot (including the future of Carrie and Mr. Big) and plenty of questions still remain, at the time of this writing — like how much the cast actually stands to make from the upcoming show — perhaps the most talked about topic is still what exactly happened between Parker and Cattrall. The two have had plenty of ups and downs and made loads of headlines, and below, we're taking a look back at the complete timeline of Sarah Jessica Parker and Kim Cattrall's feud.
Did a 'mean-girls culture' isolate Kim Cattrall?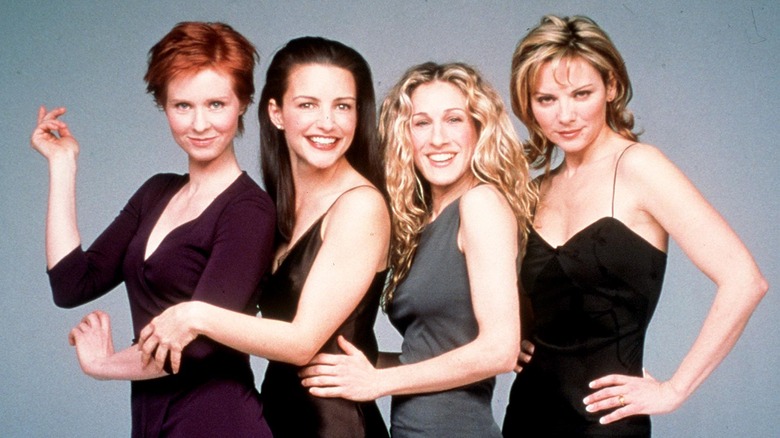 In 2008, Clifford Streit — a.k.a. "the real-life inspiration" behind Willie Garson's Stanford Blatch on "Sex and the City," per the New York Post — tried to sell a book proposal, in which he revealed that while the four stars of "SATC" were the best of friends on-screen, reality was apparently very different. According to Streit, Cattrall was "a natural comedienne, and a scene-stealer in the best possible sense — the camera went right to her," which allegedly didn't sit well with Sarah Jessica Parker, who was supposed to be the series' lead. So, she reportedly decided to do something about it: exclude Cattrall. 
As the outlet summarized Streit's claims, Parker, Cynthia Nixon, and Kristin Davis supposedly formed a "clique," which omitted Cattrall and the show's creator-producer Darren Star. The latter two reportedly leaned on each other, but when Star exited the show after two seasons, and Michael Patrick King (a pal of Parker's) took over his role, "Cattrall was completely isolated."
Per the outlet, the alleged rift was so major that while shooting in Atlantic City, SJP actually "rented a house" to share with Davis and Nixon, and didn't invite Cattrall to stay with them. An HBO spokesperson said at the time that "Kim stayed in a different house because she was married … and her husband was supposed to come," but rumors of on-set drama kept mounting. One source even claimed to the mag that no one would speak with Cattrall, "not even in the makeup room."
Kim Cattrall wanted a pay raise and it stirred up major drama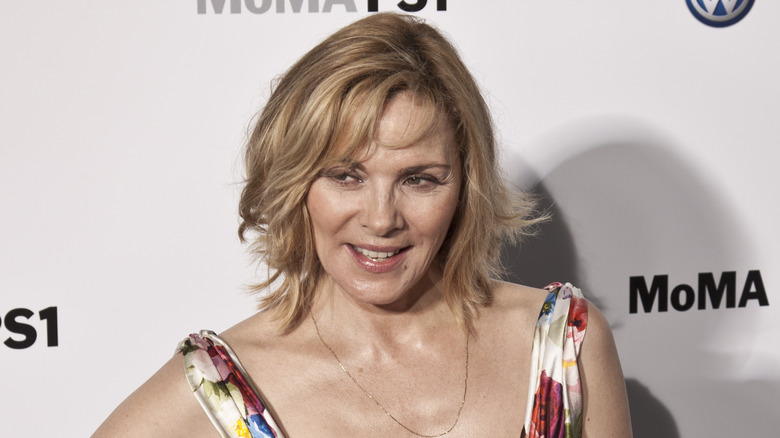 "Sex and the City" came to a close in 2004 after six successful seasons, leaving many to wonder why the ladies hadn't kept going. Kim Cattrall gave them that answer when she stopped by "Friday Night With Jonathan Ross" that same year and revealed (via Bustle) that it wasn't the rumored feuding that ended the show, but salary negotiations. More specifically, hers. "I felt after six years it was time for all of us to participate in the financial windfall of 'Sex and the City,'" Cattrall admitted, revealing, "When they didn't seem keen on that, I thought it was time to move on."
According to The Telegraph, Cattrall first asked for a raise when Sarah Jessica Parker received an executive producer promotion during Season 2, which reportedly alienated her from her co-stars, who reportedly "wouldn't even sit with [her] at mealtimes." As if to prove that point, Parker sat with Cynthia Nixon and Kristin Davis at the 2004 Emmys, while Cattrall sat at a different table. "Are we the best of friends? No," Cattrall candidly replied after being questioned about that night. "We're professional actresses. We have our own separate lives." 
However, SJP insisted, "We are all friends and I wish I saw more of Kim." Parker was also adamant that salary was never an issue, saying that Cattrall "mentioned money and no one should vilify her for it. People made a decision that we had vilified her."
The SATC film brought the cast back together — with plenty of feud speculation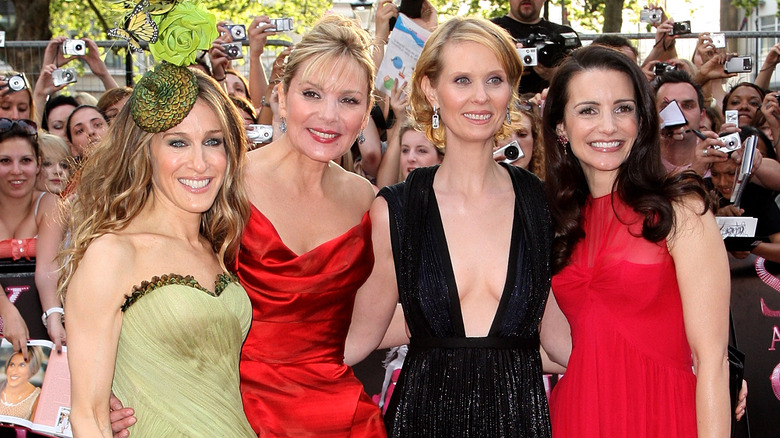 Kim Cattrall made it clear she was unhappy with what she earned on the show — "There was a disparity between what Sarah got and what the other girls got," her friend told the New York Post — and money reportedly ended up being a deciding factor behind her joining the first "Sex and the City" film. While Cattrall told Marie Claire in 2008 that she initially declined because she didn't feel "ready and strong enough to revisit Samantha," Chris Albrecht, HBO's former chairman and CEO, noted, "When you're keeping people for years, you have to continue to pay them more money. Sarah was becoming more and more famous, and her salary increased beyond what was contractually committed, which is normal for hit shows." He added, "The other actresses wanted to keep up." 
But Cattrall insisted it was all about timing. "Four years ago I was going through a painful public divorce, the series was coming to an end, and my father was diagnosed with dementia. I felt it was time to be with my real family," she reasoned.
When the movie was finally released in May 2008, it was a hit at the worldwide box office, earning nearly $419 million dollars, but according to The Telegraph's on-set report, shooting it wasn't easy. Aside from alleged money drama, the supposed feud between Sarah Jessica Parker and Cattrall reportedly became so petty that the two stars fought over their outfits, because "each coveted the other's costumes."
The second SATC movie's press tour was all about denying the rumored feud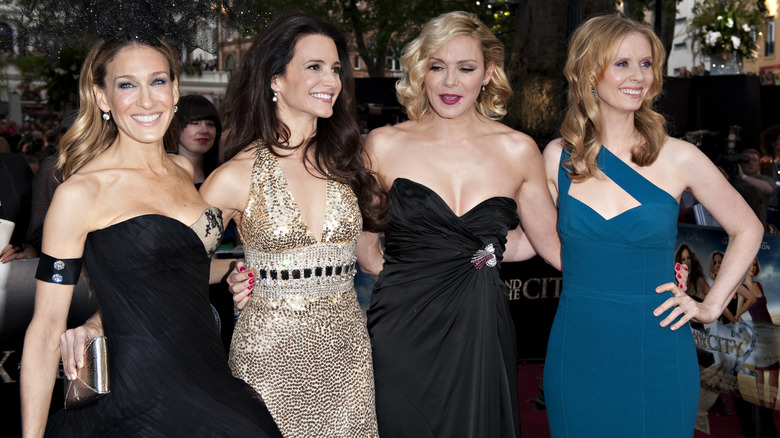 Feud or no feud, the four actors reunited for 2010's "Sex and the City 2," and this time, Sarah Jessica Parker and Kim Cattrall put on a united front, adamantly denying rumors of a beef between them. Parker, for one, told Elle, "I don't think anybody wants to believe that I love Kim. I adore her," adding, "I wouldn't have done the movie without her." Cattrall responded in the Daily Mail, saying, "I think Sarah was right: People don't want to believe that we get on. They have too much invested in the idea of two strong, successful women fighting with each other." Musing that "it makes for juicy gossip and copy," Cattrall noted, "I think Sarah is fantastic. … She and I are sick of this. It's exhausting talking about it, and a real bore. Next?"
Speaking with Marie Claire at the time, Cattrall added that "the chemistry among the four of us is very strong," while Kristin Davis called feud rumors "ridiculous," and Cynthia Nixon noted, "It hasn't always been smooth sailing, but the idea that we're somehow adversarial is ludicrous." Parker agreed. "When you're on set, you're working 90-hour weeks, you're never home, you're exhausted," she shared, admitting, "There are times when all of us have been sensitive, and sometimes feelings get hurt."
Despite their claims, New York magazine previously reported in 2009 that "you could cut the tension with a knife" on-set, alleging that Parker and Cattrall "are no longer speaking, which is making everyone on the set … uncomfortable."
As questions about SATC 3 mounted, so did the feud denial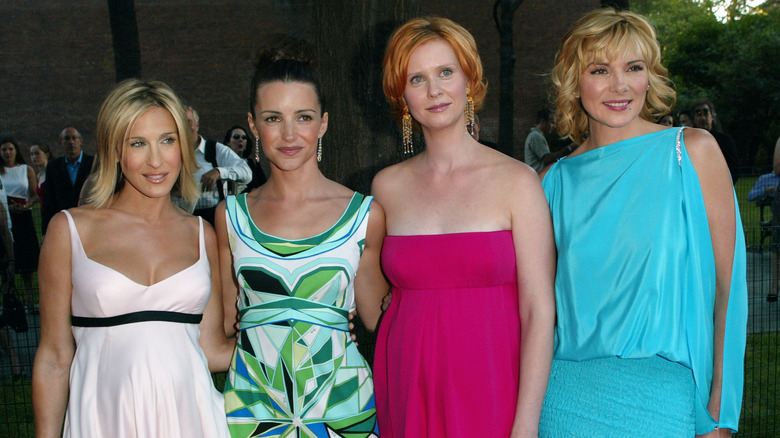 Following the release of the second "Sex and the City" film, it seemed like Sarah Jessica Parker simply couldn't get away from people asking her about a third installment. Speaking with Time in 2016, she assured that she didn't mind the questions — "I would be a fool to feel burdened by that, or frustrated or resentful" — nor did she mind the fact that it wasn't happening. "The last movie came out in 2010," SJP mused. "It was 13 years of my life, give or take — how better to have spent a career?" she went on to ask, before underscoring, "Now it's time for me to do something else."
Unsurprisingly, Parker was also asked about her alleged feud with Kim Cattrall and, once again, she denied everything, saying, "It was always so heartbreaking to me that there was this narrative about Kim and myself because it just didn't reflect anything that happened on that set." Adding that "it was so strange to me and upsetting," SJP cited an Instagram post in which she wished Cattrall happy birthday as proof of their friendship. 
"I posted something on Kim's birthday and people were like 'Oh my God, I didn't know you liked her!'" Parker told the outlet, concluding, "What? We were all at liberty to walk away at any time! But nobody asked those questions of shows with men. Isn't that interesting?"
Why Kim Cattrall was accused of ruining SATC 3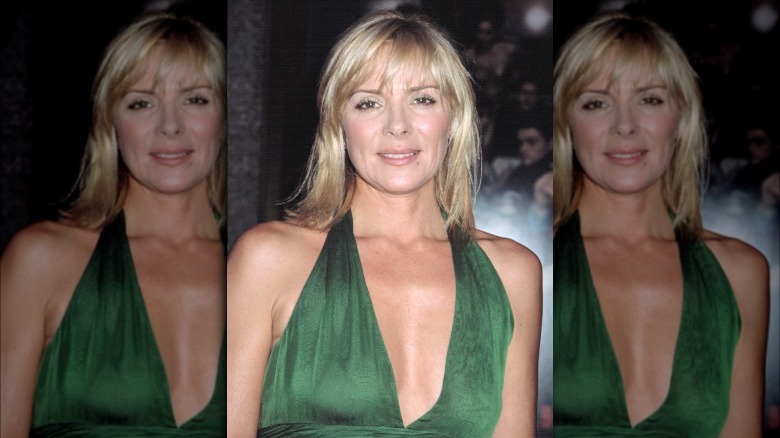 In September 2017, Sarah Jessica Parker told Extra that a third "Sex and the City" movie had actually been in the works with a "beautiful, funny, heartbreaking, joyful, very relatable script and story," but confirmed, "It's over. … We're not doing it." Parker said she was "disappointed" and her fellow stars shared their own anger, with Kristin Davis writing on Instagram that "it is deeply frustrating not to able to share that chapter (beautifully written by MPK) with all of you." She also noted, "I wish that we could have made the final chapter, on our own terms, to complete the stories of our characters." Meanwhile, Willie Garson tweeted he was "disappointed for all crew holding on for negotiations to conclude for their jobs, and of course, for the fans."
While it was initially unclear why the project fell through, the Daily Mail had placed the blame on Kim Cattrall, with a source alleging to the outlet that the actor "made it all about her, always playing the victim." The insider claimed that "the only reason this movie isn't being made is because of Kim Cattrall," and further alleged that the film fell apart right before pre-production, because "Kim had the audacity to tell Warner Bros. that she would only do this if they made other movies she had in development." 
Another source supported those claims, alleging that "the script is fantastic," but "Warner Bros. couldn't give in to her ridiculous demands. Kim held everyone's life up. Her behavior is beyond disappointing."
Kim Cattrall thinks Sarah Jessica Parker 'could have been nicer'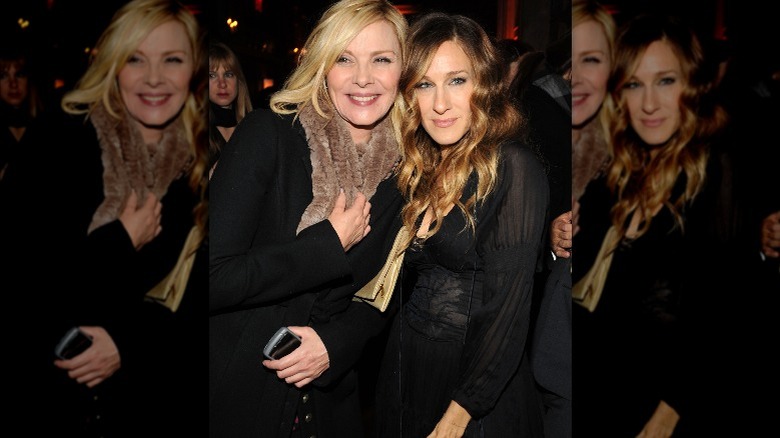 Soon after sources claimed to the Daily Mail that Kim Cattrall ruined "Sex and the City 3," the actor shot back on Twitter. "Woke 2 a @MailOnline [poop emoji] storm! The only 'DEMAND' I ever made was that I didn't want to do a 3rd film…. & that was back in 2016," she clarified. Cattrall then sat down with Piers Morgan (via the Daily Mail) to spill some tea, saying the rapport she shares with her co-stars "feels like a toxic relationship" and that "the common ground that we had was the series and the series is over."
Addressing the cancellation of the third film, Cattrall was adamant in saying, "This isn't about more money, this is not about more scenes, it's not about any of those things. This is about a clear decision, an empowered decision in my life to end one chapter and start another." Clarifying that she never considered reprising her role of Samantha — "The answer was always no and a respectful, firm, no" — the star underscored, "I never asked for any money, I never asked for any projects, to be thought of as some kind of diva is absolutely ridiculous." 
Cattrall had apparently even encouraged the others "to make the movie, if that's what they want to do" and suggested they could "bring in another character," before ending with some shade. "Sarah Jessica, she could have been nicer, she could have in some way," Cattrall mused. "I don't know what her issue is, I never have."
Did Kim Cattrall stop production of the third film — or didn't she?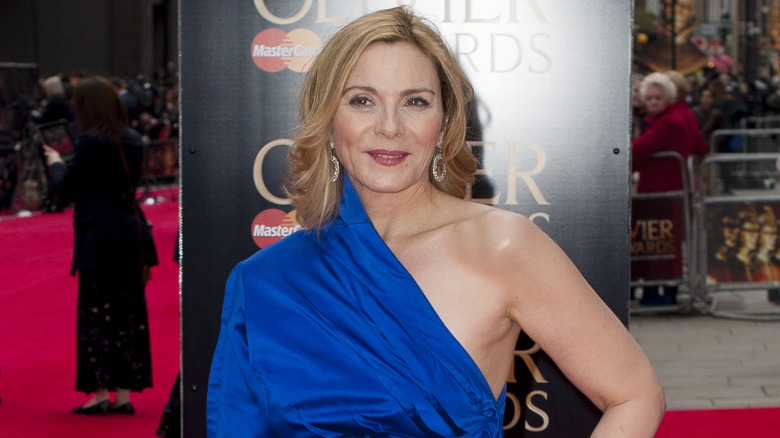 The drama surrounding "Sex and the City 3" just couldn't be squashed! Not long after Kim Cattrall told Piers Morgan that she was cool with her co-stars making a third flick without her and confessed (via BBC News) that she and the others had "never been friends," an insider put the blame back on her. "It's amazing Kim is saying she wasn't negotiating because she was absolutely asking for many demands, some of which have already been quoted," the source told People, before alleging, "When she said the relationship was toxic, it's interesting because she is the one who creates the drama, but she won't take honest responsibility for her actions."
Meanwhile, Sarah Jessica Parker revealed on "Watch What Happens Live with Andy Cohen" that she was "heartbroken" by Cattrall's comments, adding, "I found it very upsetting, 'cause that's not the way I recall our experience."
We may never know what actually happened, but another insider told People the truth may lie somewhere in between. According to them, Cattrall was "willing to have a conversation, but she needed to hear something she hasn't heard before — namely, that they would treat her character with some dignity and respect — and they wouldn't even engage in that sort of discussion." Adding that Cattrall was sick of having "one humiliating plot line after another," the insider was adamant that "she never wanted to derail things."
The #MeToo movement inspired Sarah Jessica Parker to speak her truth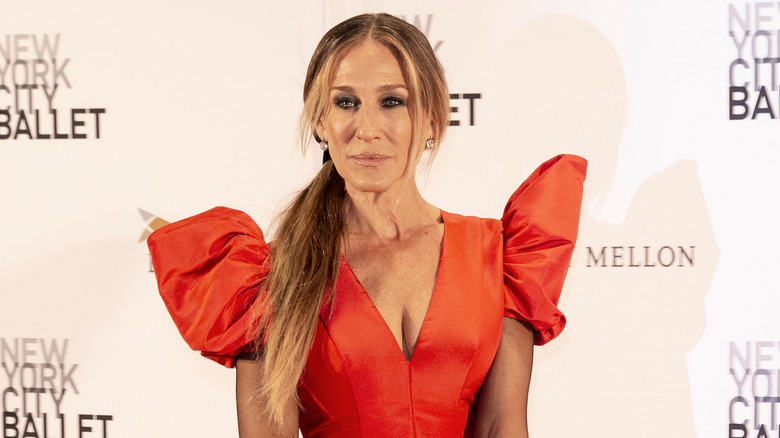 The subject of "Sex and the City 3" was resurrected by the Daily Beast in 2018, and this time around, Sarah Jessica Parker didn't brush off those feud rumors. Rather, she appeared to confirm that there was indeed beef between her and Kim Cattrall and that the latter pulled the plug on the film. 
"When things aren't true, especially when it is a personal attack about your character, the way you've chosen to conduct yourself specifically, I'm stunned by how deeply it still cuts," SJP began, adding that "it's so painful because all you want to do is respond. All you want to do is say, 'Are you kidding me!? … These are the conversations. These are the emails. These are the conversations with lawyers and agents and studio heads.'"
The actor then told the outlet that she was "counseled" to not fire back at Cattrall until the #MeToo movement inspired her to take a different approach. "All of a sudden the world shifted, right? I was like, 'Oh this is ridiculous,'" Parker said. "For so long I was told to be quiet about all of that stuff. And all of a sudden I'm like, 'If people are being encouraged to come forward and talk about really difficult, painful, potentially criminal things that they were part of or witnessed, I think I can talk about the 'Sex and the City 3' movie,'" she concluded, without actually talking about it.
The death of Kim Cattrall's brother took this feud to the next level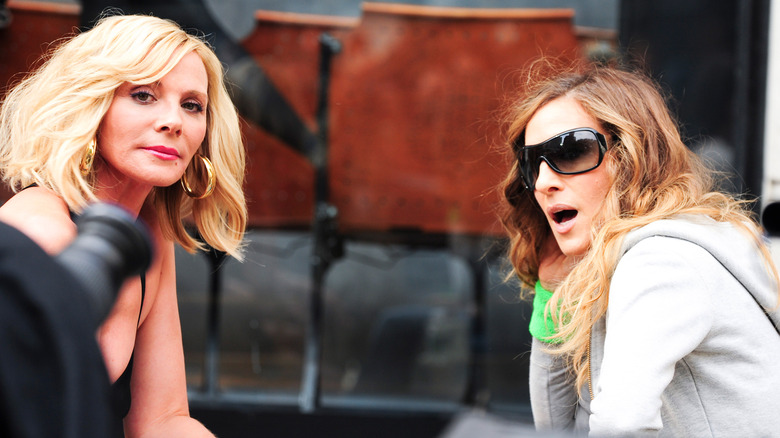 In February 2018, Kim Cattrall took to Instagram to ask fans for help locating her missing brother, Christopher, who disappeared from his home in Alberta, Canada. Police found him dead on his property soon after, per CNN, and the actor confirmed the news on Twitter, writing in part, "We want to thank you all on social media for your outpouring of love and support in this trying time." But that sentiment didn't extend to Sarah Jessica Parker.
Speaking with Extra following the tragic news, SJP said, "I can't begin to know how her family is managing such a loss. We all send her our love and condolences and grant her the privacy that she's asked for." She then told ET, "If somebody in your life, whether you're in touch with them or not, [is] suffering for any reason, it's involuntary that you want to convey condolences or sadness or just let someone know you're thinking about them." 
Well, Cattrall took issue with that. "I don't need your love or support at this tragic time," she slammed on Instagram, adding, "My Mom asked me today 'When will that @sarahjessicaparker, that hypocrite, leave you alone?' Your continuous reaching out is a painful reminder of how cruel you really were then and now." Cattrall then unleashed, "Let me make this VERY clear. … You are not my family. You are not my friend. So I'm writing to tell you one last time to stop exploiting our tragedy in order to restore your 'nice girl' persona."
Sarah Jessica Parker went back to denying any animosity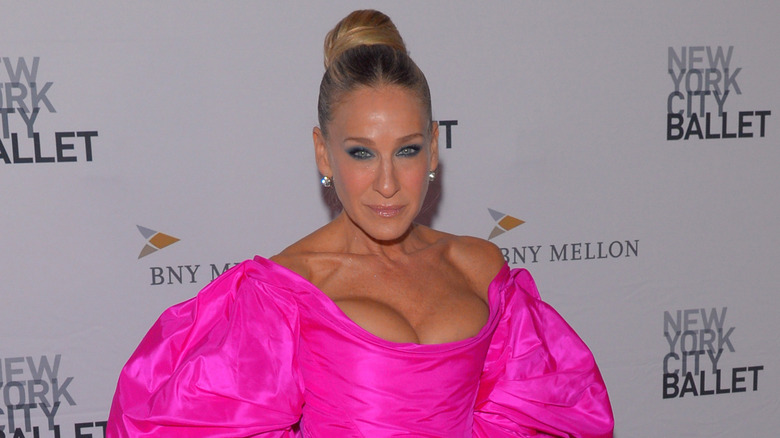 Following Kim Cattrall's very public diss on social media, Sarah Jessica Parker reverted back to denying any animosity between her and her co-star. Harking back to Cattrall's 2017 interview with Piers Morgan, Parker told People, "I never responded to the conversation Kim had with Piers Morgan, where she said things that were really hurtful about me. We had this experience and it was amazing, and nothing will ever be like it." 
After this reassurance, SJP responded to Cattrall's suggestion that they could make "Sex and the City 3" without her. "I couldn't imagine anyone else playing that part," Parker told the outlet, adding, "So there was no fight; it was completely fabricated, because I actually never responded. And I won't, because she needed to say what she needed to say, and that is her privilege."
As for the death of Cattrall's brother, which sparked that major backlash, Parker didn't address the headline-making story, but an insider told the mag she had good intentions. "When Kim's brother went missing, Sarah called and texted Kim privately offering her support. When asked about her brother's passing on a red carpet, Sarah conveyed again her condolences and love," the source shared.
Kim Cattrall had a choice response to HBO's Sex and the City reboot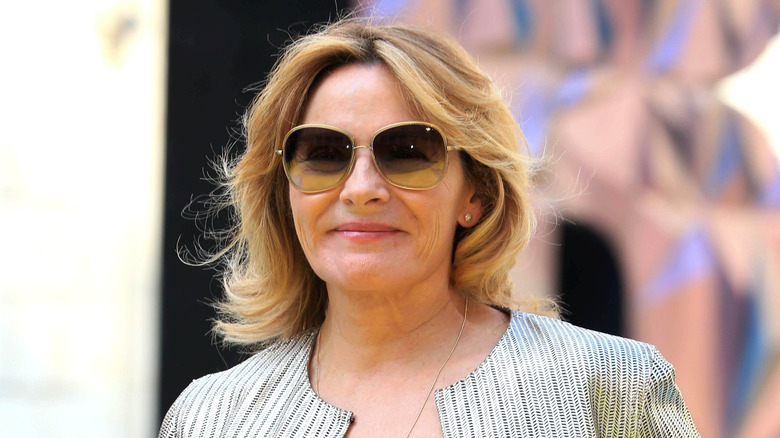 In January 2021, TVLine confirmed that "Sex and the City" was coming back to TV as a 10-episode HBO Max special called "And Just Like That…". But while Sarah Jessica Parker, Cynthia Nixon, and Kristin Davis signed on to reprise their roles, Kim Cattrall didn't. The show will reportedly follow the trio as they navigate "the even more complicated reality of life and friendship in their 50s," and Casey Bloys, HBO Max's chief content officer, gave TVLine a hint about how they'll deal with the absence of Samantha Jones. 
Referencing SJP and show writer Michael Patrick King, he noted that "they're not trying to re-do 'Sex and the City' [and] they're not trying to say that these characters are reliving their 30s. It is very much a story about women in their 50s, and they are dealing with things that people deal with in their 50s." Bloys went on to say, "Just as in real life, people come into your life, people leave. Friendships fade, and new friendships start … so it should all feel somewhat organic."
Cattrall didn't respond to the news outright, but she did subtly tell fans she had no regrets about walking away when she liked a fan's tweet, per Glamour. Seemingly echoing the star's own sentiments, it read, "I absolutely love 'Sex and the City' and whilst I am saddened that Samantha will not return, I applaud doing what is best for you and think this is [a] great example of putting yourself first. Well done, @KimCattrall."
Source: Read Full Article