Zooey Deschanel enjoys celebrating the holidays, but she also wants to make sure she honors the environment. It's important for her to keep the earth in mind while celebrating this time of year. Deschanel shared some of her tips with Showbiz Cheat Sheet for an eco-friendly Christmas holiday.
Zooey Deschanel gets creative when it comes to wrapping gifts
Deschanel, co-founder of Lettuce Grow, is passionate about the environment, so she's careful about avoiding waste. She notes that most wrapping paper found in stores isn't recyclable because of the added coating, so it's best to pass on this type of paper when decorating Christmas gifts.
"Did you know that most of the mass-produced wrapping paper you find during the holidays is not recyclable because of the shiny coatings, foils, and colors, and therefore ends up in landfills?" says Deschanel. "Knowing this, I love to get creative by using plain brown packaging paper and having my kiddos draw on the outside to give every gift a one-of-a-kind, personalized touch. As an added bonus, it makes for a great family-friendly holiday activity!"
Zooey Deschanel prefers to re-use holiday decorations
If you toss your decorations after the holidays are over, you might want to re-think this practice. Another way Deschanel reduces waste is by reusing her holiday decorations. This is not only a great way to keep waste at a minimum but also a smart way to save money.
"In order to reduce all kinds of waste, I try to reuse as many of my holiday decorations as I can each year," says Deschanel. "I believe it's totally OK to use the same faux wreath, garlands, and tree decorations year after year. To spruce up my older decorations, I will add coordinating bows to my existing wreaths and garland to give them new life. I also love to use family heirlooms since they are sentimental, nostalgic, and automatically more sustainable!"
Online holiday cards are sent in place of paper cards
If you're deciding between sending an online card and a paper card, your best bet is to go the online route. Finding ways to keep your paper usage down is best. Deschanel says she prefers to send online cards so she can lower her carbon footprint.
"Holiday cards are a lovely tradition to spread well wishes and reconnect with loved ones," says Deschanel. "Instead of sending paper holiday cards to friends and family, I opt for digital cards to shrink my carbon footprint. I love how paperless holiday cards can be personalized, spread the holiday spirit to those near and far, and are so much more eco-friendly!"
Zooey Deschanel shops in her garden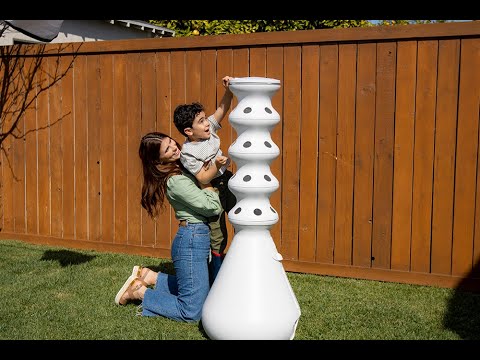 Another tip Deschanel shares is about shopping. She likes to shop in her home garden when she makes meals.
"I love to serve super fresh and nutritious meals all year round– and the holidays are no exception!" says Deschanel. "I use my Lettuce Grow Farmstand to grow fruits, veggies and herbs to incorporate into my favorite holiday dishes such as Blistered Green Beans with Garlic, Sicilian Cauliflower Salad and Creamy Roasted Pumpkin Soup. As an added bonus, by using the Farmstand, you are helping the environment by decreasing transportation emissions, drastically reducing water usage and recycling ocean-bound plastics! Plus, I can grow outdoors or inside with Glow Rings, perfect for year-round access to the freshest produce, even during the chillier winter months!"
Stay tuned for holiday decorating tips from Zooey Deschanel.
RELATED: Zooey Deschanel Tells Us About Her Environmental Work
Follow Sheiresa Ngo on Twitter.
Source: Read Full Article