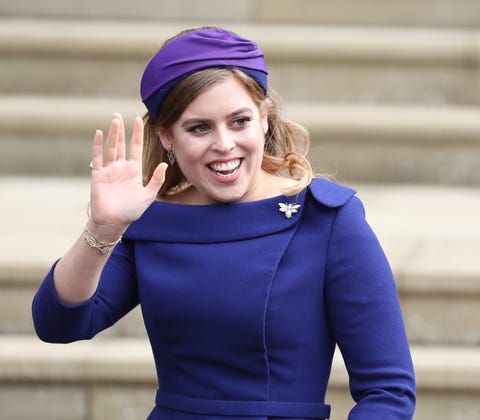 Princess Beatrice was Princess Eugenie's maid of honor at her royal wedding to Jack Broosbank Friday, and one of her duties was to give a special reading at the ceremony in St. George's Chapel.
Beatrice, dressed in a royal blue dress by Ralph and Russo and a complimentary purple headband, stood in front of all of the guests and read an excerpt from F. Scott Fitzgerald's classic novel The Great Gatsby.
Royal expert Rebecca English shared on Twitter after the reading that Princess Eugenie asked her sister to read that particular excerpt, in which Nick Carraway's character describes Jay Gatbsy's smile, because it reminded Eugenie of Jack's smile.
"It was soon after she and Jack had first met that Princess Eugenie read The Great Gatsby by F. Scott Fitzgerald," the pamphlet explained. "One particular passage in which Jay Gatsby is described reminded her immediately of Jack. She decided that she wanted to eventually let Jack know how much those words had brought him to mind. That is why they have a special place (as the second reading) in today's wedding service."
As Beatrice read the passage, cameras captured the royal bride smiling at her groom.
Here is the full text of the excerpt Princess Beatrice read:
Source: Read Full Article