Former President Donald Trump blames President Joe Biden for the disaster in Afghanistan, the country that has been effectively taken over by the Taliban amidst the removal of U.S. troops from the land. Express reported that Trump called for President Joe Biden's resignation on August 16, labeling the situation a "disgrace." 
According to Express, Trump sent a fundraising email to supporters that called for Biden to "resign in disgrace for what he has allowed to happen in Afghanistan," along with the COVID-19 surge. The Republican Party has been calling for Biden to be removed by the 25th Amendment. Meanwhile, Vanity Fair reported that Trump scrubbed his website, deleting his April statement in which he said, "Getting out of Afghanistan is a wonderful and positive thing to do." 
Guardian U.S. reporter Hugo Lowell revealed that the GOP is also removing evidence from its website about Trump's previous stance on the matter. So, what are the actions that Trump hopes no one remembers? Keep reading to find out.
Donald Trump played a major role in the Afghanistan disaster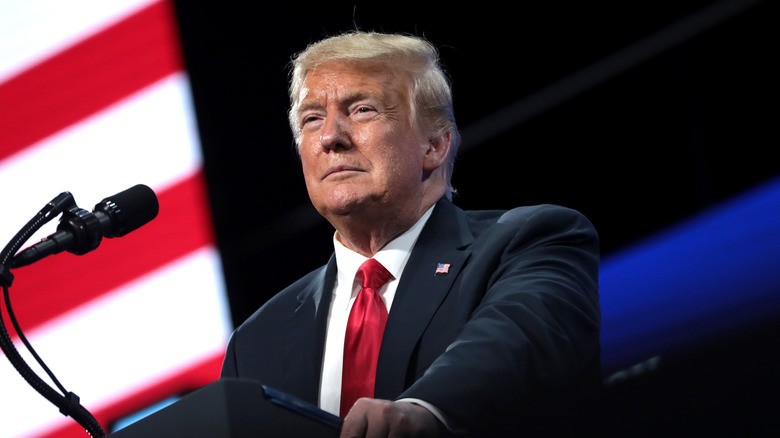 Donald Trump hopes no one remembers the major role his administration played in the Afghanistan chaos. Many say that Trump and his Secretary of State Mike Pompeo made deals with the Taliban that set the stage for the Taliban's eventual takeover of the country. Now, it has been reported that the GOP erased "a page from their website bragging about Trump's deal with the Taliban." 
Meanwhile, CNN noted that then-President Trump's agreement with the Taliban was "one of the worst ever negotiated by an American president." According to CNN, Trump agreed to withdraw American troops by May 2021 and release 5,000 Taliban prisoners, which helped strengthen the Taliban force. Abdul Ghani Baradar, one of the Taliban leaders freed from a Pakistani jail by the Trump administration, is one of the new leaders of the fallen country. On August 12, former U.S. Ryan Crocker Ambassador explained why the Trump administration's actions led to the current situation to CNN's Anderson Cooper. "It began under President Trump when he authorized negotiations between the U.S. and the Taliban without the Afghan government in the room," he said.
On August 14, President Joe Biden referenced Trump's agreement with the Taliban in a statement about the Afghanistan tragedy. Biden reminded Americans that Trump "invited the Taliban to discuss at Camp David on the eve of 9/11 of 2019," which gave the group the strongest military position since 2001. 
Source: Read Full Article