I haven't stopped spicing up my life since Scary Spice road into the 2012 Summer Olympics on a glowing cheetah taxi cab. That said, I just upped my life's spice factor like a hundred million percent. If you haven't heard, I am sincerely honored to be the one to tell you – the band is back together, gang! The Spice Girls reunion tour dates are so much sooner than you think. All you need to do is book plane tickets to the U.K. and dust off your platform sneakers. It's that simple.
Even though the girls added a few dates to their original schedule, you only have a small window to catch all the fun. The tour begins on May 27 and ends June 15. That's exactly two weeks to get your fix! As of Nov. 13, there were only 12 dates released in total. The tour will take place in the U.K. exclusively (womp, womp) and tickets are sure to sell out faster than you can say "Zigga-zag-AH!"
If you aren't limited by things like time and money, or you're one lucky local, you can check out the venues and dates below!
Spice Girls Reunion Tour Dates and Locations:
May 27 — Cardiff, Wales at the Principality Stadium
May 29 – Manchester, Etihad Stadium
May 31 – Manchester, Etihad Stadium
June 1 – Manchester, Etihad Stadium
June 3 – Coventry, Ricoh Stadium
June 4 – Coventry, Ricoh Stadium
June 6 – Sunderland, Stadium of Light
June 8 – Edinburgh, Murrayfield Stadium
June 10 – Bristol, Ashton Gate Stadium
June 13 – London, Wembley Stadium
June 14 – London, Wembley Stadium
June 15 – London, Wembley Stadium
The girls made it official on Nov. 5 by releasing a special "Spice Cast" announcement video. TheSpice Girls Twitter handle released the announcement much to the delight of the entire world.
Now, I know what you're thinking. Where's Posh Spice?
Sadly, but understandably, Victoria Beckham will not be participating in the reunion tour. There's no hard feelings or anything, she's just busy slaying the fashion game and doing her own thing. In fact, she shared a supportive, loving photo of her former bandmates on Instagram the day the tour was announced with the following message:
You're damn right friendship never ends.
Tickets went on sale Saturday, Nov. 10, and are still available as of Tuesday, Nov. 13. The price point ranges between 60 and 135 GBP, roughly the equivalent to 78 to 175 U.S. dollars. Jump over to spots like Ticketmaster or StubHub to grab yours!
People of the world, you know what to do.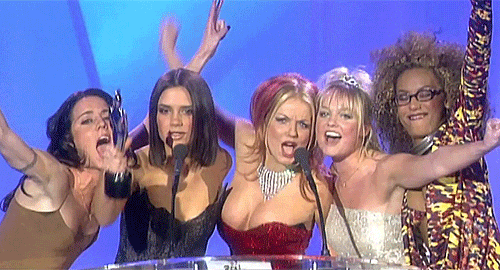 Source: Read Full Article