Things are *happening* for the Justin Bieber/Hailey Baldwin wedding, which is going down in just a few days! Hailey had a bachelorette party (party veil included), Justin horrified Instagram with some tux options, and the couple managed to piss off just about every other guest who is staying at the Montage Palmetto Bluff hotel where the wedding is taking place—ah, young love!
Well, lest you get too wrapped up in the wedding drama, Justin would like to remind us all of what their big day is really about—his and Hailey's relationship. To do so, Justin posted a sweet throwback of him and Hailey together when they were much younger and he had a bowl cut, captioning, "My wife and I 🙂 where it all began."
https://www.instagram.com/p/B27yaylHiaK/
Other celebs loved the pic, with Kylie Jenner commenting, "This is amazing," Justin Timberlake writing, "That's incredible, bro!!!" and Justin's mom Pattie Mallette adding, "Oh my heart 😍 How adorable!"
However, not everyone was amped about the post, and trolls who are still hung up on Justin and Selena Gomez's relationship wrote things like:
Plus, a ton of people simply tagged Selena, which I feel like she probably didn't appreciate. Justin and Hailey have been pretty clear that they don't appreciate these types of comments, so maybe these trolls can just calm down and let them live? After all, that photo was pretty frickin' sweet!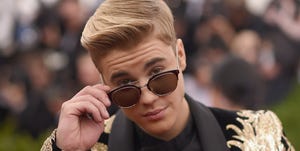 Source: Read Full Article