'The Very Hungry Caterpillar' author has passed away at the age of 91 in Northampton, Massachusetts, with his son, Rolf, revealing his cause of death to be kidney failure.
AceShowbiz -Eric Carle has died aged 91. The author of the best-selling children's book "The Very Hungry Caterpillar" passed away on Sunday, May 23 in Northampton, Massachusetts.
"In the light of the moon, holding on to a good star, a painter of rainbows is now travelling across the night sky," his family said in a statement.
Eric's son, Rolf, told newspaper the New York Times his father's cause of death was kidney failure.
"The Very Hungry Caterpillar" – a picture book which tells the story of a ravenous caterpillar who later turns into a butterfly – was first published in 1969 and has gone on to sell more than 55 million copies and be translated into more than 70 languages.
Despite only being 224 words long, the book has captured the hearts of many a child and parent across the world, and Eric recently admitted he believes it was so popular because it is "a book of hope".
Speaking in 2019, he said, "For many years, my publisher and editor and I did not know the reason for 'The Very Hungry Caterpillar' being so popular. But over time, I've come to feel that it is a book of hope. And it is this hopeful feeling that has made it a book readers of all ages enjoy and remember."
Eric also wrote and illustrated more than 70 books, selling over 170 million copies. His first effort was "Brown Bear, Brown Bear, What Do You See?" in 1967.
Several stars have paid tribute to Eric, including Red Hot Chili Peppers bassist Flea.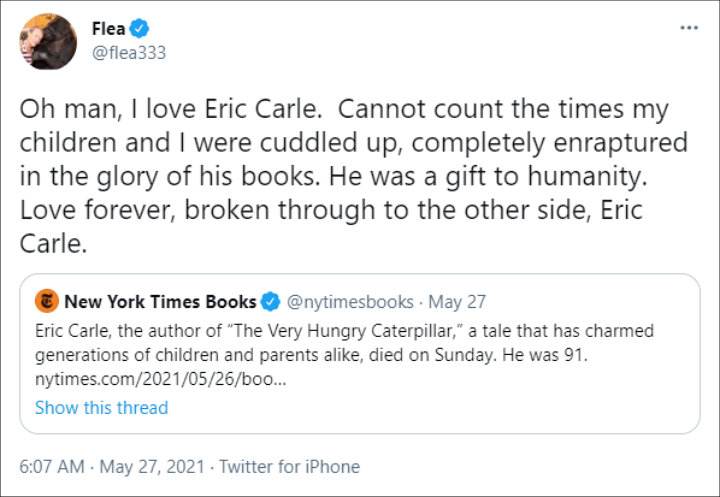 Flea mourned death of Eric Carle.
He wrote on Twitter, "Oh man, I love Eric Carle. Cannot count the times my children and I were cuddled up, completely enraptured in the glory of his books. He was a gift to humanity. Love forever, broken through to the other side, Eric Carle. [sic]"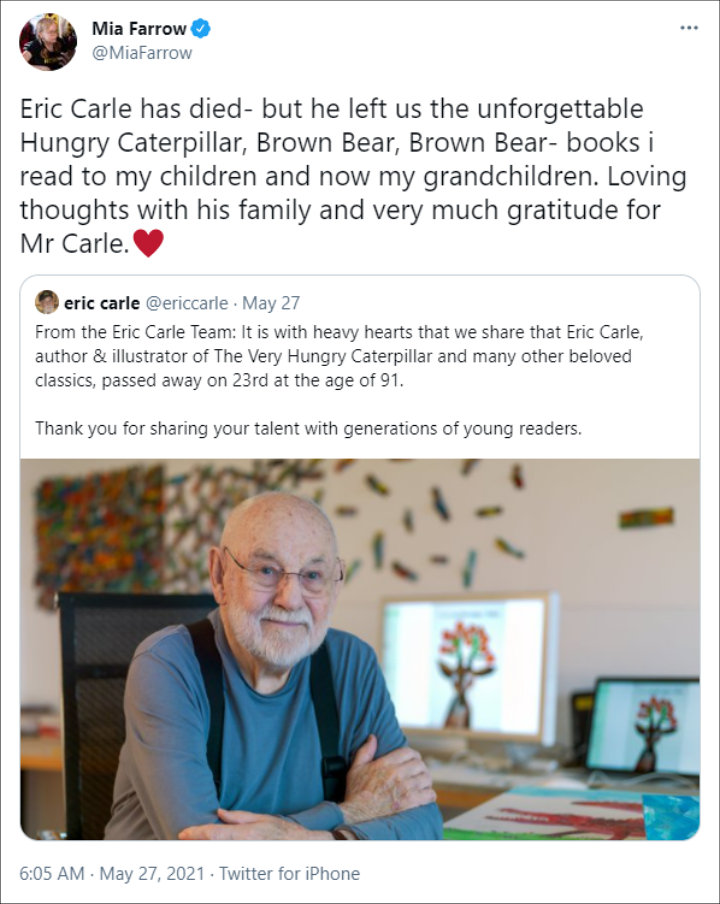 Mia Farrow paid tribute to the late author.
While actress Mia Farrow tweeted, "Eric Carle has died- but he left us the unforgettable Hungry Caterpillar, Brown Bear, Brown Bear- books i read to my children and now my grandchildren. Loving thoughts with his family and very much gratitude for Mr Carle."
Source: Read Full Article