President Trump and rapper Kanye West meet in Oval Office
Rapper Kanye West met with President Trump at the White House for a free-wheeling discussion.
Kanye West did lunch with President Trump Thursday, but pre-empted the meal with a wildly entertaining and decidedly bizarre press conference in which he covered Superman, the 13th and Second amendment, North Korea and his budding MAGA bromance with the commander in chief.
West began the much-anticipated sit-down by praising Trump's efforts in North Korea saying, "On day one you solved one of [Obama's] biggest troubles. We solved one of the biggest problems."
The conversation turned to West discussing the lack of support he received from his Hollywood cohorts with regards to his support of the president.
"They tried to scare me to not wear this hat," West said, referring to his "Make America Great Again" hat he wore to the meeting and on a recent appearance on "Saturday Night Live."
"When I put this hat on, it made me feel like Superman – my favorite superhero. You made a Superman cape for me."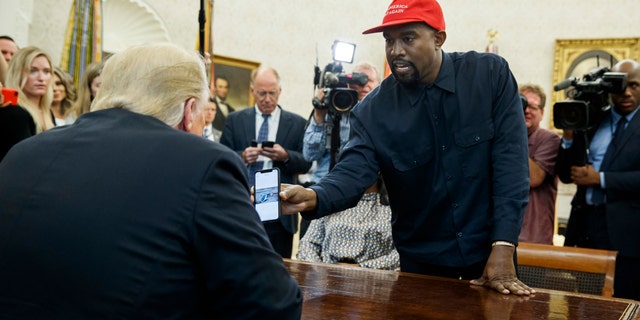 Rapper Kanye West shows President Donald Trump a photograph of a hydrogen plane during a meeting in the Oval Office of the White House, Thursday, Oct. 11, 2018, in Washington.
The rapper went on to chastise the NBC sketch show and other liberal-leaning media members for their portrayal of the American president.
"What I need 'SNL' and liberals to improve on is, if he don't look good, we don't look good. He has to be the freshest, the flyest, have the flyest planes. He has to look good!" West said. "When we make everything in China and not America, we're cheating on our country."
West discussed many topics in a rambling dialogue that included everything from bringing manufacturing to the country, his personal business deals, ending stop-and-frisk in Chicago and the 13th Amendment.
"There's a lot of things that affect our mental health that put us into this trap door that is the 13th Amendment," West said.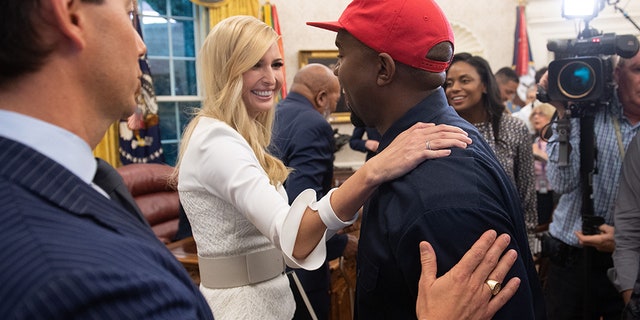 Rapper Kanye West speaks with Ivanka Trump after meeting with US President Donald Trump in the Oval Office of the White House in Washington, DC, on October 11, 2018.
(uld read SAUL LOEB/AFP/Getty Images)
West went on to reference his recent bipolar disorder diagnosis saying that he was misdiagnosed by a doctor and said he was merely sleep-deprived.
The chat was then turned over to reporters who asked West about his feelings on gun control.
"Illegal guns is the problem, not legal guns, we have the right to bear arms," he said bluntly.
Overall, West was complimentary to the president, even at one point saying he loved him and running around the Resolute desk to hug him.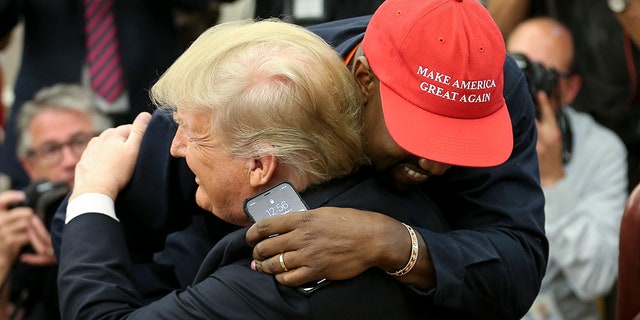 President Donald Trump hugs rapper Kanye West during a meeting in the Oval office of the White House on October 11, 2018 in Washington, DC.
(Getty)
The rapper's statement lasted nearly 10 minutes before the president chimed in to compliment West on his honesty.
"I tell you what, that was pretty impressive," Trump said after West seemed to run out of steam. "That was quite something."
"It was from the soul. I just channeled it," West replied.
Trump continued to compliment the rapper, who talked about spreading love through the country.
"He can speak for me any time he wants, he's a smart cookie," Trump said. "He gets it."
When asked if West's previous declarations that he'll run for president seem reasonable to Trump, he noted that he thinks Kanye "could very well be" candidate material.
"Only after 2024," West said.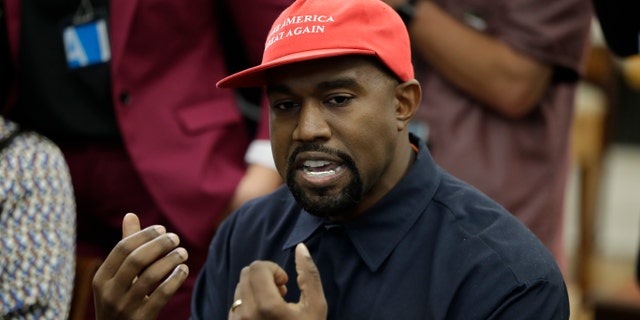 Rapper Kanye West speaks to President Donald Trump and others in the Oval Office of the White House, Thursday, Oct. 11, 2018, in Washington.
Former NFL legend and actor Jim Brown was in the meeting along with senior advisor and Trump's son-in-law Jared Kushner. Trump asked Brown what he thought of the scene, to which he replied, "I'm here to serve."
The Chicago-raised rapper and the New York real estate mogul-turned president have a long friendship that goes back before the 2016 election.
When West declared in 2015 he would run for president in 2020 during a 2015 VMAs acceptance speech, Trump, then just a presidential candidate, was not fazed, and welcomed the competition.
"I hope to run against him someday," Trump told Rolling Stone magazine.
Trump also defended West as a "nice guy" and "actually a different kind of person than people think."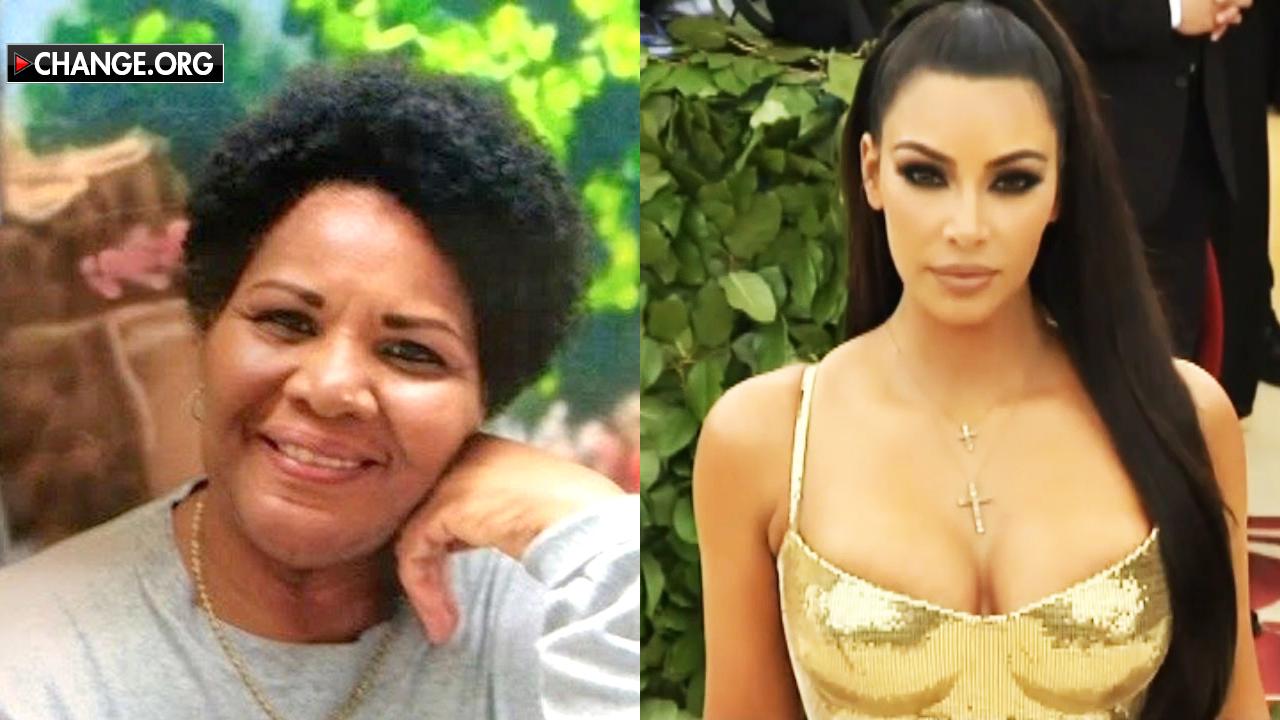 TRUMP AND KANYE WEST'S RELATIONSHIP THROUGH THE YEARS
"He's said very nice things about me in the past … extremely positive things," Trump said.
A year later, West visited the then president-elect at Trump Tower in New York in December 2016.
"We've been friends for a long time," Trump said at the time. He said the bombastic pair discussed "life."
West later said online that he met with Trump in 2016 "to discuss multiracial issues" such as "bullying, supporting teachers, modernizing curriculum and violence in Chicago."
"I feel it is important to have a direct line of communication with our future President if we truly want change," he said in the since-deleted tweets.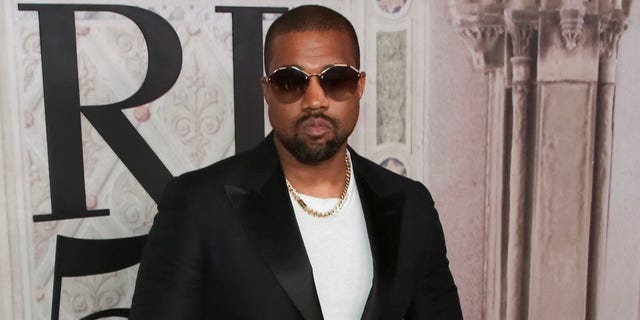 West has received a lot of backlash from fans and his fellow celebrities for his support of the president.
(AP)
West has received a lot of backlash from fans and his fellow celebrities for his support of the president including a recent slew of criticism from several members of "Saturday Night Live" who bashed West after going on a pro-Trump rant at the end of the show earlier this month.
"What Kanye said after we went off the air last week was one of the worst, most awkward things I've seen here, and I've seen Chevy Chase speak to an intern," "SNL" star Pete Davidson joked in a skit the following week.
West explained to the New York Times in June why he supports Trump, saying there are many more Trump supporters in Hollywood who are just afraid to come forward.
"There were people who said Trump would never win," West said in the interview. "I'm talking about the it-will-never-happens of the world, people in high school told you things would never happen."
'He's said very nice things about me in the past … extremely positive things'
West said he had been an underdog his entire career, and that drew him to Trump, a man who many felt could never win the presidency. He claimed the two shared "dragon energy."
"I felt that I knew people who voted for Trump that were celebrities that were scared to say that they liked him," he said. "But they told me, and I liked him, and I'm not scared to say what I like. Let me come over here and get in this fight with you."
The star went on to describe breaking free of the "mob-thought" that made him feel obligated to support Hillary Clinton in the 2016 election because of his celebrity and status.
Trump returned the love at a campaign-style rally in Michigan in April.
"Kanye West gets it," Trump said. "When he sees that African-American unemployment is the lowest in history, you know people are watching. That's a very important thing he's done for his legacy."
Trump also returned the accolades tweeting in April, "Kanye West has performed a great service to the Black Community – Big things are happening and eyes are being opened for the first time in Decades – Legacy stuff."
Fox News' Julius Young and Kaitlyn Schallhorn contributed to this report.
Source: Read Full Article