JoJo, LeAnn Rimes and Jimmie Allen have showered the 'Black Like Me' hitmaker with supports after she stood up against a social media hater who attacked her 4-month-old baby boy.
AceShowbiz -Country star Mickey Guyton has warned social media trolls not to "come for" her baby son after one woman branded him "the ugliest" kid she's ever seen in a racist direct message.
The "Black Like Me" hitmaker is no stranger to being on the receiving end of hateful posts online, but she refuses to stand for trolls attacking her "innocent" boy Grayson, and put the offensive writer on blast on Friday, July 2.
"This deserves front and center attention," she wrote on Instagram, alongside a screenshot of the rude remarks she had received. "@crystal502021 came for my child. Shame on you."
In the direct messages, the cyberbully identified as Crystal Holland spewed, "you have the ugliest child I've ever seen. Yes you should take it and go back to the projects . Nashville doesnt need trash like you [sic]."
Guyton also shared the woman's messages on Twitter, and captioned the post, "Don't be like Crystal".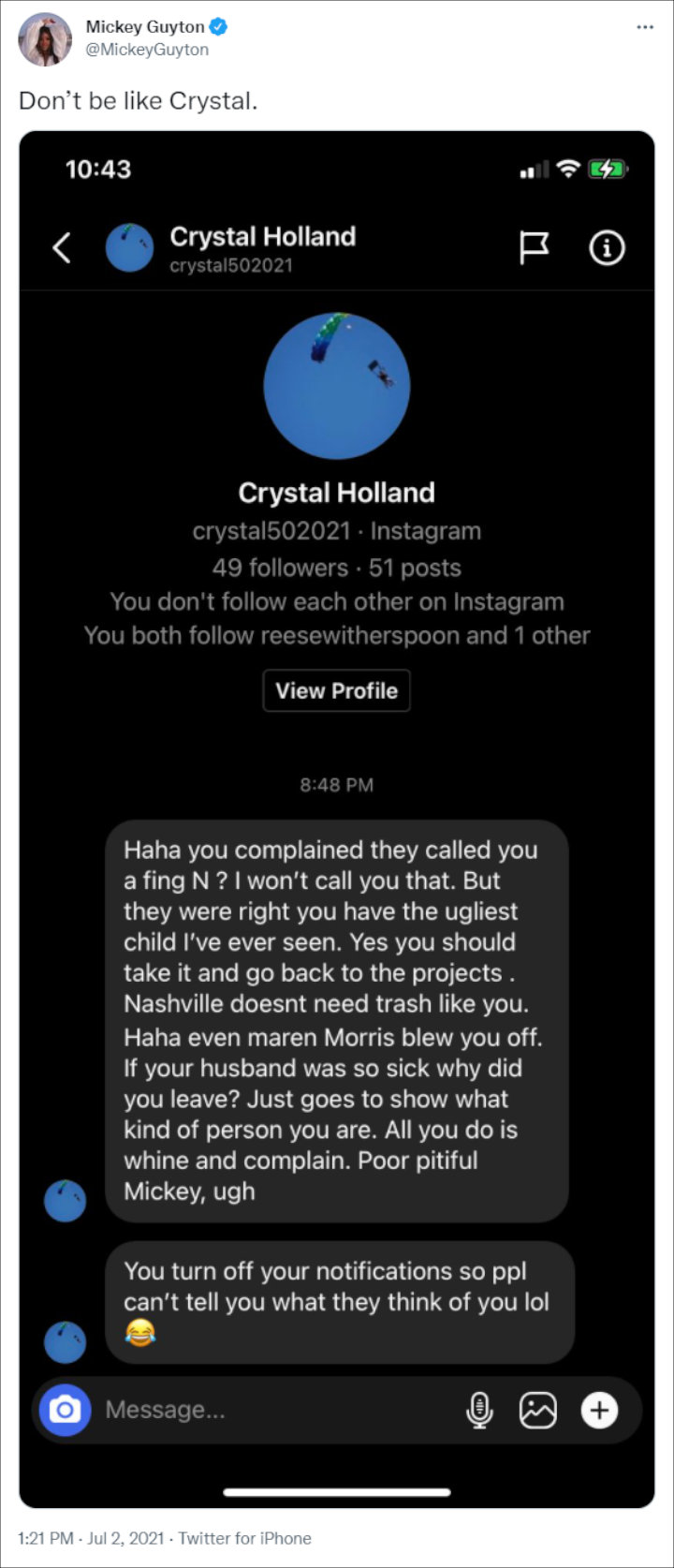 Mickey Guyton called out a troll.
The singer later addressed the negativity in detail, posting, "Enough is enough. Say what you want about me but don't come for my 4 month old innocent child. I am beyond tired…"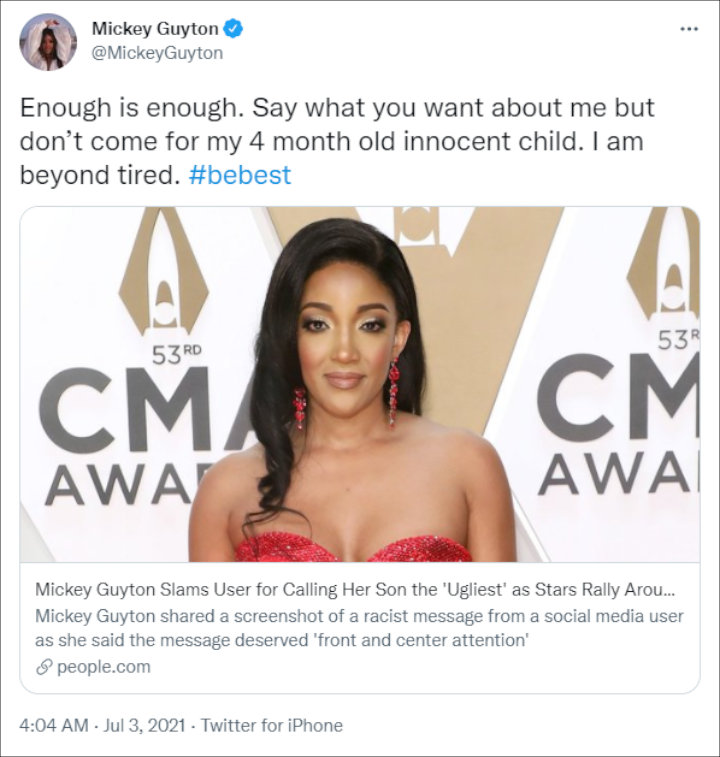 The singer warned haters.
"The world is cruel but there is light at the end of the tunnel. God is my light. Gray is my life and I will always defend him at all cost. I love y'all. Thank you for your support. It is greatly appreciated [sic]."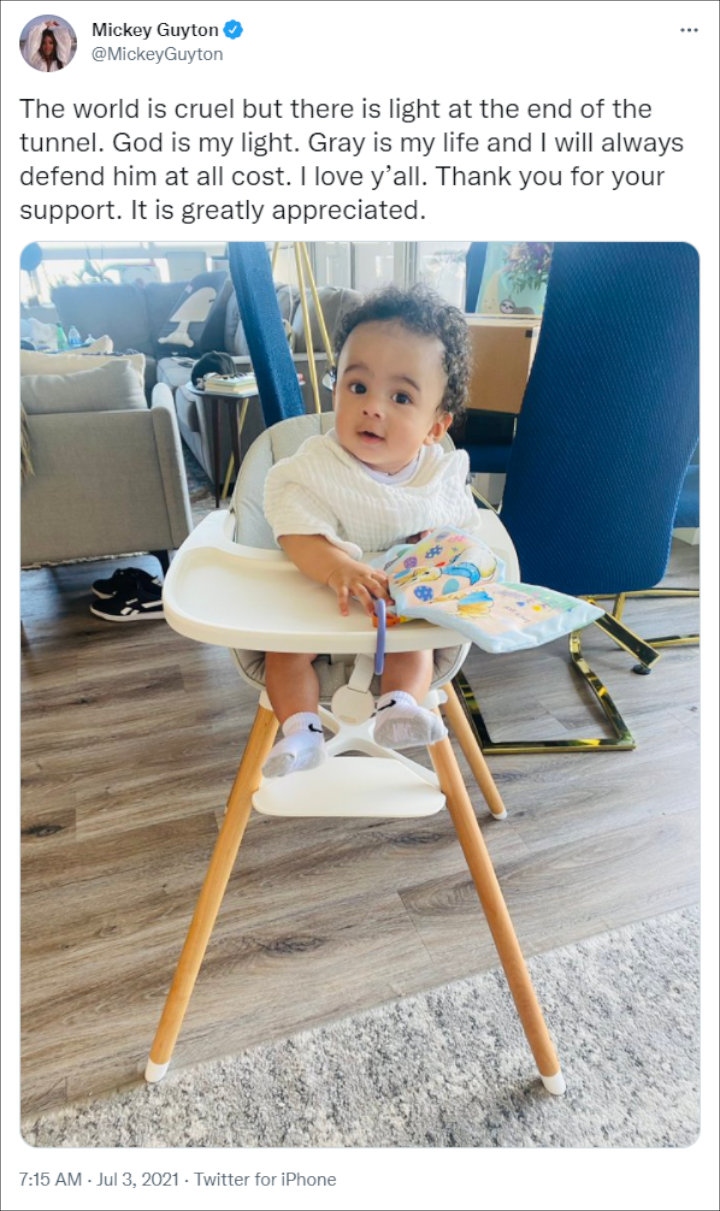 She gushed over her adorable son.
Guyton was inundated with supportive comments from fans and fellow musicians JoJo, LeAnn Rimes, and Jimmie Allen, among many others.
An angry Rimes remarked, "I mean, I can't with this kind of bs [bulls**t]… who has the time for this!? This is not a reflection of you. I know you know that, I'm just reiterating. I'm so sorry. Your little man is ADORABLE and you are welcome and wanted WHEREVER YOU D**N WELL CHOOSE TO BE! I LovE you [sic]."
"FURIOUS. I know I'm one of MANY including @keisharenee who are REPORTING THIS ACCOUNT. Love u @mickeyguyton [sic]," JoJo wrote as she shared Guyton's post on her Instagram Story timeline.
And her country colleague Allen, who is also black, added, "The truth is these are the types of messages we see and get all the time. Good thing is you know who you are sis and your worth. These lost hearts can't take your smile. Love you [sic]."
Source: Read Full Article