In the great words of Queen, another one (sadly) bites the dust: After seven long years of marriage—aka an entire lifetime in Hollywood years—Kelly Clarkson has just filed to divorce her manager-slash-husband, Brandon Blackstock. According to The Blast and Us Weekly, Kelly filed the papers to end their marriage last week in Los Angeles on June 4.
So…at this point, you're probably wondering how the heck Kelly and Brandon even met in the first place, right? Well here's some history for you—they actually met for the first time back in 2006 at the American Country Music Awards when Kelly was rehearsing a song with Rascal Flatts and his band, which Brandon just so happened to be managing at the time. Brandon and Kelly later reconnected in 2012 through their mutual friend, Blake Shelton (whom Brandon also manages). After 10 months of dating, Brandon popped the question to Kelly, and they tied the knot the following year.
I'M ENGAGED!!!!! I wanted y'all to know!! Happiest night of my life last night! I am so lucky and am with the greatest man ever 🙂
A few years before the split, Kelly revealed she felt Brandon provided her with a sexual awakening. "I never felt like, honesty, sexually attracted to anybody before him," she told People back in 2017. "And I'm not downing my exes. You know, everybody's different. But there was something about him…I honestly thought I was asexual—I'd never been turned on like that in my whole life."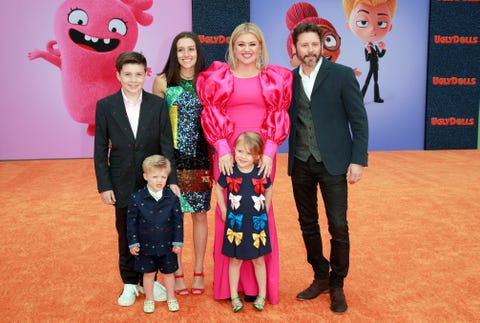 Brandon and Kelly share two beautiful children—River Rose Blackstock and Remington Alexander Blackstock. It's currently unclear of what a custody agreement will look like for them, but Kelly already made moves to sell her Los Angeles mansion last month and previously listed her Tennessee estate back in December.
At the moment, Kelly has yet to publicly comment on the divorce news.

Source: Read Full Article