The Emmett Cullen of the 'Twilight Saga' movie series and his model wife announce the arrival of their second child, a son named Kasen Lane Lutz, in a joint Instagram post.
AceShowbiz –Kellan Lutz has added a new member to his family. The actor and his wife Brittany Gonzales have welcomed their second child together, a son, and couldn't help gushing over the future Hercules-like baby boy.
"Our son is here!" the happy parents captioned a collage of black-and-white photos of the mom and the newborn baby in the hospital. There's also an image of Kellan cradling his son in his bare chest while flashing a victory sign to the camera.
The baby, named Kasen Lane Lutz, was born last Wednesday, August 10 at 8:52 A.M. and measured at 8lbs 11oz and 21.5″ long at the time of birth. The pair gushed over welcoming the new bundle of joy, "We are in love and soaking up all the baby cuddles. Ashtyn loves her baby brother, Koda is the sweetest, most gentle dog big sis ever, and mama and baby are doing well."
Pondering over the future of their newborn son, the couple said, "This big boy eats around the clock and is gearing up to be built like Hercules like his daddy." They went on concluding the message with an expression of gratitude, "Thanks for all the love and prayers! We are SO blessed and in love and can't believe that God has given us another precious gift!"
Brittany shared further details of the baby and the birth on her Instagram Story. Along with a snap of her holding her son, the TV host and model revealed that Kasen is a brunette and she is "breastfeeding exclusively."
The mom of two said she "ended up" having another cesarean section for Kasen's birth "and this go around recovering has been SO much easier so far so praying it continues." She admitted that they're "tired, obviously, but still on an adrenaline high so not feeling it as bad as I'm sure we will in the coming weeks."
"What a journey it's been but gosh what a beautifully redemptive one," she added.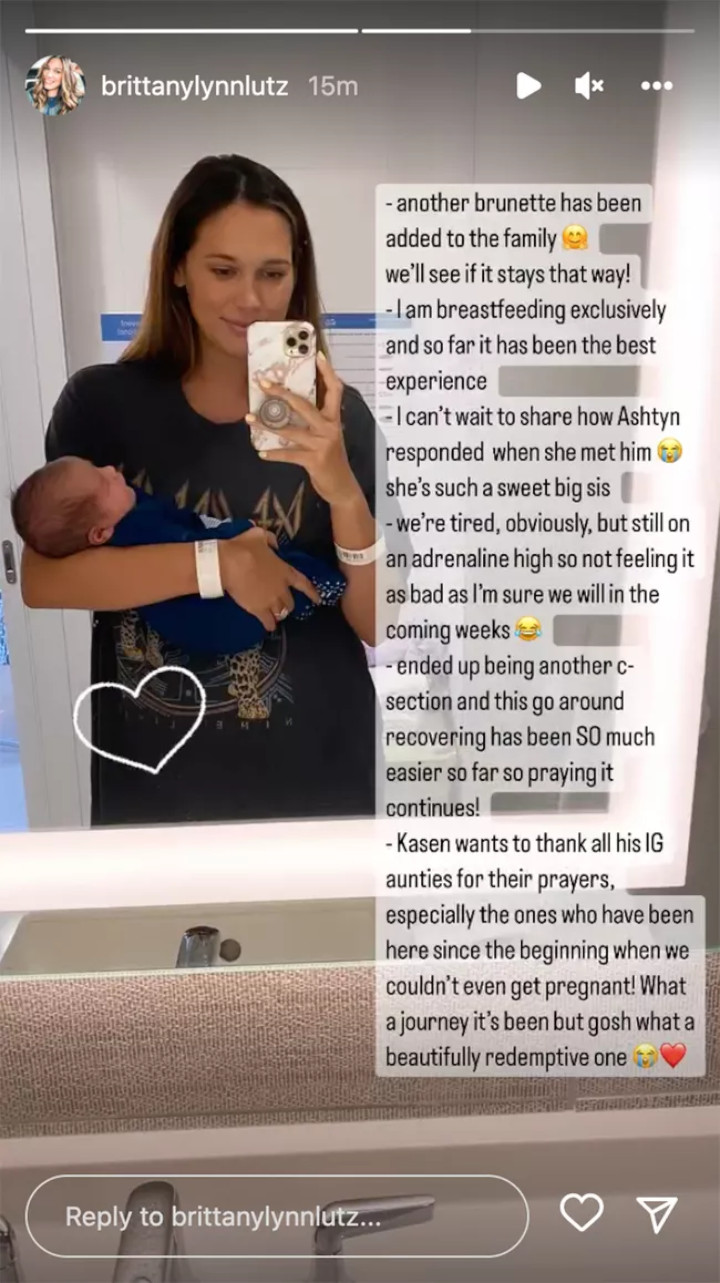 Brittany Gonzales shared more details after welcoming her son.
Kellan and Brittany first announced they were expecting a second child back in February. "2 under 2 in 2022 God is Good! Babies are the Best! Love you forever and always @brittanylynnlutz," the "Twilight" star wrote along with a video of Brittany surprising him with the pregnancy news.
The couple welcomed their first child, a daughter named Ashtyn Lilly Lutz, in February 2021. Prior to Ashtyn's arrival, Brittany revealed that she suffered a pregnancy loss in early 2020 when she was seven months pregnant.
Source: Read Full Article