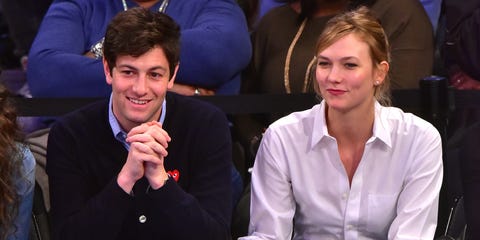 Model-turned-tech entrepreneur Karlie Kloss married her boyfriend, Joshua Kushner, on October 18, 2018. She later announced the wedding in a gorgeous Instagram photo, in which she can be seen wearing the prettiest wedding gown.
And now, Kushner has shared his own special snap from the day, and it'll make your heart melt.
In the perfect photo, Karlie poses with her bouquet, looking completely angelic in her pristine gown and veil. Husband Kushner takes a photo of his new wife, while the wedding photographer captures the entire moment on camera:
View this post on Instagram
i married my best friend ❤️
A post shared by Joshua Kushner (@joshuakushner) on
Plus, Kloss' own Instagram shot shared a joyful moment between the newly married couple, that is sure to give you all the feels:
View this post on Instagram
10.18.2018 ❤️
A post shared by Karlie Kloss (@karliekloss) on
The model announced her engagement back in July 2018 in an Instagram post writing, "I love you more than I have words to express. Josh, you're my best friend and my soulmate. I can't wait for forever together. Yes a million times over 💍." The sweet photo of the couple showed them on the beach together as the sun set.
Kushner is, of course, related to Jared Kushner, President Trump's senior advisor and son-in-law. But despite Jared's politics, Joshua keeps a relatively low-profile, instead focusing his efforts on entrepreneurial business ventures.
In fact, the 33-year old told Forbes magazine back in 2017, "It is no secret that liberal values have guided my life and that I have supported political leaders that share similar values. But neither political party has a monopoly on the truth or on constructive ideas for our country. It's important to be open minded and learn from differing opinions."
Source: Read Full Article