Joanna Gaines is the iconic host of Magnolia Table on the Magnolia Network. The media mogul has a whole empire under the Magnolia brand and Magnolia Table is also a restaurant within the retail complex known as Magnolia Market. Fans of Joanna and her husband Chip Gaines are able to dine at the eatery and it's the avocado toast that they serve that has fans raving.
The avocado toast at Magnolia Table
Fans of Fixer Upper and Magnolia Table can live an incredible experience created by Joanna and Chip by visiting Magnolia Market. At Magnolia Market, the main restaurant is called Magnolia Table where people can eat all the delicious food inspired by the iconic Gaineses family. On Instagram, the Magnolia page shared a photo of a menu item at the eatery that has some fans raving about it.
"A fresh way to start your morning: avocado toast at Magnolia Table. Swing by for breakfast!" read the post with a tempting avocado toast.
Looking at the Magnolia Table menu, the avocado toast has a cost of $8 and it is served during brunch and lunch.
"Locally sourced sourdough bread from Heritage bakery topped with avocado and garlic aioli served with red pepper flakes, sea salt, and a lemon wedge on the side — finished with microgreens," reads the description.
Diners can add a poached egg to the avocado toast for $1.50 more.
https://www.instagram.com/p/CZUC3MYMwxQ/
Fans can't stop raving about the avocado toast
Some lucky fans have been able to stop by and eat at Magnolia Table. It wasn't long before some followers took to the comments and shared their experience eating the avocado toast.
"This restaurant is AMAZING!! The food is wonderful, and there is so much to take in and enjoy as you eat. I highly recommend it," a fan replied.
"Love your restaurant!! Been to Waco 4 times now and it never disappoints!" a follower added.
"Best avocado toast I've ever had!!" an Instagram user said.
"Was there a few weeks ago and loved the Avocado Toast! Never had it before and now I am craving it!" another fan mentioned.
"That looks so yum and I'm sick and NOTHING has looked or sounded good!!!!" another follower noted.
"Oh my delicious!!" another Instagram user commented.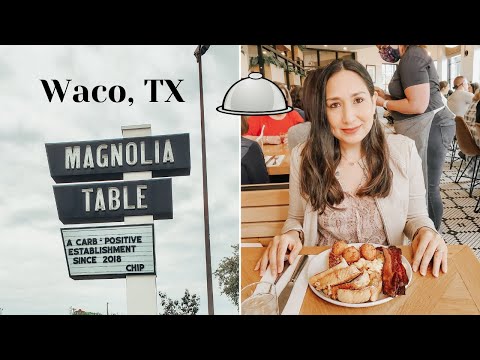 Source: Read Full Article