The countdown is officially on to stuffing your face with all the turkey and pumpkin pie your body handle come Thursday, Nov. 22, but there's just one big hump in the road (literally): You've got to drive there first, which can be a pretty taxing feat. Notoriously-busy Thanksgiving travel can make the vacation one of the most stressful times of the year, especially if you can't get out of work a day or two early to beat the pile-ups of cars on the highway. If you do have to leave on Nov. 22, here's when to leave to avoid traffic on Thanksgiving so that you can get to your Turkey Day feast on time.
Google Maps analyzed Thanksgiving travel trends by state to determine the best travel time windows as well as the times you want to avoid if you want to minimize the time spent on the road. Let's be real, you're definitely not going to be in the jolliest of moods if you've had to sit for hours in traffic. The results vary slightly by state, but according to Google Maps, Wednesday, Nov. 21 around 3-4 p.m. is hands-down the busiest time to be driving. This makes sense, as many employees are probably heading out after a half day at work and are trying to maximize their vacation time. However, there's definitely a possibility that you won't make it to your destination before dark, which makes traveling on Thanksgiving day itself a good option, according to Google Maps. If you opt to leave on Thanksgiving day itself, you'll be facing the least amount of traffic, especially if you're driving from a major city center. Google recommends heading out on the road as early as 6 a.m. from big hubs like New York City, Chicago, and Los Angeles, as well as most cities nationwide.
When it comes to heading back from your trip, driving out after the weekend would be ideal. However, considering that most of us have pretty limited vacation days during the holidays, the majority of commuters will be driving back on Friday or Sunday afternoon. For cities like Boston, Miami, New York City, Chicago, and Dallas, the worst time to drive back falls at 3 p.m. on Black Friday, while commuters in Los Angeles, San Francisco, Seattle, and Portland should avoid heading back at 4 p.m.
In general, Google Maps recommends leaving either Saturday or Sunday early morning when there are less cars on the road, typically around 6 a.m. If you absolutely must head back on Friday or want to go out for Black Friday shopping, consider leaving in the morning instead to avoid being stuck on the road.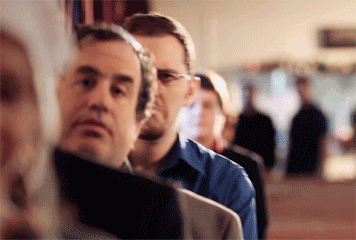 Once you're off the road, you can continue to avoid long waits and annoying lines by avoiding bakeries, grocery stores, and liquor stores around Wednesday afternoon. According to Google Maps, visits will probably peak mid-day on Nov. 21 as people rush to stock up on supplies for Thanksgiving dinner. Meanwhile, if you're hoping to score some of the best deals of the year on Black Friday, plan to set your alarm and head out early to beat the hordes of shoppers that will be visiting shopping centers in the afternoon. Per Google's findings, movie theaters also tend to be extra crowded on the evening on Friday, Nov. 23, so plan accordingly and purchase your ticket in advance.
OK, so Thanksgiving week might be the busiest travel period of the year, but you can make your commute as stress-free as it can be by planning ahead. Check your state's stats to figure out what time you should be embarking on your road trip, then head to your destination with some time to spare before you dig into your Thanksgiving spread.
Source: Read Full Article