At the singer's in Milwaukee, Wisconsin concert, one of his fans bring a sign in which she asks Harry to help her come out to her mom, who 'is in section 201.'
AceShowbiz -Pop star Harry Styles halted his Wednesday (November 3) night concert in Milwaukee, Wisconsin to help a young fan come out to her mother.
The kind-hearted singer sprang into action between tracks when he spotted one devotee's sign, which read, "My mom is in section 201. Help me come out?"
In videos shared online, Harry looked for the fan's mother in her seating section, then ran across the stage and held out the microphone to the young woman, named Lisa.
But Lisa got nervous, telling the "Watermelon Sugar" hitmaker there were "a lot of people" at the venue, and asked if he could deliver the news himself.
The former One Direction member teased the youngster over her comment, asking her, "Did you not know [the arena would be full]?", before running back towards the centre of the stage and announcing, "Lisa. She's gay."
Lisa's mum was spotted wiping tears from her eyes, cheering, and blowing kisses to her daughter, prompting Styles to add, "Now, I don't want to ruin the moment, but wouldn't it be nice if you were a little bit closer together? You'll see her later, congratulations and thank you!"
Lisa later posted clips of the big reveal on Twitter, with a special message for the star.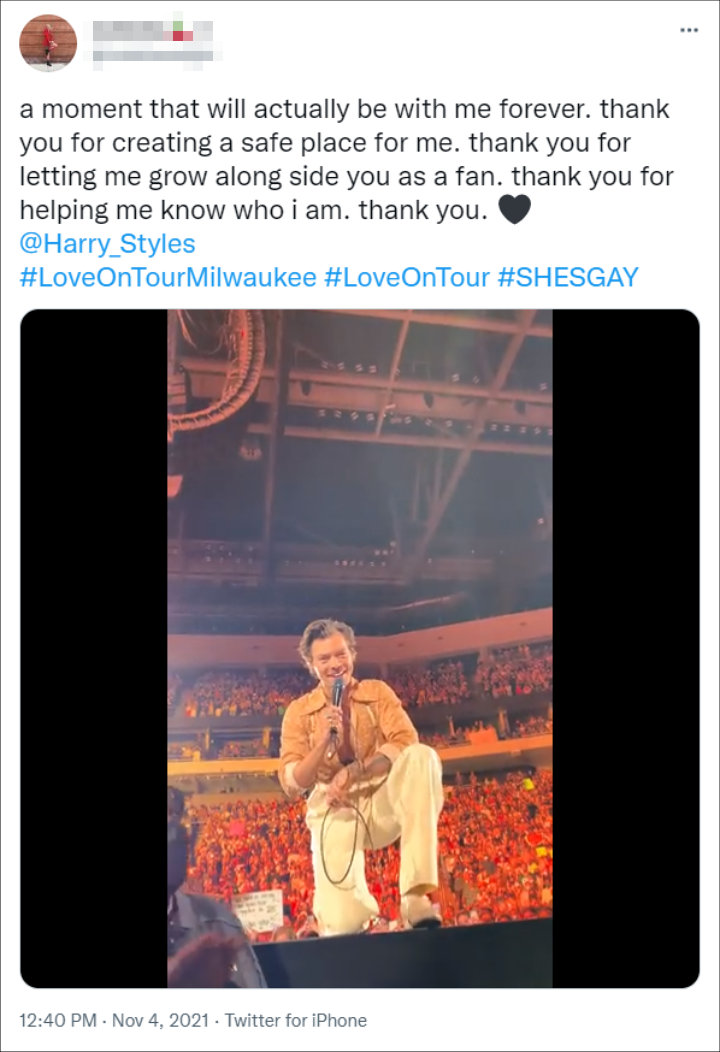 Lisa shared a video of the moment on Twitter.
"a moment that will actually be with me forever," she captioned the footage. "thank you for creating a safe place for me. thank you for letting me grow alongside you as a fan. thank you for helping me know who I am. thank you."
Source: Read Full Article