While the 'A Wrinkle in Time' actress is 'devastated' following her split from the NFL propect a few weeks ago, he has allegedly moved with the LSU basketball star.
AceShowbiz –Shedeur Sanders is wasting no time to find himself a new girl following report of his split from Storm Reid. Not dwelling on his broken relationship, he has reportedly moved on by dating Angel Reese.
Shedeur and Angel's romance rumors first surfaced last week after he attended the basketball star's 21st birthday party. The quarterback from the University of Colorado made his down to Atlanta to hang out with the LSU Tigers star at the bash, which was held at Revel Lounge.
They were even pictured together at the party. The Bayou Barbie sparkled in a pink Fashion Nova tube dress with silver shades and matching stilettos. She also wore a necklace as her accessory. Shedeur, meanwhile, opted for jeans, a Louis Vuitton sweatshirt and a chain with the number 2, his jersey number.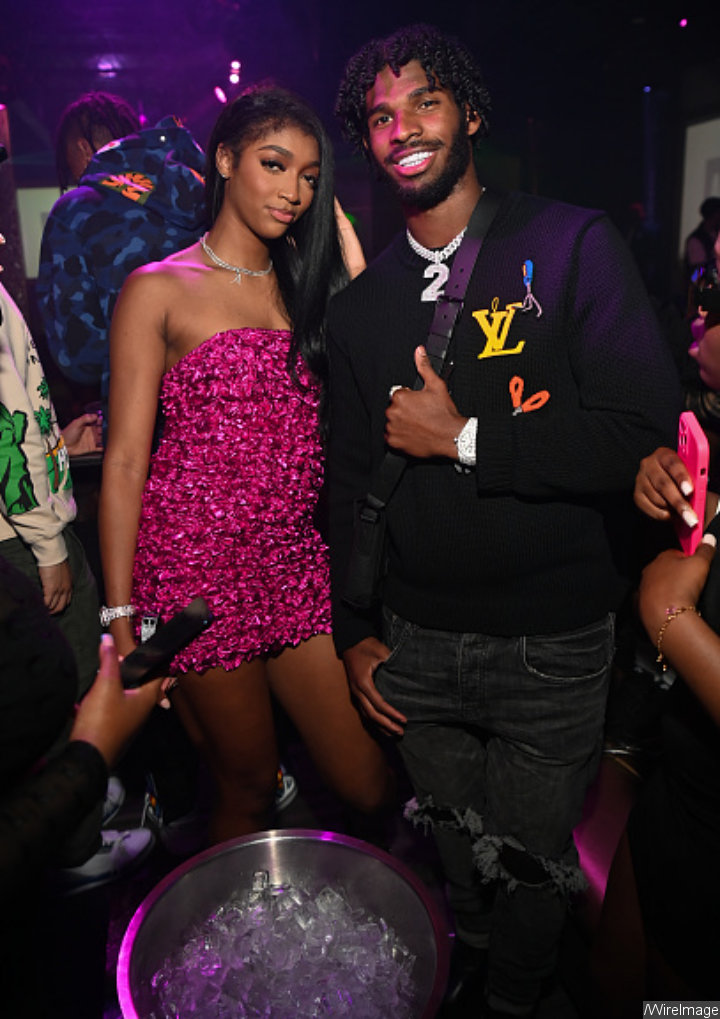 Shedeur Sanders and Angel Reese posed together at her recent birthday party in Atlanta.
While Storm is "devastated" following her split from Shedeur, which happened a few weeks ago, he and Angel are really digging each other big time, according to Media Take Out. Further fueling the dating speculation, the college football quarterback has followed her on Instagram and liked her posts. He reportedly celebrated her birthday after about two weeks of back and forth likes and chats.
Shedeur and Storm's breakup rumors actually have surfaced several months ago. Back in March, the same outlet reported that the actress called it quits with the NFL prospect over his infidelity.
Before the young couple's split, Storm had been spending a ton of time with her beau Shedeur, who went to school in Jackson. The "Euphoria" star, who lives in Atlanta but attends USC in California, reportedly would fly across country from Los Angeles, where she was in college, almost every weekend, to watch Shedeurs play football in Mississippi.
Storm was said to be close with Shedeur's family too, including his father, NFL legend Deion Sanders. However, that allegedly changed after she caught the collegiate football player cheating on her.
Sources told the site that the two split after the actress caught the athlete sliding into the DMs of dozens of Instagram models. Further fueling the breakup rumor, Storm and Shedeur are allegedly no longer following each other on Instagram or TikTok.
The breakup report swirled just two months after they made their red carpet debut as a couple at the premiere of her movie "Missing" in January.
You can share this post!
Source: Read Full Article