After sparking concerns among social media users with her tweets suggesting she's suicidal, the 'Baddies South' star appears to be in better mood after the rapper allegedly asked her 'to be his girlfriend.'
AceShowbiz –Chrisean Rock may have finally secured the status that she has been dying for. The former Blueface Music artist claims that she's now officially Blueface's girlfriend after months of on-and-off relationship.
Chrisean hinted via Twitter on Wednesday, August 10 that the "Thotiana" hitmaker had asked her to be his girlfriend, which he apparently had never done before. Not being able to hide her happiness, she shared the news as tweeting, "He officially asked me to be his girlfriend today [smiling emojis] save the date august 10th 2022."

Chrisean Rock declared she's officially Blueface's girlfriend.
This is a drastic change in mood after Chrisean previously hinted at being suicidal in drunk tweets. One day before, she sparked concerns among social media users after posting some alarming tweets. "I'm drunk but on some real s**t I'm hurting like a b***h this life s**t ain't for me," read one of the tweets.
"My mind in a rage I'm to young to feel dis pain," she added in another post. As her followers expressed their concerns over her mental state, she made some accusations about her boyfriend, "He disrespectful on so many levels."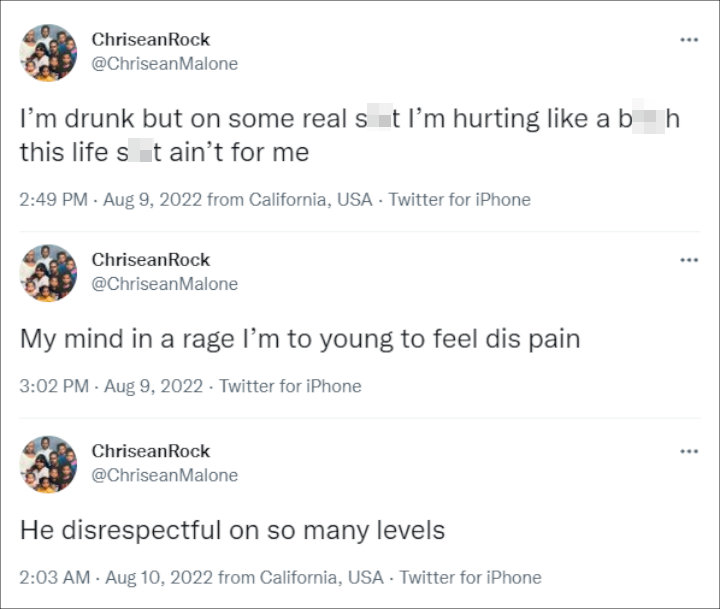 Chrisean hinted at being suicidal in drunk tweets.
While Chrisean didn't mention what upset her, she and Blueface have been having a tumultuous relationship. Earlier this month, the two were caught in a bizarre fight on a sidewalk. In a video taken by an onlooker, Chrisean followed her on-/off-boyfriend as he walked down the street on early Tuesday morning, August 2 in Hollywood before grabbing at his shirt, yanking him backward.
She pushed Blueface while still clutching his shirt and then smacked him across the face. The two ended up on the ground with the rapper restraining Chrisean for several seconds. He then got up and walked away, but she mindlessly followed him despite his plea to be left alone. During the whole ordeal, the man who filmed it was trying to intervene.
Following the altercation, Blueface addressed what led to the tussle on social media. He apparently accused her of cheating after he went through Chrisean's phone and found out she was in touch with several other men. Chrisean denied it as she asked him to stop telling "lies."
Chrisean later took to her own Stories to declare that she had no intention to leave Blueface. She wrote, "No money in the world can make me leave you. You might as well call the psych ward to get me out this bih."
Meanwhile, Blueface recently welcomed his second child with his ex and baby mama Jaidyn Alexis. The mother of two shared the news on Friday, August 5 by offering the first glimpse of her newborn daughter, who is named Journey Alexis Porter.
Source: Read Full Article