Drip 2: Black Pack US Adidas.com Nov 17 / Global Adidas.com Nov 18 / In-store Nov 19 #adidasxIVYPARK #ThisIsMyPark
Beyonce has announced a partnership with Peloton, with Homecoming-themed workouts and a focus on ten Historically Black Colleges and Universities. Students at those HBCUs will get free two-year memberships and donated gym equipment. Peloton will also provide internships and career opportunities for students. Here's part of their announcement and my review of the first workout they released is below. The terms of the deal are not known but Page Six reports that Beyonce is a Peloton investor. We know she's a member as she mentioned it in the press release.
Peloton… [and] Beyoncé, today announced a broad, multi-year partnership rooted in the celebration of music — a central component of the Peloton class experience — and pro-social initiatives.

The launch of the collaboration with Beyoncé, the most requested artist by Peloton's global community of more than 3.6 million members, is commemorating Homecoming season, an annual fall celebration for students at Historically Black Colleges and Universities (HBCUs) that honors tradition and legacy. While most of this year's Homecoming festivities shifted to virtual celebrations due to the global pandemic, Beyoncé and Peloton worked closely to create a series of themed workout experiences to help extend Homecoming to Peloton members via classes across multiple fitness categories, including indoor cycling, running, strength, bootcamp, yoga and meditation.

The two are also gifting two-year Peloton Digital memberships to students at 10 HBCUs, providing access to a full library of fitness classes through the Peloton App that can be used with or without equipment. The digital memberships will go to students at Bennett College, Clark Atlanta University, Grambling State University, Hampton University, Howard University, Morehouse College and Morehouse School of Medicine, Spelman College, Texas Southern University, and Wilberforce University, by the end of November. Additionally, Peloton will build on its relationships with each of these schools to pursue long-term recruiting partnerships at both the internship and undergraduate levels.

"Peloton and I both believe that the power of music can help uplift, motivate and inspire those on their fitness journeys," said Beyoncé. "I've been a Peloton member for several years, and I'm excited to partner with a company that helps people, young and old, be the best versions of themselves, in an innovative and adaptable way. I'm proud to celebrate the students at HBCUs with this donation, to encourage them to find and embrace their own wellness regimens."
[From Investor.OnePeloton.Com]
Essence got the news first, I think before Peloton made the announcement because it was an exclusive, which is cool. I've mentioned that I started subscribing to Peloton when it was free for three months early in the pandemic. While I still have an old Schwinn, they really hooked me into paying for the app (and wanting one of those expensive bikes) with their instructors and workouts. They just put out that press release yesterday and have already released the first Beyonce spin workout! Today and later this week they will have Beyonce-themed yoga, meditation, strength and more.
The Beyonce spin workout is 30 minutes and features a bunch of her hits. (I put the playlist below.) Instructors Alex Toussaint and Tunde Oyeneyin taught side by side with a plexiglass barrier between them. Tunde is a huge Beyonce fan, when "I Was Here" was playing she mentioned how much that song helped her heal after she lost her dad in 2012. She kept touting Beyonce's charity work, all the Grammys Beyonce has and was praising her a lot. She said "Beyonce requires us to be good, she requires us to be better." While I thought she was laying it on thick you could tell she freaking loves Beyonce and was being sincere. I wonder how involved Beyonce was with the workout planning or if she handed that off to her team. If Tunde had talked to her you know she would have mentioned it. I would be bragging about that forever.
The workout was really fast-paced and harder than I usually do to but fun. I do Alex's workouts when I'm in the mood for something medium-hard, but I avoid Tunde's after doing one of her spin and arm classes. Her arm work killed me, but this one was pure cardio. Together they were a lot of fun and their energy was contagious. I hope they have many more spin classes like that and I would love to see Tunde and Alex teach together again.
As for Pelton's commitment to working with students at HBCUs, that's excellent. I'm glad Beyonce worked that into her deal with them.
If anything is going to get me to splurge on a 2k bike it's Beyonce and Peloton knows that. Damn them.
Oh and I follow Alex Toussaint on Instagram and yesterday he had a Peloton-produced video announcing their Beyonce partnership! It was so cool but he's since deleted it! It wasn't the teaser video in the Peloton tweet below either. I bet that Peloton wants to release it themselves at some point.
— Peloton (@onepeloton) November 6, 2020
Here's a list of the songs, in order, from that first spin workout! I don't know if anyone is interested in this but my laptop fits on my handlebars so I wrote it down. Crazy in Love, Diva, End of Time, Bow Down, Mi Gente, Lose My Breath (just a segment), Drunk in Love, I Was Here, Ring the alarm, Run the World, Get Me Bodied.
— ESSENCE (@Essence) November 10, 2020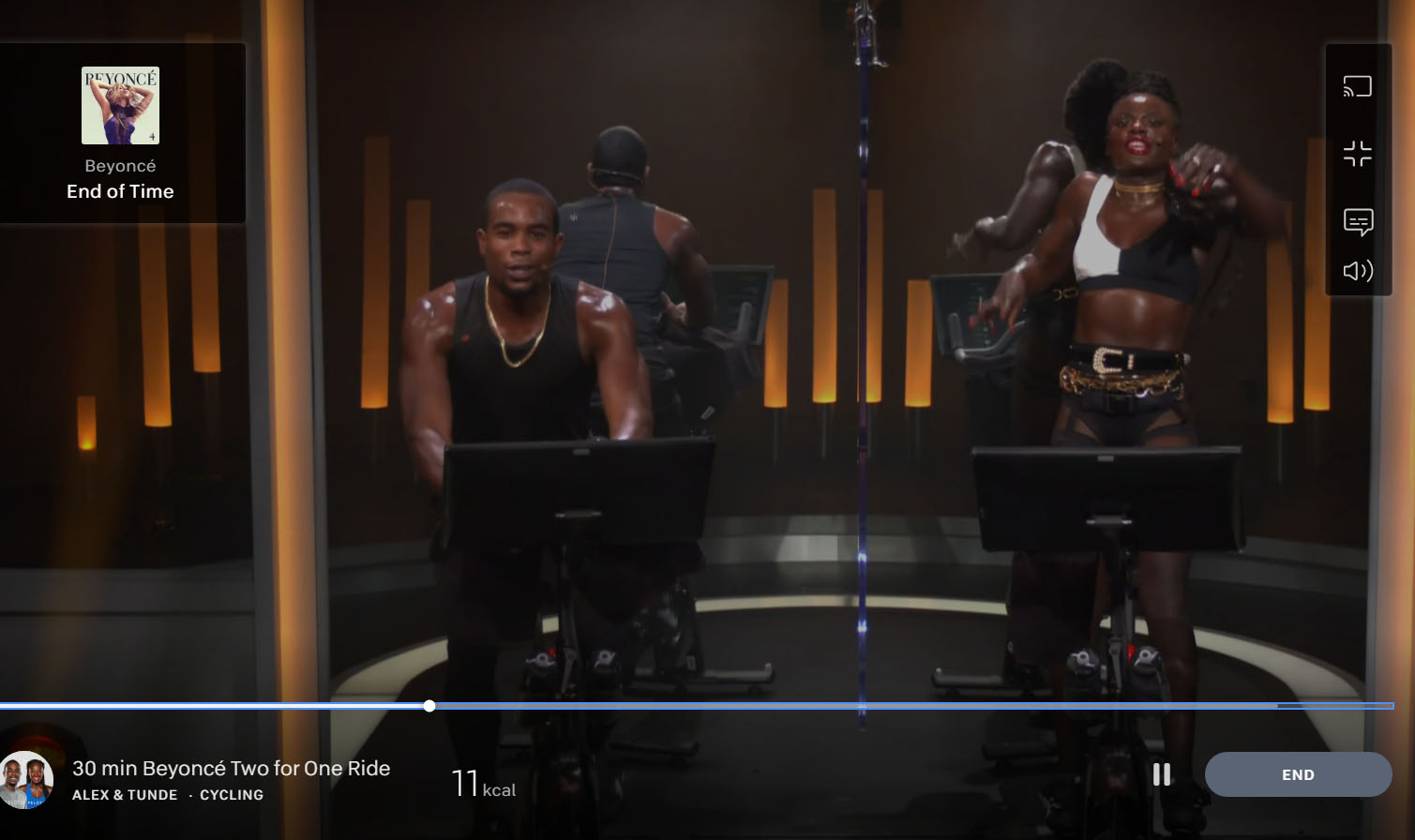 A post shared by Alex Toussaint (@alextoussaint25) on
Photos credit: Instagram and via Peloton app
Source: Read Full Article